Cruising into the new millenium
A new generation hops behind the wheel of RVs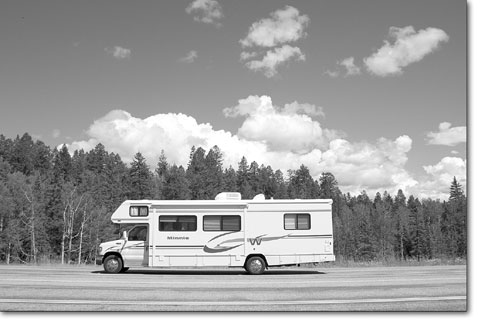 A familiar sight on Southwest Colorado roads in the summertime, a recreational vehicle motors south of Coal Bank Pass on Highway 550 on Monday. A mainstay among retirees, RV-use demographics have shifted in recent years to include more young families, who prefer the virtual homes on wheels to other, less convenient and economical modes of travel./Photo by Todd Newcomer.
by Amy Maestas
For a while, more than 25 years ago, my parents would round up me and my sisters each summer, pack us into the family-owned RV and head south out of Salt Lake City to our condominium in Laguna Beach, Calif.
At the time, my sisters and I were woefully embarrassed to be traveling in a bus of seeming luxury. We were used to roughing it in the wilderness, setting up tents in thunderstorms and learning to get by on the least amount of comfort as possible – thanks to my father, the weekend frontiersman. At times like those, he'd think it was OK to have us eat noodle soup with a stick. But when it came to traveling to Laguna Beach, this eternally frugal, unpretentious man would make us go by RV.
While friends and family thought we were living the good life, I was in constant conflict about the signals we were sending (appearing to be coddled), not to mention trying to figure out why we needed an RV when we were not going to stay in it during the length of the vacation. I'd sooner sing a solo in front of my classmates than see our family tooling down the street in this beastly wagon otherwise revered by graying retirees. That apparent extravagance was in discord with the family name. What in the world was my young, middle-class family of six doing in such a rig?
That was then.
This is now
What seemed abnormal then is quite normal today, according to recent trends. In the past decade, recreation industry experts have identified a dramatic shift in the demographics of RV users. Sure, retirees preserve a stronghold on this traveling phenomenon. The empty nesters continue to
cash in concrete structures for wheeled abodes. But more and more, families and baby boomers are cashing in assets and taking to the road in style. They eschew the aggravation of flying or searching for hotels that meet their needs.
For pre-retirees, kids or not, the freedom of a peripatetic lifestyle is irresistibly alluring. It's an unbeatable combination – traveling at your own pace, seeing places in between points A and B, sleeping in the same bed each night, and leaving the kids to their own entertaining devices.
Now, nestled in between nomadic seniors at RV parks across the country are couples and families doing that same roving, even if on a lesser scale.
The Champoux family, from Lincoln, Neb., recently pulled into Space 98 at the Alpen Rose RV Park, just north of Durango. This is the family's fourth season of RVing, and in that short time, they have owned two RVs. They are about to upgrade from their 1989 27-foot RV to something newer and more reliable. Their rig now comfortably sleeps all six of them – parents Rob and Jan, and four children ages 15 to 6.
They tow behind them a white utility trailer, packed chockablock with bicycles. With the park's swimming pool a hop and jump away from their space, the RV and all its contents are all the family needs for spending days on end in the high country.
The RV is a far cry from their tent-camping days as newlyweds, says Rob, a homebuilder. Then, they didn't think they'd end up buying an RV this early in their lives (they are both 41). Yet they learned a few years ago about the conveniences.
"This is a comfortable way of traveling with little kids," adds Jan, who is a full-time mother and self-described "taxi driver."
The Champoux family prefers vacationing in the mountains to staying in concrete-laden metropolitan areas, where hotels are their main option. With an RV, they move at their own pace, free of unpacking and repacking suitcases each morning, rushing to make checkout time and following an unyielding agenda.
"We spent last night by Wolf Creek Pass. Our destination today was Durango, so we were able to take our time getting here. We stopped and ate lunch at Chimney Rock, moving at our own pace," explains Rob.
Tame the tempo
Thom and Mauriette Janson wanted to try that concept of slowing down. Familiar with break-neck vacations in which they tried packing in too many sights, the Jansons grew tired of returning home from a vacation exhausted.
"We also felt we were limiting ourselves in seeing much of the country, because we were doing it in small chunks," Mauriette says.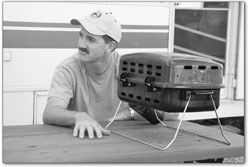 Rob Champoux fires up the hibachi outside his RV at the Alpen Rose RV Park. At only 41and already on his second RV, Champoux represents the next generation of recreational vehicle owner./Photo by Todd Newcomer.
So the Seattle-based couple, who are in their late 30s, quit their respective manufacturing jobs in May, sold off much of their belongings, and set out for a year of adventuring. They weren't inclined to confine themselves to a car. Nor are they fond of hitchhiking. Instead, they pinched enough pennies to rent an RV for an extended period.
"It's going to be very expensive when we are finished," says Thom. "But we weren't sure we wanted to do this forever, and so we couldn't justify spending more than 30 grand for an RV. As it is, it'll cost us close to that in rental prices."
To offset the expense, the Jansons prefer to wedge their rented 23-foot Majestic RV into Forest Service campsites. They aren't inclined to stay at RV parks, mainly because they want solitude. Or maybe, Mauriette concedes, they are too concerned about appearances. Initially, Thom wondered if some friends would scrutinize their decision – wondering if they were trying to speed up their lives by 30 years.
"I was waiting for wise comments from people about how RVs are for old people," he admits. "But since we've been on the road, we've noticed more and more that younger people have opted to travel by RV. I don't think there's anything mysterious about it. I just think it's a more convenient way to travel."
Toy boxes on wheels
David Padoven, sales manager at Tarpley RV in Durango, believes that convenience is driving sales higher.
"We are dealing with a lot more families who want to take overnight trips but not have to spend four hours setting up camp," he explains. "It's not fun it you spend all your time getting ready to go and leave."
The Recreation Vehicle Industry Association, a national trade association that represents RV manufacturers and suppliers, reports that young families own more than half of the 8.2 million RVs in the United States.
Padoven says the RV manufacturers recognize this, and have stepped up to the plate to catering to travelers with accessories and families. Nearly 60 percent of trailers Tarpley RV sells are those with bunk beds. The trend for fifth-wheel trailers is shifting to lure family buyers. Also popular these days are trailers and motor homes that have "toy boxes" – a space in the back of the vehicle that stores bicycles, four-wheelers and other toys. Gone are the utility trailers that tag along willy-nilly.
Baby boomers are also boosting RV popularity, Padoven adds. With their discretionary income and abilities to retire younger, they are an important segment of travelers. Most notably, Padoven says, is the general overall trend of people choosing to travel more in the United States and less in foreign countries. Both Padoven and Alpen Rose Manager Bob Beverly began noticing the shift after Sept. 11, 2001.
In the past three years, Padoven reports that Tarpley RV has had record-breaking sales every month. Each month is better than the last, he says. Not even the rising cost in gas prices is keeping people from investing in some sort of RV. The industry reports that last year, RV shipments rose 15 percent despite fuel prices.
"I think we are just reaching the starting point of this peak. I think this is going to go on this way for about 10 years," he adds.
Creature comforts
The Champoux family most likely will still be roaming around in their RV, given that Rob has big plans for the family.
"I have about 1,000 places that I want to go," he explains.
The Jansons might still be on the road too. But that's only if they decide to fork out several thousand dollars to buy their own motor home, Thom says. He says it's possible the couple could grow interminably accustomed to being nomads. But he also doubts he and Mauriette could live like lifetime RVers, who often refuse to skip on the creature comforts – 40-foot rigs, a few TVs and DVD players, zoned air conditioning and heating.
By the time they could afford that, he muses, there might be too many young families and couples RVing across America, and the Jansons would lose their solitude and the distinction of being trendsetters. They are, he says, always trying to do something different from everyone else. They'll plan to stay on the road for a year, only to possibly return to Seattle and tout their experiences to envious friends.
"That's probably when they'll all go buy RVs and do what we did. Maybe by then we can buy one of their condos."
That's all fine, Thom. But here's a secret: You don't have to drive your RV to it. •