Lynx highway mitigation in works
Developers would have to build or pay for wildlife crossings

SideStory: Colorado lynx reproduction healthy in 2005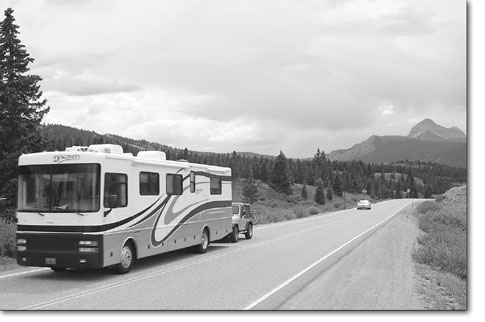 An RV makes it way up Highway 550 north of Coal Bank Pass, a corridor that is heavily traveled by lynx. Under a plan being drawn up by the U.S. Fish and Wildlife Service, developers would have to help offset traffic impacts on lynx by paying for underpasses and other wildlife mitigation./Photo by Todd Newcomer
by Missy Votel
It has been a banner year for lynx recovery efforts in Southwest Colorado. However, federal wildlife officials are working to ensure that the sensitive species is not on a crash course with development in the reintroduced cat's habitat.
Earlier this summer, the U.S. Fish and Wildlife Service began work on a Lynx Management Strategy Plan for Southwest Colorado that would help mitigate "take," or accidental death of, lynx related to the effects of development.
"The increase in traffic associated with these developments is the biggest issue," said Kurt Broderdorp, a biologist with the U.S. Fish and Wildlife Service in Grand Junction. "Highway 160 recently had a dead lynx, and there have been several cats killed down there due to traffic."
The Fish and Wildlife Service, under the umbrella of the Department of the Interior, is responsible for administering the Endangered Species Act and protecting endangered or threatened species and their habitat. The Canadian lynx was federally listed as threatened in 2000 and has been considered endangered in Colorado since 1973, the last year a lynx was caught in the state, near Vail.
Fish and Wildlife is considering two options, Broderdorp said. The first would require developers to construct wildlife crossing measures, such as underpasses and fences, with the oversight of the Colorado Department of Transportation. The second option would require developers to pay into a fund based on the amount of impact, with an oversight committee deciding how the money will be spent.
"Basically, we're working on a strategy where we want developers to contribute to addressing this problem," he said.
According to the Colorado Division of Wildlife, which has tracked the lynx reintroduction since 1999, as of February 2005, seven lynx had been killed on Southwest Colorado roads, including one near Purgatory and at least another on Highway 160. Another two deaths by vehicle are suspected.
And with several development projects planned for high-altitude sections of the Highway 550 and 160 corridors, the problem will only get worse, Broderdorp said. Of particular concern is the Village at Wolf Creek, which would put more than 2,000 residential units and 220,000 square feet of commercial space on 228 acres near the base of the Wolf Creek ski area. The parcel is near the top of Wolf Creek Pass at an elevation of 10,000 feet, prime lynx territory.
"It's what we call a 'landscape linkage,'" he said. "Wolf Creek sits at a high elevation where animals can cross from one habitat area to another."
In February 2005, the Colorado Division of Wildlife released a study requested by the U.S. Forest Service on lynx use of the area around the proposed Village at Wolf Creek development. The study covered the area north and south of Highway 160 around Wolf Creek Pass, the proposed development, and the stretch of Highway 160 between Pagosa Springs and South Fork. According to the study's author and lead CDOW lynx researcher, Tanya Shenk, the corridor links two, primary, year-round use areas – one near Creede and one near Platoro Reservoir, south of Del Norte in the South San Juan Wilderness. Using aerial and satellite data from lynx radio collars, Shenk estimated there were 52 lynx crossings across Highway 160 in the study area from September 1999 to April 2004.
Currently, Wolf Creek Pass sees an average of 2,300 vehicles a day, a relatively low amount, Broderdorp said. However, with the addition of the Village at Wolf Creek, vehicle traffic could increase to as much as 14,000 autos a day, he said. Traffic numbers also could increase dramatically to the west, where Durango Mountain Resort is planning 1,649 units on 612 acres straddling Highway 550. According to Shenk, lynx also are known to regularly cross Highway 550 north of the resort, between Coal Bank and Red Mountain passes.
Broderdorp said when highways 550 and 160 were constructed, wildlife wasn't as much of a concern as it is now. "Traffic volume and speed were nothing like they are now," he said. "Nothing's being done to move wildlife across the highway."
The most likely way to facilitate wildlife crossings will be the use of culverts under the highways, Broderdorp said. Another option is fencing along the highway.
"It's a pretty common practice," said Broderdorp, noting that fences are used on Highway 550 between Ouray and Montrose and underpasses are used along the I-70 corridor through the mountains.
However, finding the best spot to place such crossings will take some homework, he said. Although Shenk's study laid out patterns, it did not indicate specific areas of lynx crossings. To do so would require the use of GPS collars on cats known to make frequent road crossings.
"There are a lot of things that have to be taken into account," he said. "You can't just put something out there and hope for the best because in all likelihood, it will fail."
He added that demystifying the reclusive cat's behavior may be the most difficult part.
"Lynx behave differently than any other animals who have lived here," he said. "They don't understand that a road probably means they're going to die."
Broderdorp said the Fish and Wildlife Service expects to have the plan completed in the "very near future."
"We have regulatory timeframes we are desperately trying to stick to," he said. •