Champions of country
Movin' On keeps Four Corners in two-step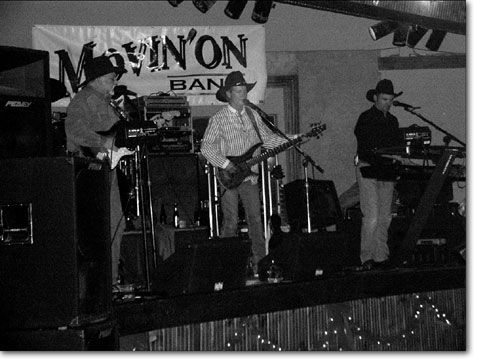 Movin' On (Pete Neds lead guitar, Mark Andersen bass, Bill Bishop keyboards and Jeff Boyden drums) takes the stage last Friday at the Wild Horse Saloon. All members perform lead and background vocals./Photo by John T. Rehorn.
by John T. Rehorn
It's early Saturday afternoon on a sleepy December day. The Wild Horse Saloon is dark, nearly empty and clean as a whistle. Mark Andersen takes a pull from a Bud longneck before he counts off the lead to the next song. Suddenly the dance hall is filled with sound — solid country without the twang of a pedal steel. Pete Neds picks his guitar and sings a power ballad. Tradition fills the air and nearly sets the chairless tables in motion like an old-fashioned electric football game. Saloon proprietor Amber Gilchrist busies herself with preparations for the coming evening. This is a dance hall, not a spend-the-afternoon-drinking bar, and the doors are locked until 7 p.m.
Movin' On is booked at the Wild Horse for the weekend. At rehearsal, they look like a foursome of construction workers with a good dose of musical talent. Three of the four wear ball caps with the bill classically curved in the style of men who build roads, set forms and pour concrete. They look like construction workers because that's what they are.
Andersen owns a company and employs Neds as a truck driver. Jeff (Boy Jeff) Boyden is in the same line of work in Grand Junction. He makes the journey over Red Mountain Pass on select weekends to keep the beat for the band. If he can't make it, Movin' On doesn't play. Then there's the keyboardist. Bill Bishop is the Director of Technology at Bayfield High School. It seems every group needs an oddball.
Movin' On has been around Durango for 17 years. Andersen on bass is the heart of the band, and he named it at the spur of the moment when they won a talent show way back when. He knew he wanted a phrase instead of a noun, and "movin' on" is about as classic country as you can get. But that was just the seeds of the band. Bishop joined him first and then Boyden, a Durango resident at the time, became the man behind the drum kit. It wasn't until seven years ago that Neds joined up and Movin' On became the band it is today.
"Our whole focus in doing this is for the pleasure of the folks who come to hear us," Andersen says.
"We're not doing it for the money," assures Neds who, even when he's sitting around talking, speaks with a voice that's modulated and smooth. The band is taking a break from rehearsal and chatting about who exactly they are.
"The nice thing is that Peter and Mark have a big background in classic country," says Bishop. "So you get a wide array of people in here."
The group acknowledges that when they play at saloons, they're there for the public's dancing pleasure. Their playlist, over 80 songs long, consists of covers mostly of the big names — icons like Merle Haggard and George Strait. If you go to hear them both nights of a weekend gig, you won't hear the same song twice except, of course, for some of the standards like "Amarillo by Morning." They also pick their songs by the feel of the crowd, and you won't find a set list taped to the backs of their instruments.
"We play what appeals to us," Andersen says. "But we feel like people that come to a bar like this like to dance, so if you can't dance to it, don't play it."
"There's an old saying: They know what they like and they like what they know. So if they've never heard it before, they're not going to fill up the dance floor," Neds adds.
Though their bread and butter rests with the few country dance bars left in the area, Andersen proudly points out that Movin' On has opened for many big country acts held at Fort Lewis College Concert Hall or Echo Basin Ranch. They've warmed the crowds up for the likes of Tanya Tucker, Charlie Daniels and many others. He says they play their hearts out for free at those venues. The exposure is what they're after.
"We're dyin' for exposure," sighs Neds.
The band agrees that the better dancers and the connoisseurs of a good country tune are those who come early in the evening. They are the folks who make western dancing a civilized, social event.
"It's a mating ritual after 11 o'clock," says Neds. "But we enjoy the ambiance of the late-night crowd too, the yay-hoos that wander in about 11. They're the hard-core drinkers and the party crowd."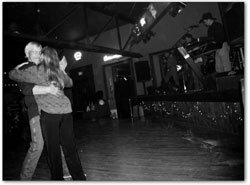 Bernie and Kathy Arnold waltz across the dance floor to Movin' On at the Wild Horse on Friday night./ Photo by John T. Rehorn.
Youth and energy are welcomed by the musicians; they'll even throw in a Poison song, or maybe the blues of Eric Clapton for the late crowd. But they like to call the tune.
"I tell you what these guys hate: We pride ourselves on being a country band, but there's a group of people who will yell out, 'Rock and Roll,'" says Bishop.
Then you'll see one of the musicians, usually Neds or Bishop, making the universal sign for a country musician in misery: the self-administering of a lethal dose to the jugular with an imaginary syringe.
"When people want to start hearing Metallica and Aerosmith, I'd just as soon turn off my amp and go home," says Neds. "There's a perception among people that aren't country music fans, that somehow country music is not a valid art form. Some of the best musicians I've known in my my life — and I've played all kinds of music — are in country music."
Now it's 8:30 p.m. on Saturday night. There's a host at the door to take a cover charge and your coat, and leave a red-ink star on your hand. The crowd is getting primed for the evening, sucking on long necks or Jack-and-Cokes. Here's a place where you can light up a cigarette without getting stared down.
Movin' On takes the stage with a smattering of applause. Their ball caps are replaced by cowboy hats. Donning Western shirts and jeans, they look Jerry Jeff, not Porter Wagoner. But Andersen has got his high-top Converse All-Stars on. Without introduction or prattle, they move into the first tune.
Those who came to dance commence to doing just that. Like riders on a carousel, the two-steppers move in the agreed upon counter-clockwise direction. The men and more than a few of the women make no secret of their interest in the Broncos/Bills game still playing on the big screen not far from the stage. They keep an eye on the screen while expertly keeping their cowboy boots off their partners' toes.
Only the best dancers are out there now. But the fourth song is "Amarillo by Morning," and it's like a call to the altar. Three times as many dancers respond to the call, and suddenly, the magnetic attraction of the big screen TV is faltering. The Wild Horse is dragging them away, with a little help from Movin' On.
A few tunes later, a guy who has never heard the band before this day begins to realize that he's hearing something big, and good ... and real. It dawns on him that though the band is absolutely solid, the new guy only seven years with the band, Pete Neds has got an edge. Even when he's talking, he can't hide that professional training in his voice. And that guitar doesn't lie.
Andersen confirms the guy's suspicions at the break. Neds used to play with among others, Hoyt Axton, back in the day. He's got a blues background in addition to country and thousands of hours of sessions time under his belt. He's not in it for the money anymore, but he was once.
Andersen freely declares that Neds found the band as much as the band found Neds. "He was looking for a band that could play to his potential. If he wants to do blues, we can cover him. As far as I'm concerned, we make him shine and he makes us shine."
Shine they do. Durango is no longer the haven it once was for cowboys and country swing bands. But Movin' On is made up of four champions of Four Corners Country.
"This is American roots music," declares Neds. "We're carrying on the tradition that started with Jimmy Rogers, Hank Williams and Bob Wills." •