A visit to the Shy Rabbit
Gallery brings contemporary art to region


by Jules Masterjohn
it was a sunny and moderately warm Christmas Eve, and my partner and I were on a drive to Pagosa Springs. The reason for the visit was to introduce ourselves to a new contemporary art space, the Shy Rabbit, and view its latest exhibition. As my eyes gazed out at the grazing animals and took in the classic Colorado landscapes, my mind's job was to review and decide upon the subject for this week's article – my most memorable art experience of 2005.
By far, hands down and without doubt, my decision was that my summer's visit to the newly expanded Walker Art Center in Minneapolis topped the list. As a lover of contemporary art, I was in avant-garde heaven as I walked through one of the Walker's new galleries, this one dedicated to the work of American artist Chuck Close. On the many walls hung a retrospective exhibit of his large-scale self-portrait works dating from the 1970s to today, including his newer experimental holograms. My favorite aspect of the exhibit was its layout: aesthetically and educationally designed, it displayed Close's photographic self-portraits alongside his preliminary sketches and intermediate paintings, as well as the final large paintings derived from the photo. There was very little didactic signage describing Close's process, rather, his technical approach and creative decision-making was evident from the arrangement of the work shown. Until the holiday excursion to the Shy Rabbit, this was to be the topic of my final 1,000 words for the year.
As we drove into an industrial park nestled among the tall pines just this side of Pagosa, I didn't know what to expect from this art adventure. I did know that Michael and Denise Coffee, co-founders and owners of the Shy Rabbit, had relocated there from Los Angeles two years ago and had set up shop – Michael's ceramic studio and two galleries – to create an incubator for contemporary arts in the region. I knew from their diligent email outreach to area artists about the Shy Rabbit and its opportunities, that they are serious art advocates. I also knew that their current exhibit, hosting the work of 19 artists from the area, has been very successful; 350 individuals have seen the exhibit and 15 works have been sold since it opened in late November.
Inside the Shy Rabbit garage-bay-turned-artspace, I could have been in any large city. The art displayed within was of a caliber and genre that is rarely shown in our geographically isolated region. No aspen trees or landscapes are to be found, according to Michael, a retired architect and life-long potter. "To date, we have limited our definition of 'contemporary art' to nonregional and/or nontraditional work. There are plenty of venues showing quality regional work, but very few in the immediate area that feature the fresh, new work of emerging and mid-career artists."
One of these is Durango artist Sarah Comerford, whose three life–sized nude paintings dominate the space and set a contemporary tone for the exhibit. Regional galleries rarely display nude images, so Comerford's paintings are refreshing to see. They breathe expansive and provocative air into our sometimes provincial local art scenes.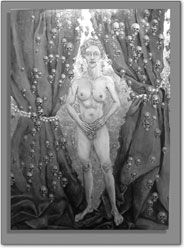 Sarah Comerford's "Self-Portrait with Skulls" on display at the Shy Rabbit."/Photo by Michael Coffee.
There is no mistaking her paintings for portraying earthbound reality, though the figures on her canvases are somewhat realistically painted: her figures float surrounded by gold foil and symbols, suggesting surrealism as her genre. Light emanates off the paintings' gold-covered surfaces, acting as a precious distraction from the quiet, disquieting images that subtly scratch through their reflective exteriors. These are gorgeous artworks, offering much for the eye, mind and heart to contemplate.
In her painting, "Self-Portrait with Skulls," Comerford's own body stands centered between two red velvet drapes, naked from the waist up, she holds a clump of grapes over her pubic area, mimicking its triangular shape. More than 100 convincingly painted skulls of all sizes showing pleasant, toothy grins, float around her central figure. A halo of watery yellow oil paint surrounds Comerford's head like a flame burning through the gold foil. In other places, images of rosebuds and smaller clumps of grapes scratch their way to the surface, their presence and meaning a bit tentative to the viewer. Her luscious surfaces and use of iconography hearkens to the Flemish Renaissance master Jan van Eyck, though Comerford's near realism is no contest for his trompe l'oeil technique. Her intention is not to trick our eyes into believing we are seeing this world, but to "evoke otherworldliness or 'the other' that is beyond literal explanation." By "the other," Comerford refers to "loss, pain, love and longing while understanding and appreciating beauty in the face of disintegration, fleeting life and the degeneration of the body and mind."
Hung inches apart so they read like a diptych, are "Twin I" and "Twin II," large-scale paintings of her two friends that perished in the Twin Towers. As in her self-portrait, their genitals are covered, this time by crystal chandeliers that hang from the two male figures' necks. To Comerford, the chandeliers symbolize capitalism and its "bought beauty but rather than pure aesthetics, they become a burden or albatross." A hundred or so hearts, anatomically rendered and encapsulated in bubbles, float on top of the gold-leafed surface, like the effervescence present in a glass of champagne. These works are loving celebrations of her friends and shrines painted in their honor.
Comerford's paintings lure us to them with their richness of color and painterly surfaces, as well as their historical references and harmonious marriage of various painting styles. Once we are up close to a painting, like any relationship that allows for proximity and intimacy, the artist's exploration of contemporary issues, those that touch her personally and those that she finds socially compelling, are revealed.
The "Artists' Invitational and Open Juried Exhibit" is on display through Jan. 7. For gallery hours and directions call (970) 731-2766, or e-mail shyrabbit01@aol.com. SHY RABBIT is located at: 333 Bastille Drive, B-1 & B-4, Pagosa Springs. •