Satire in a small town
A spoof and a very black comedy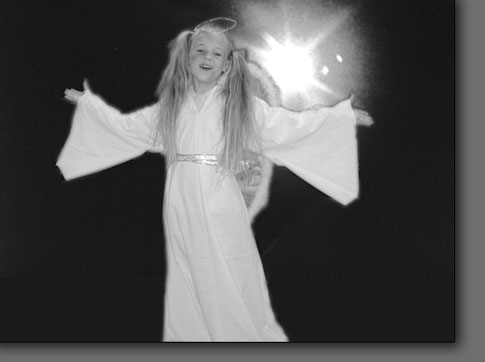 LEFT: Kristen Karmazyn, 8, plays Gladys Herdman, who plays the angel in the Durango Lively Arts production of "The Best Christmas Pageant Ever," which shows this weekend at the Durango Arts Center.
by Judith Reynolds
They're night and day. Two local productions opened last week on opposite ends of the satire spectrum. "The Best Christmas Pageant Ever" is a light-hearted spoof about annual church pageants. "The Smell of the Kill" is a black comedy about modern marital nastiness. "Kill" questions whether stinker husbands or their venomous wives are the bigger bullies.
It isn't easy – especially during the holidays. You have to gauge whether your audience will laugh or squirm.
"Pageant" is audience friendly, because it has a warm core. When playwright Barbara Robinson turned her best-selling book into a play, community theaters rushed to the stage. It features lots of kids, a middle-class family, and welfare outcasts who storm their way into the church pageant. Why? Free food. The street-savvy Herdmans demand the best roles, even though they don't know the plot. In three swift iterations of the Christmas story, the pageant moves from casting through rehearsal to final performance.
Director Wendy Ludgewait spirits a whopping 37-member cast (age 6 to 60-something) through an energetic, one-hour performance. With so many players, it's impossible to list every angel and shepherd, but Brenna Christensen, 10, the narrator, is truly wonderful. She's got stage eyes, solid timing, and an offhand, storytelling delivery. Ludgewait also takes a breath from the frenetic energy by giving Imogene Herdman a moment alone on stage (played with a nice mix of bravado and tenderness by MacKenzie Winslow, 16). When Imogene quietly identifies with her character, the pageant takes on deeper meaning.
A few technical glitches troubled opening night. No doubt they will be fixed for the final weekend. This is an airy play, and it's meant for a family audience. Lively Arts remains true to its mission: to put on entertaining shows for the whole community, mixing first-time and experienced actors.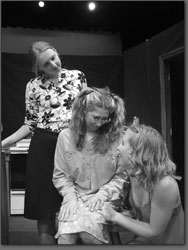 Rachel Gressler (Nicky), top, Ilana Stern (Debra), center, and Katie Holmdahl (Mollie) consider what to do with their husbands in "The Smell of the Kill," presented by the Durango Act II players at the Fort Lewis College Main Stage Theatre this weekend./Photos by Judith Reynolds
The Durango Act Too Players appear to have a different goal. They've switched from stock comedies and well-worn drama to edgy modern works. For the holidays they've oddly chosen a dark descendant of Edward Albee's "Who's Afraid of Virginia Woolf?" Playwright Michele Lowe's portrait of American middle-class marriage is a nasty one. Revised many times, the 1999 drama opened in Cleveland then later played on Broadway to mixed reviews, closing after 40 performances. To say it's feminist revenge against men is only half true.
The three central characters are wives of high school buddies. The couples have met every month for years so the men can drink and pal around. The women have never become friends. They gossip, bait each other, and are as loutish as their husbands. When the men accidentally lock themselves in a basement meat locker, the women debate their options.
On opening night, sparse, nervous laughter emanated from the audience. With open cruelty and plenty of bullying, to call it comedy is a stretch. That said, the actors earn decent marks for a tough job. A Fort Lewis College drama major leads the cast: Rachel Gressler convincingly creates an icy Nicky with a sardonic smile and razor delivery. A recent FLC grad, Katie Holmdahl plays Mollie as a vacuous cheater who reveals her duplicity in drips. A veteran of community theater, Ilana Stern portrays a bewildered Debra, the only remotely likable character. Debra implores the other women to free the men from their frozen destiny. For her trouble, she gets gagged, tied and threatened with a hefty firearm. So much for sisterhood. Director Terry Shellnut never lets the action flag despite several absurd plot turns. An interesting, somewhat abstract epilogue delivers another chill. If you like your satire filled with black ice, this is your cup of frozen tea.
To add one more drama to the satirical spectrum, Silverton's A Theatre Group will mount Charles Dickens' "A Christmas Carol: Scrooge and Marley," this weekend. Expect a twist; Jacob Marley narrates this adaptation. As a sentimental bonus, "Carol" will be the final production in the Miners Union Theatre. After 15 years of staging entertainments in that historic hall, A Theatre Group deserves a good crowd. •