Making the disaster film
Student filmmakers document Hurricane Katrina aftermath

SideStory: Student Film Festival readies for third screening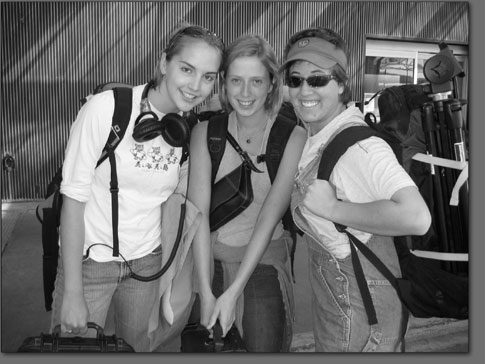 FLC student filmmakers, from left, Gloria Kaasch, Bethany Waggoner and Stacy Falk stop for a brief moment during the busy filming schedule for their documentary on the aftermath of Hurricane Katrina in New Orleans in November./Courtesy photo
by Missy Votel
When Fort Lewis College film students Stacy Falk, Gloria Kaasch and Bethany Waggoner embarked on a recent trip to New Orleans to document Hurricane Katrina's effects, they had no idea they would be the ones getting blown away.
"We really didn't know what we were getting ourselves into," said Falk, a senior anthropology major.
The three prospective journalists are members of Kurt Lancaster's Video Production of Film class, which requires students, in groups of three, to make their own short documentaries. It was Falk, whose grandmother lives in New Orleans' Garden District, who came up with the Hurricane Katrina idea in mid-November.
"We had no idea what we were going to do, and then Stacy called me up and said, 'Hey, you want to go to New Orleans?'" recalled Kaasch, a senior English major.
When the three say the trip was "spur of the moment," they mean it. Falk pitched the idea on a Thursday. By the next Tuesday, with cheap student-rate tickets in hand, they boarded a plane for the Gulf Coast, unsure of what was going to happen next.
"We dove in head first without checking how deep it was," said Kaasch, a senior English major.
Fortunately, when faced with the choice to sink or swim, the three chose the latter.
But it wasn't without a little self-admitted floundering at first.
"We thought we had prepared ourselves for the unexpected, but we weren't prepared for the devastation," said Kaasch. "The first day, Stacy and I decided we didn't want to be journalists anymore."
In addition to the overwhelming sights and smells, the women were unfamiliar with the video equipment, not to mention the city and the fortitude required to make such a film.
For starters, on their first outing, they were greeted by heaps of trash piled high along the streets and heavily armed National Guard Troops. And their first day of interviews, at a FEMA station, came up empty
"The FEMA people didn't want to talk to us, understandably so," Kaasch said.
Things didn't go much better on the receiving end of the FEMA line, either, with hurricane victims leery of having a microphone and camera thrust in their face.
"We had this huge camera, huge microphone and huge earphones, and we just looked like we were going to get in your face," said Kaasch. "The first day, we went out for a few hours and were home by lunch."
In desperate need of encouragement, they called Lancaster for moral support. Among his recommendations were to rely on their "womens intuition" and not to get discouraged. Only two out of 20 interviews is actually usable on average, he reminded them.
The next day, the young filmmakers hit the streets again, this time with a friend of Falk's grandmother, who acted as tour guide.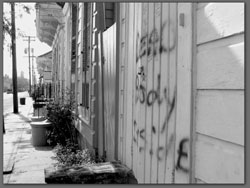 A house in the Ninth Ward is tagged with spray paint to indicate the presence of a dead body, a common sight in the more heavily impacted areas of New Orleans./Courtesy photo
The next day, the young filmmakers hit the streets again, this time with a friend of Falk's grandmother, who acted as tour guide.
"We went to a café and thought, 'Let's just ask some of the workers if we can interview them,'" said Kaasch. "We handled it very professionally, and our confidence started to grow."
From there, the tour guide took the women to various parts of the city, including the ravaged Ninth Ward and St. Bernard's Parish. Four days after arriving, the women had 13 interviews and more than six hours of footage. However, they still did not have a clear idea on what direction to take the film. That's when they met an editor and photographer from the local daily, the Times Picayune, and decided to turn the cameras on them
"Us being rookies and them being from there, they just knew so much and had such a good perspective on everything," said Falk. "Once we talked to them, we knew they would be the center of the film."
As Falk describes it, the film is divided into three parts: past, present and future, with the journalists forming the focus and the other interviews providing support. Of the three parts, the filmmakers said the most emphasis will be put on the present and future.
"We didn't go too much into the past, because everyone knows what happened," said Falk.
However, what's not being talked about, the women said, is the fact that the area is still very much hurting and in need of help.
"We thought it would be interesting to show what's going on now, because everyone's sort of forgotten about it," said Kaasch. "A lot of people think that just because the media's not covering it anymore, everything must be built back up again. But it's not built up; people aren't coming back. It's never going to be the same."
Likewise, the women say they have been forever changed by the experience.
"I haven't felt the same since we got back. I couldn't sleep the whole first week," said Falk.
Kaasch also felt troubled, yet profoundly moved upon her return. "It was a life-enriching experience, for better or worse," she said. "We all called each other when we got home and said, 'Are you feeling this, too?'"
Kaasch said she is still haunted by the stench of garbage and rotting rubble, and the sight of homes ruined beyond repair and buildings spray painted to indicate the presence of dead bodies. Then there was the dust. The ever-present dust that permeated every pore and lead to the dreaded "Katrina cough." But perhaps more so than this, Kaasch said she was moved by the people she met, such as the journalists, for whom such things were a part of everyday life.
"They seemed unaffected, but then they'd talk about so-and-so's house that was lost," she said. "The photographer told us, 'Imagine if, all of a sudden one day, your whole neighborhood was gone.'"
The women said during the filming they were filled with a sense of helplessness, but they realized making the film, which is yet unnamed, was a way to do something.
"We really want to bring it home to Durango so people can understand what we went through," said Kaasch. "We have so much footage, it's numbing. If somehow we can distill that down, and bring that smell to them, the sights … bring it home." •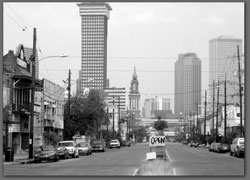 A sign for Cafe Reconcile alerts residents that it is open for business. Few restaurants in the city have re-opened yet, and the ones that have are always busy./Courtesy photo