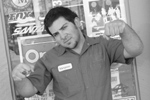 Diver: Shawn Ferrell of the Sow's Ear
Facts:OK, so the mountain is its own world and works by its own rules. If you don't like it, stay away. Remember, the "thumbs down" column was made for people who take the Diver Column too seriously. ENJOY!
Got a dirty little secret?
Looking for guidance to remedy a sticky situation?
Seek help from the master of the kitchen! The Dish Diver has solutions to life's little messes. Send your problems to "Ask the Diver." - By mail to Durango Telegraph - Attn Diver -534 Main Ave., Durango, CO 81301; by email at telegraph@durangotelegraph.com, or by fax at 259-0448.
Diver,
My 14-year-old daughter is becoming quite promiscuous. She's a bit over developed for someone her age, she knows it, and now people are NOTICING it. I'm worried. It's not that I don't trust her, but well, I don't trust her. I want to take measures to make sure she is protected, but I'm afraid she'll take that as a green light for having sex. Is she too young for the pill?
– Not ready to be called Grandma in Grandview
Dear Granny,
Let's look at this for a second, your daughter is 14 and she is becoming quite promiscuous, or as we say up here on the mountain, a skank. I think the best thing to do is send her to Vegas and let her get her start early. If the pill is the only thing you can think of, and you ask a dish diver for advice on your 14-year-old's sex life, it seems to me that you give a rat's ass about her. So, go for it, give her the green light for having sex. For all of you horny 14-year-olds full of skeet out there, keep your eyes open for the hottie on the pill in eighth grade.
– Uncle Shawn 
Dear Diver,
My wife and I went out of town and left our two teen-aged boys alone, overnight, for the first time. Well of course they had a party. The house received minimal damage, however an antique watch of mine that dates to the Civil War era is gone. This is a family heirloom and worth a lot of money, and it has even more sentimental value. Well, the boys don't know what the hell happened to it, and I've combed the local pawn shops with no luck. I'm about to kick these boys out. Any suggestions on discipline measures?
– Pissed Dad in Durango
Come on geez, OK, you knew they would have a party – they're teen-agers. I think you should be the one who gets punished. Every parent knows to hide valuables when gone. If not, you are just paying for that drug habit that they picked up from you. But back to the party, it was a good one. How do I know? I bought the beer. Oh, and Granny, your daughter was there too, looking goooood. And about the watch: Maybe it will show up – or not.
– Contributing to delinquency, Diver
Hey Diver,
My mom recently has been getting on my case because I like to drink and smoke. I just turned 21, am legal and moved out of the house, and she stills hawks on me like I'm a little kid. So, its OK for her to ease her "nerves" with Valium but not OK for me to knock back a couple beers and have a smoke? It's so hypocritical! I'm not being rebellious, I'm just being me. How can I make her understand?
– Sonny Boy
Rebel without a cause,
This is a hard one to break to you, but here it is. You are in the total wrong. Drinking and smoking are of the devil. Listen to your mom, she loves you very much even though she is a druggie. One time a wise man told me that if you honor your mother and father, you shall have long life. I think that was God.
– Reverend S-Ray