A nine-month time out – happy days are here again



by Ted Holteen
I usually try to present events and whatnot in this space based on my own brand of loose chronology, but this week I consciously abandon all form due to my unmitigated excitement. Next Wednesday, the 24th of this wonderful month, we will reclaim our streets, golf courses and luncheonettes from the scourge that is today's youth. On that morning, the golden sun will shine on the still-sealed glass doors of Durango High School for the final time before a tide of dirty non-grownups wash through and into the classrooms to be locked safely away for another academic year. Huzzah! I make no secret of my contempt for anyone who still has a future to look forward to, a dream still possessed by most of the nonmeth-using student body. As for the rest of us, call me a heretical sensationalist, but for my 2005 dollar, Back-to-School time is almost as liberating as the "Freedom Summer" at Buchenwald and Baden-Baden in 1945. (Lighten up, I said "almost," right?) And no, I don't believe the children are our future, unless by "future" you mean "inevitable demise." Damn kids – good riddance.
So what's a senior-to-be with a fake I.D. to do on this final weekend of the summer? Saturday seems to be the night to spend on the town, with all of the usual suspects providing onstage diversions for the next crop of fresh-faced recruits for the Baghdad Express. (By the way, the Army has been recently accepting an unprecedented number of high school dropouts, so you've got an alternative next Wednesday if school is just too much of a drag. And if magnetic yellow ribbons on the back of an SUV mean anything, you'll have plenty of support.) Anyway, if it's the funky New Orleans sound you seek, check out Brotherhood of Groove at the Summit. Up at Steamworks, the DJs take a week off from Ladies' Night to make way for Freewill Recovery, starting sometime around 10 p.m. Notable about this one is the fact that ladies get in free, because three bucks is just too much to pay for three or four hours of live music. The nerve of these venues! But the can't-miss freak show of the week starts earlier, around 8 p.m. at Buckley Park, and ends at the Abbey Theatre in the wee small hours of the morning. I'll explain this in reverse: The band at the Abbey Saturday night is Kan 'Nal, offering up hypnotic, earthly tribal sounds and shamanic visuals. Whatever. That's not important. What is important is the Buckley Park thing, where the evening's show begins with a fire performance, costume and blinky light parade. I hope they have a permit for that.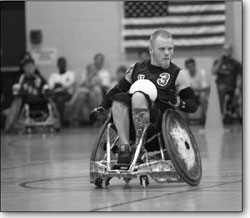 And lest we forget, the Abbey Theatre is also a cinema, complete with movies and popcorn. I don't often do movie reviews, as I rarely attend films and don't remember or understand most of those that I do. But the latest offering at the Abbey has all the makings of a winner, and so it earns four stars in advance from the Occasional Review Department here at the Society Page. "Murderball," the critically acclaimed documentary exploring the bloodlust world of wheelchair rugby, opens on Friday night. Too often, athletic competition among the disabled is undercut by the Special Olympics' "everybody's a winner" attitude perpetuated by organizers, poisoning those already-fragile minds with ideas of equality and fair play. "Murderball" combatants vie in the Paralympics, where as one athlete put it, "I don't want a hug, I want a medal." Here, here. These are bitter men, cheated by the fates, and they take out their anger on the court with a fury not seen since human bones littered the arena at the Roman Coliseum. In the world of "Murderball," a winner is a champion and a loser is a loser, just like in the real sports world.
Finally this week, I need to let you know about something coming up this fall that you need to get in on quickly. On Oct. 8, the inaugural Indy Media 500 will take place at Durango Park. That's the place there at Serious Texas Barbeque with the go-carts and miniature golf near the mall. It's a competition between three-member teams combining mini-golf and go-cart skills, and the idea is for local businesses to foot the $150 entry fee and compete for bragging rights and illegal side bets. Proceeds (from the entries, not the side bets) will be divided between KDUR and Durango Community Access Television, which also will be taping the mayhem for broadcast on Channel 22. More creative marketers may go for the Nascar-style go-cart ads, which I may or may not be imagining are available. Only 18 teams can enter, and the deadline is Sept. 15. Call Dave at KDUR (247-7634) for entry info. It should be quite fun. I recently took a demo run on the go-carts as part of the extensive research that goes into the planning and execution of events like this, and it's a hoot.
Let's share exciting, kid-free recipe ideas. egholteen@hotmail.com. And stop bothering me – the Eagles will be just fine. All is well. •