Open space effort falls short
Developer places neighborhood open space and trail under contract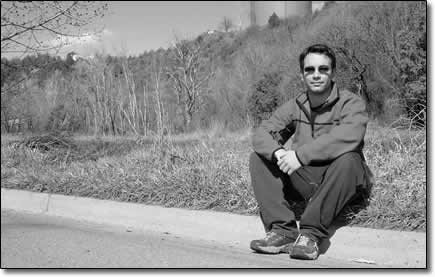 Mike Hurst sits in front 2.15 acres of land that recently went under contract near his northwest Durango neighborhood. The land, which abuts Animas Mountain and provides trail access, was on the city's open space wish list, but efforts by the city and neighborhood residents like Hurst to purchase the land as open space were unsuccessful./Photo by Todd Newcomer.
by Will Sands
Efforts at preservation recently came up short for a popular piece of open space on the west side of Durango. Despite attempts by the city, a 2.15-acre parcel, on the flanks of Animas Mountain and near Junction Creek Road, went under contract to a private buyer recently. One of the property's most significant features is a long-standing trail that connects the neighborhood with the Animas Mountain trails. There is still hope that the trail can be preserved.
The property has long been owned by the Bodine family, and sits on the City of Durango's Parks, Open Space and Trails (POST) master plan as a top candidate for preservation.
"We identified a number of crucial parcels around Animas Mountain, and the Bodine parcel was one of them," said Cathy Metz, Parks and Recreation director. "It was seen as a good value for preservation because of the history of public access and wildlife benefits. Unfortunately, it doesn't look like that's going to happen now."
Last fall, the property was fenced, no-trespassing signs went up and it was listed on the market for $1.8 million. Prior to the listing, the city had worked to negotiate a sale with the Bodines, according to Metz.
"Before the property was put on the market, we did some outreach to family members, but they had no interest in working with us," she said. "When it did go on the market, we tried making contact again, left messages and never got calls back. Eventually, we heard it was under contract."
Gina Piccoli, broker-owner of Coldwell Banker Heritage House Realtors, is representing the anonymous buyer who recently put the 2.15 acres under contract. "It is under contract, and there is another party that has a back-up offer on it in case the first one falls through," she reported.
The situation surrounding the Bodine property demonstrates one of the biggest challenges of open space preservation, according to Scott Graham, chair of the Durango Open Space Advisory Board.
"The real way you can make open space work is with willing owners," he said. "Otherwise, you're competing with developers."
News of the contract hit Mike Hurst, a resident of the neighborhood, particularly hard. Hurst was in the process of mobilizing an effort to purchase the property and preserve it as an open park space. "As soon as I saw the fence and signs go up last fall, I called everyone I know and asked for their help in saving this beautiful piece of land," he said. "But for some reason, the ball never got rolling."
Hurst said that the property is essential as access to Animas Mountain but also as the only open parkland in northwest Durango. "It's hard to capture what I go through every day when I'm riding my bike home from work, turn the corner and run into that open space," he said. "It's a different feeling. It's pretty amazing."
Graham, who also lives in the vicinity of the parcel, agreed, saying, "The value is in its location as a feeder into Animas Mountain. The fact that the front of it is flat could have potentially made it into a good west side park, and there really aren't any west side parks."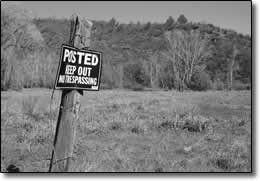 A 'no trespassing' sign is posted on the Bodine property in northwest Durango near Animas Mountain. For years the land has been used by residents to access Animas Mountain, among other things. However, the land, which was listed for sale for $1.8 million, recently went under contract and will likely be developed./Photo by Todd Newcomer.
Graham, who also lives in the vicinity of the parcel, agreed, saying, "The value is in its location as a feeder into Animas Mountain. The fact that the front of it is flat could have potentially made it into a good west side park, and there really aren't any west side parks."
While development on the property appears imminent, Hurst agreed that the trail is the property's most redeeming feature, saying, "Essentially, if you're coming from that side of town there's no other access to Animas Mountain unless you're using that singletrack."
Bill Manning, executive director of Trails 2000, said that the singletrack is a vital Durango trail, noting that it is used not just for recreation but also for transportation.
"That trail has served users for years for a variety of different purposes," he said. "It assists some people in getting to and from Animas Mountain and some in getting to and from Miller Middle School. It keeps everybody off that section of Junction Creek Road that lacks a sidewalk."
Like Hurst, Manning bemoaned the current situation, saying, "I guess all of that is past tense because it's been posted 'no trespassing' for several months."
Manning, Graham and Hurst all expressed hope that the trail can be rescued regardless of what happens on the property.
"I hope the project partners will allow some sort of a public pass-through or that they'll at least consider it," Manning said.
Graham noted, "Assuming this thing is not savable as open space, it would be great if whoever buys that parcel could preserve trail access. That's a big part of that property's value."
And Hurst concluded, "I think at this point, it's going to be really hard to set the property aside as a nature preserve. Maybe we can't preserve the whole parcel, but it's a crucial access to Animas Mountain, and that can be saved."
Piccoli said that the prospective buyers are aware of these concerns, though she's not sure what they might do about them.
"They know that there may need to be a continuation of the trail," she said in closing. "Whether they will do it or the city requires it, I don't know. But they are aware that it is an issue."