Holiday Shopping, A Holiday Tradition (For Some), and Remembering a Lady

By Ted Holteen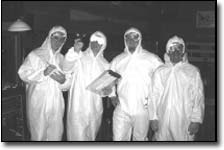 I'm back from Vegas and still writing for the Telegraph, so that should answer any questions. I have a newfound hatred for the Minnesota Vikings, and a newfound respect for hookers. Did you know that some of them drive Hummers, too?
This week, I nearly fell into the trap that trips up so many of us hacks during the holiday season; that of delivering yet another Erma Bombeck-ish anti-holiday tirade, which really does little more than reveal the writer to be a lonely, cynical, probably poor and generally miserable cur. Remember the movie "Funny Farm" with Chevy Chase? (If not, that's totally cool - you're normal) There's a scene where the townspeople set aside their hatred for Chevy and put on a beautiful traditional holiday setup in the interest of financial gain and to make him leave town. Cynical, yes, but the end result was really nice. So I'm turning over a new leaf. As my good friend Uncle Dan says, "Christmas is for the kids." With this is mind, I am embracing the holiday spirit this year (relax, I won't embrace your kids), which is really to say that I won't throw in with the holiday-bashing crowd. It's the best I can do, and I do like to see people happy. I would call it a Scrooge-like conversion, but I think he was still a dick at the end of the story.
My first stop on the road to holiday rehab will be at the Abbey Theatre on Saturday. That's where the Good Spirits Art & Gift Show goes on from 11 a.m. to 4 p.m. I suppose that in my new elfish persona, I will be forced to buy someone a Christmas present for the first time in 20 years, but I can't think of a better place to do it. Twentysome-odd artists will be selling wares like pottery, jewelry, clothes - you get the idea, and Wal-Mart doesn't get the profits. Wal-Mart also doesn't offer beer while you shop. So screw Wal-Mart. There's also a silent auction benefiting the Southwest Safehouse, so by the time you leave, you'll be well on your way to sainthood and dripping in holiday spirit.
Later Saturday night at the Abbey, New Belgium Brewing is screening " Scrapple ." It's an independent flick shot in Telluride about some drug dealers and a pig, if I remember correctly. I rarely remember correctly, but I did enjoy it, and it's got a great soundtrack. That's at 10:30 p.m. and well worth your time.
The holiday cheer just keeps a-comin'. What has inexplicably become a yuletide tradition is back at the Fort Lewis College Community Concert Hall, but it's a little different this year. Usually, the Aspen Ballet performs Tchaikovsky's "Nutcracker" every December, but this year it's being put on by the David Taylor Dance Company and is touted as one of those "modern-interpretation-of-a-classic" things. I saw the Nutcracker when I was around 6 or 7, and all I remember is being terrified by the gigantic nutcrackers. There are comparable phobias - some people are scared of clowns, for example - so this really isn't that irrational. What it has done, however, is repel me for the last 30 years from seeing the show again, and I don't plan on reversing the trend anytime soon. But 'tis the season, and this is the new, bah humbug-free Ted, so gather up the kiddies and keep the tradition alive. It shows at 7 p.m. Friday and Saturday, and at 2 p.m. on Saturday and Sunday.
Barflies, fear not. There are a couple of fine diversions for you, too, both of them at the Summit. On Friday night, the boys of Freewill Recovery play their last show of 2004, and they're making an occasion of it. They'll be joined onstage by local banjo virtuoso Bill Berchini and Frank Trio guitarist Pete Pheteplace for at least part of the evening, which is nice. It's a bar show, so count on start time around 10 p.m. or so. Then next Wednesday, Warsaw makes another visit to the Summit. I'm just mentioning this for your benefit, not the promoters, because it's a zoo every time they come to town and no one needs my help selling tickets. But if you're not in early, good luck.
I end this week on a serious note, sort of. On Friday night, the Fort Lewis College volleyball team is hosting a fund-raiser called "Dancin' With Pep." Not my choice for a name, but the woman in whose honor it's being held was one of a kind. Carol "Peppy" Seale was the woman responsible for bringing women's varsity athletics to the college and taught and coached almost every sport for more than 26 years. Now you people may not believe it, but I'm actually not a bad dancer. Not salsa, tango or other "ethnic" dances - I am of Swedish heritage, after all - but waltzing, foxtrot and that sort of thing. I have Peppy to thank for such a unique education, as one of the many classes that she taught was Ballroom Dance. A fading art, to be sure, but perfectly in character for Peppy. She was a woman of class, dignity, grace and strength, and the truest definition of a lady that I've encountered in a long time. She was a throwback who personified the era when men were gentlemen and women were ladies, who connected with kids and conveyed her own traits to her students effortlessly. Peppy passed away in May, but she would have loved this event. There will be ballroom dance with instruction provided, and all proceeds go to fund the FLC women's volleyball team, which I'm sure can use the money.
Next week: Fun with Kwanzaa!
Send me your Christmas list. ted@ksut.org. Oh, and happy Chanukah. ☯