A transformation of local art
A talk with native artist Carol Martin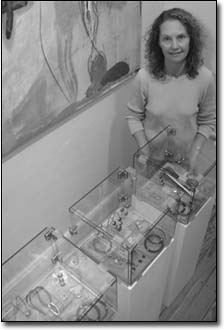 Carol Martin stands behind her jewelry on display at the Ellis Crane Gallery in downtown Durango Monday./Photo by Todd Newcomer.
Growth and change are inherent dynamics in all living things. Mountain communities, often struggling to escape this inevitability, are gaining population faster than any geographic locality in the country. Drawn by spectacular landscapes, recreation and an active community, people like myself are relocating from metropolitan areas to this region at a dizzying rate. Oftentimes we bring with us our urban cultural experience and a desire to recreate it here we transport our values along with ourselves.
A very different town than it was a quarter century ago when a woman walking along Main Avenue wearing cowgirl boots was not making a fashion statement, downtown Durango today boasts a dozen fine art and craft galleries as well as quality food establishments, all offering a variety of visual and culinary arts. Durango is home to a concert hall that draws nationally acclaimed performers, and on most weekend nights, at least two cultural events can be missed in favor of yet another. Durango is heading "uptown." Recently I spoke with area native, former gallery owner and jewelry designer, Carol Martin. We talked about the transformations she has witnessed both in the arts community and in her creative life.
JM: You are one of the relatively few artists in Durango who was born and raised in this area. Born in Cortez, you settled in Durango after finishing college more than 25 years ago. How has the local arts scene changed during your lifetime?
CM: It has changed dramatically. The number of galleries has grown considerably with some closing and new ones opening. I feel the quality of the galleries continues to improve, and they are offering a more diverse selection of art. There used to be primarily Native American and Western art here. Now we have contemporary, fine craft, and photography galleries. Also, the Durango Arts Center has found a permanent home and has expanded along with the community. More artists are moving here, attracted to a quality of life but also the growing cultural aspects. We now have a Public Art Commission whose mission is to enhance the artistic vitality of the city and quality of life for all Durango citizens and visitors through art in public places.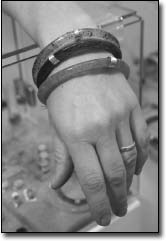 Carol Martin displays a variety of her bangle bracelets./Photo by Todd Newcomer.
JM: You have spent over half your life working in the local gallery business. What brought you to this as a profession?
CM: I started working in Toh-Atin Gallery fresh out of Colorado College, where I studied art with an emphasis in sculpture. The gallery job provided financial means and also filled my passion for art. As time went on I wanted to own my own gallery, which I think was just a natural progression. I enjoyed all my years in the art gallery business, from working with artists and clients to choosing artwork, displaying, and marketing. Over the last 20 years, I realized I needed to express myself through my own work rather than through other artists' work. This is not the usual path an artist takes, but it has worked for me. It also has given me great appreciation for "both sides." I understand where the artist comes from, and how difficult it is to approach galleries, to market oneself, to find creative time and workspace. I also respect gallery owners and understand all the work it takes to keep a business going and thriving, as well as the hard decisions that come with the job.
JM: Last year you closed your business, Martin Roll Gallery, and have returned to your own creative process through making jewelry. What inspired you to create jewelry?
CM: When I was about 40 years old, I started having dreams about glass. My interest in dreams lead me to further investigate working in glass, and I started educating myself about different glass techniques. I had no training in glasswork or as a metalsmith in college; these courses were not offered. I decided that kiln casting was of interest to me, so I took a workshop from Dan Fenton, a well-respected glass artist, and that got me started. I knew that I wanted to create something unique. I had never known anyone to combine cast glass with metals to create jewelry, so I started the process of drawing ideas and learning how to metalsmith. In my mind, jewelry is just miniature sculpture and after working in galleries for years, I knew that jewelers had an easier time selling their work than sculptors
JM: What influences are important to your work?
CM: My jewelry is inspired by nature. I love the colors everywhere I look from seeing fall colors to swimming in tropical waters, I get ideas locally as well as in my travels. Years working with Southwest art and my love of contemporary art, I'm sure, have influenced my work
JM: There are aspects to any creative process that can be tedious and repetitious. What sustains your interest?
CM: I love working with glass because of its texture and color. As I mentioned, I am crazy about color! I mix different types of ground glass to create the colors, as well as crushing and recycling a variety of types of glass. I get jazzed when I come across old cobalt blue glass or coke bottles.
JM: When did you discover your passion for the creative?
CM: I grew up "creating" things. My mom was a seamstress and a clothing designer, and my dad enjoyed working with wood and building, so it was just natural to be making things. I drew, painted, sewed and sculpted, but never really thought about it as "art."While in college, I finally realized it was not only something that I enjoyed but was respected for and was encouraged to pursue.
Ultimately, being creative is like breathing for me. It is just part of who I am and gives my life, and hopefully those around me, much pleasure.
Carol Martin is currently the interim exhibits director at the Durango Arts Center. Her jewelry can be seen at Ellis Crane Gallery. n