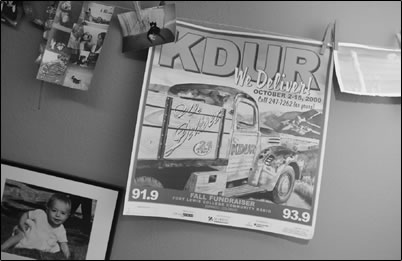 The year 2000 KDUR fall fund-raising poster rests above the desk of Station Manager Nancy Stoffer. the station celebrates 30 years this week, with the realtor vs. brewer DJ battle, the return of the "Know & Win Show" as well as on air performances by this month's Spotlight to Stardom contestants./Photo by Todd Newcomer

On May 13, 1975, a strange, melodic sound spilled out over Durango. It was a flute, and a singer, and folk music. It was, to be exact, "Because of Rain," by Tim Weisberg. And it was the first song aired on KDUR, the public radio station on the Fort Lewis College campus.

Actually, very few people heard that first song on the KDUR airwaves. The semester had already ended and the students had headed home. And the 10-watt signal broadcast at 91.9 FM didn't reach very far: this was verified by a friend of the DJ who chose that Tim Weisberg song for that monumental occasion. That friend was driving north on U.S. 550 carrying a transistor radio to see how far the signal would carry.

In fact, even though this was KDUR's first real broadcast, it wasn't the beginning of the station. KDUR was officially birthed in 1974, when the college gave a small group of students a room in the basement of the College Union Building, some equipment that had been purchased years before, and $3,000 in student fees to found a campus radio station. The stipulation was that for the first year, KFLC (as they hoped it would be assigned by the FCC) was to "broadcast" through hardwired speakers in the CUB, so the staff could practice being responsible, on-air personalities.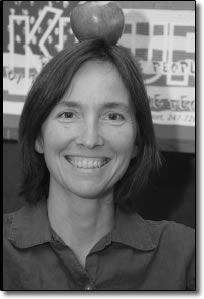 Nancy Stoffer does her best 'William Tell' in the KDUR offices on Monday./Photo by Todd Newcomer

"We're so used to all the communications we have today, kids don't realize we didn't have those 30 years ago," says Jim Vlasich, that Weisberg-playing DJ of three decades ago and KDUR's first station manager. Vlasich today is a professor of history at Southern Utah University, in Cedar City. "Music that college kids were listening to back then wasn't played on mainstream radio stations."

Before moving to Durango in 1973, Vlasich had been living in Denver, where he'd been listening to a station called KFML. "It was a free-format station that played all the music us hippie kids were listening to," he remembers. All he could get on the radio in Durango, though, he says, was "top 40 and the farm report."

Mark Radosevich, who with his wife, Gerry, helped Vlasich get KDUR its on-air wings, remembers it the same way. "You had two choices: cowboy AM and cowboy FM," he laughs. Radosevich now is an energy technologist still living in Durango, but he and Vlasich remain close friends. 4
"All we wanted to do in '74 was play a variety of music," Radosevich says. "We wanted to play some Moody Blues and Beatles. But it was free-form radio. We also played some tribal music, Pacifica News, and NORML's (National Organization for the Reform of Marijuana Laws) legalize-marijuana commercials."


Keeping the sounds flowing

"The fund drive keeps us on the air," says KDUR Station Manager Nancy Stoffer. The station runs two on-air fund drives each year, and this season's runs from Friday, Oct. 8, to Thursday, Oct. 15.

KDUR is largely funded through the Associated Students of Fort Lewis College, which distributes funds from student fees. The rest of the station's budget is made up from memberships, underwriters, and a few small grants. Although it's a "public" radio station, KDUR doesn't receive monies from semi-public entities such as the Corporation for Public Broadcasting.

"We're on a pretty shoe-string, scrappy budget," adds Stoffer.
The upcoming fund drive will open with an all-day competition between six area Realtors to see who can raise the most money in a one-hour on-air slot. Also, Ska Brewery's Dave Thibodeau, the winner of last year's competition (which was between Durango breweries), will defend his crown.

Other events over the week-long drive will include: a live broadcast of the "Know and Win Show;" on-air performances from this year's "Spotlight to Stardom" talent search competitors; and a live appearance by Benny Galloway, from the Yonder Mountain String Band, on Tuesday night's "Sweet Bye and Bye" bluegrass show.

For its 30th anniversary, the theme of this fund drive is "Radio of the People, by the People, for the People."

"I really want KDUR to be a reminder to people to be actively engaged," explains Stoffer.

The poster advertising the drive is an American flag comprised of pictures of and quotes from various "patriots" – with "patriot" defined broadly. People cited include Abe Lincoln, Malcom X, Julia Butterfly, Chief Seattle, Rosa Parks, Edward Abbey and more.

"Helen Keller is the perfect example of a patriot," adds Stoffer. "What excuse do you have for not getting involved compared to her life?"

– Ken Wright
But from those simple goals, something else happened, he observes. "It opened up the door for the college to speak to the community at large."

Radosevich, who became the fledgling station's financial director, found that out when he canvassed the downtown businesses one weekend in 1976 to raise money for a better antenna so KDUR's signal could reach beyond the college mesa: Businesses coughed up $4,000. "They wanted some alternatives, too," he explains. "I'm not at all surprised it's still going 30 years later."

At first, the station broadcast from about 10 a.m. to 1 a.m., about 15 hours a day. Vlasich would walk through the CUB daily to find people to volunteer to read the hourly news. He also recruited Native students to go on air and play powwow music.

Vlasich finally put together a staff of about 50 DJs, but, he adds, "We didn't have records. You had to bring your own records."

Or whatever could be found. One time, walking in town, Vlasich says he came upon a couple named "Robin and Rainbow" playing music. He asked them to come up and play live on the air. They did.

Things came full circle by the end of 1975, though. Later that year, Weisberg played a concert in Durango, and gave an interview and live performance on KDUR.

If KDUR in its early years affected the community, it also was influencing the students who became part of it. Jack Llewellyn, FLC's director of athletic development, entered FLC in 1982 and worked at KDUR from 1983-87. He started with a 2 a.m. to 6 a.m. shift and called himself "The Rock Doctor." "I played classic rock before Big Dog," he says. He then became assistant program director, then program director.

But it wasn't as if he knew this was his calling. When he started at KDUR, he was undecided on his major and did it because, he says, "I liked to talk and liked music." Ultimately, though, he continues, "It opened the door for me. It opened up a whole career for me."

Llewellyn went on after college (he got a degree in English/communications) to become a DJ and salesman with KDGO. He then worked for 12 years at KREZ-TV, where he ended up as station manager. Following a stint with Clear Channel, he, too, came full circle back to FLC. DJing never left him, though: in 1988 he founded 4 Aiko-Aiko Sound, a live-DJ business, which he owned until 1996.

In the mid-1980s, KDUR took on a new role on campus: as not just an extracurricular activity, but an actual part of the curriculum. Among other changes in that era, KDUR created its first paid management positions. The value of this, explains Gary Penington, present director of the Community Concert Hall at Fort Lewis College and a former KDUR board member and president, was that "the students did a good job, but they were students. They needed to study." These professionals could also better mentor those students who formed the bulk of the volunteer staff.


From the KDUR archives:

May 1, 1975: "Rules for college radio station: #22: Parties must not be announced over the air. #23: Be groovy!"
April 13, 1976: From letter to the editor in the Durango Herald critical of KDUR: "This music is intended to set up your mind for control."
October 1976: Free-format radio definition agreed to by KDUR staff: "The free format sound has an individual behind it. Each DJ creates the show. It is an incorporation of imagination, music and words. The imagination is the individual, the music in entertaining, and the words may be spoken or in song, live or prerecorded, thought provoking or boring."
Oct. 1, 1976: "Antenna erection coming" – headline in the Fort Lewis College Independent newspaper, announcing KDUR's new antenna.
March 15, 1977: Jan Williams airs an impromptu editorial about racist KDUR election while drunk. Signs off. Skips rest of show. Resigns.
November 1977: Discipline problems because DJs leave album sides playing while they go to lunch. Obscene albums, even.
1979: Program Manager Tom Williams' response to a listener's charge of "elitism" at KDUR. "If anyone has an idea for something (or anything) that can be broadcast over the air, we want it. This is how elitist we are."
June 1985: From the KDUR newsletter: "KDUR is political because its only mission is to best represent what it finds in the 'community.' Political because it asks the question the community hears."
The English Department also came on board in the 1980s. Although it doesn't fund the station, most of the students today get practicum credit for the time they put in at the station. Students practice news writing and production, and get on-air time, which prepares them for more intensive internships elsewhere, explains English Department Chair Gordon Cheesewright. "Students studying broadcast get hands-on experience and work in a legitimate radio station," he adds, "and it lets them experience all the aspects of broadcasting."

A chance meeting forged another way for KDUR to grow in 1991. Tami Graham became involved with KDUR as a student in 1987, and in 1990 was hired as station manager, a position she held until 1997. One morning while getting a muffin at Carvers, she ran into a KDUR fan who asked her why the station didn't ask its listeners for money. She knew right then that the station had come of age.

"We moved out of adolescence at that moment," she says. The next step was on-air fund-raisers – the first was held that year – and underwriting. That money went to getting the station hooked up to the public radio satellite system that brings in popular syndicated shows such as the "BBC News Hour" and "Democracy Now."

And that's the trajectory KDUR finds itself following now, 30 years after getting piped upstairs from the basement of the College Union Building. Today, KDUR spills its sound over Durango – and over much of La Plata County, thanks to its Missionary Ridge translator at 93.9 FM – at 150 watts. And, more than ever, it is as much a part of the community as of the campus. And that, may define its greatest value.

"It is the best radio station I've ever been involved with," says Michele Malach, the English Department's practicum coordinator and instructor. "It has the best balance of music, public affairs and news I've ever seen. I've been part of college radio stations before, but I've never seen one that is such an integral part of the community."

Nancy Stoffer, KDUR's present station manager, agrees. She also got her start at the station in an indirect way: "I got started with KDUR in a bar. Tami Graham asked me to do a show. I told her I didn't know anything about music. She said it didn't matter. I went on the air with about 15 minutes of training. I was terrified."

That was in 1990. Stoffer's life hasn't been the same since. At that time she was painting houses for a living. Now, she's in her fifth year as KDUR's station manager. To get there, she went from barroom-recruited DJ, to music director, to program director, then did a stint at KSUT before she returned to KDUR.

"The greatest value of KDUR is variety," explains Stoffer, "new music, alternative news programs, and also local news programs like the 'Four Corners Arts Forum.' We allow the underexposed exposure. The older listeners get turned on to hip-hop, and the younger listener gets turned on to classics – not 'classic rock,' but classics like Miles Davis and Ravi Shankar, world classics."

Graham agrees, but with a bit of a revolutionary edge. "KDUR is a place for the community to really be heard amidst the corporatization of the media," she says. "And it says a lot about this community that it supports two public radio stations."