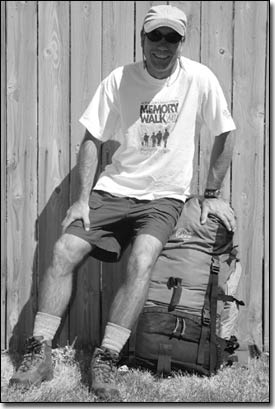 Deke Luhmann rests upon the faithful companion that will accompany him on his solo journey from Silverton to Durango. Luhmann, who works at Four Corners Health Care Center, began making the two-day
trek five years ago in honor of the annual Alzheimer's Memory Walk and to raise awareness of the disease./Photo by Todd Newcomer

D urango's Deke Luhmann has walked from Silverton to Durango five separate times. Luhmann is neither a struggling hitchhiker nor an unimaginative hiker. Each year, he makes the 50-mile pilgrimage to raise awareness about Alzheimer's, a disease he knows first-hand through his work at the Four Corners Health Care Center.
Luhmann has participated in the Southwest Colorado Memory Walk, which takes place this year on Sept. 18, throughout its nine-year, local history. His usual memory walk became a 50-mile haul five years ago when an event coordinator suggested that he up the stakes.
"One of the Memory Walk nurse coordinators knew of my background in backpacking and suggested I try walking from Silverton," he said. That year, Luhmann departed from Silverton at 10 a.m. on Wednesday, Sept. 8.
Luhmann said he doesn't train for the walk, but feels that perhaps his years of solo backpacking provided him with the necessary stamina. The journey may seem exhausting. After all, it takes Luhmann two nine-hour days of walking to cross the more than 50-miles. But Luhmann is humble about the annual trip and says he simply thinks the walk is an "easy one, which is a nice gesture to raise awareness."
In addition to stamina, Luhmann's other asset is that he takes sanctuary in solitude. He will end his eight to nine-hour days, hiking at three-miles an hour, by camping on Coal Bank Pass the first night and on Animas View Drive the following night. Over the past few years, the walk has opened Luhmann's eyes to an area that for many has become commonplace.
"It's neat to gain a different perspective," Luhmann said. "We've all driven and biked that road hundreds of times, but when you're walking, you see the things we tend to miss even biking, the fossils and different rocks along the cliffs."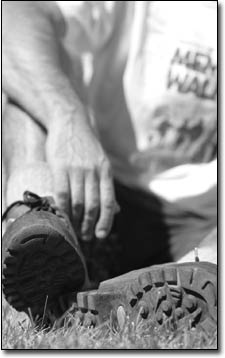 Deke Luhmann rests in his hiking boots
Tuesday morning. Next week, Luhmann and his boots will be making the 50-mile trek from Silverton to Durango./Photo by Todd Newcomer.
Luhmann also insists that his annual trip goes well beyond continuing an annual act of altruism. He's hopeful that in helping to create local awareness, he can also put a familiar face on the fight against the disease.
"Even though I'm only the maintenance man, I'm in and out of the Alzheimer's unit all the time, and I see it on a daily basis," said Luhmann.
And by seeing it on a daily basis, Luhmann has learned that Alzheimer's is a particularly ravaging disease. "I get to know the different patients who come in a minimally progressed state and go to a completely different one a year later," he said. "It's sad to meet these great people and learn their histories, to later see them reduced to a child-like state."
He added that Alzheimer's is more widespread than many believe.
"If you look at the statistics, the disease affects most people," he said. "If a family member lives long enough, the chances of getting the disease increase greatly."
Luhmann is expected to arrive at the Four Corners Health Center on Friday, Sept. 10, where he is greeted year after year by patients and his fellow employees and advocates.