Diver,
I read a letter in this column a few weeks back asking about "punk" fashion. What about this "rockabilly" fashion thing? I see a few 1950s throwbacks out there, with the grease in the hair and the rolled-up pants. I usually see them turn up at these rockabilly shows. Sure I agree with their stance on hippies, but what man has time for what basically amounts to a costume?
– Just curious,
Mark
Dear Mark,
Rockabilly show in Durango? I wasn't aware. And what is everyone's beef with hippies anyway? As for your tedious question, lots of men have time for a costume around these parts due to the increasing need to impress the lack of lady counterparts in Durango. Whether the hair grease is intentional or not, we should all try to appreciate each other's costume flair.
– Dirty Feet and Greasy Hair,
The Diver
---
Dear Diver,
Is it true history repeats itself? I work at FLC, and when I look at the way the girls dress, it's basically 1975 all over again. There are many girls on campus who look like Marcia Brady. I was 40 in 1975 (do the math) so the '70s are not a "vague childhood" memory. So, do history and fashion trends repeat every few decades?
– Old Prof at FLC
Dear Old Prof,
I'm flattered you noticed. According to my calculations, shouldn't you be answering the history questions? I'm not sure that Marcia Brady would fit in at the Fort; after all, she brushed her hair, didn't she? As for your question, history does repeat itself, just look at W. and the cavemen.
– At least we have fire,
Diver
---
Diver,
I just got a DUI. How do I tell my wife? She is going to be pissed. I'm constantly getting on her for having a few drinks and getting behind the wheel, and now here I go and get one for myself. Is there an easy way to break the news?
– Anonymous
Dear Anonymous,
According to the local buzz, those coppers are really crackin' down, huh? About the wifey, don't worry. After her initial rage, she'll take pure satisfaction in gloating about your stupidity. They feed off of it.
– Yours in hypocrisy,
Diver
Diver: Maggie from J-Bo's
Facts: Maggie gives the honest answers that can cause both pain and pleasure to the community.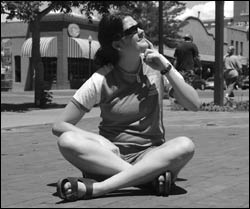 Got a dirty little secret?
Looking for guidance to remedy a sticky situation?
Seek help from the master of the kitchen! The Dish Diver has solutions to life's little messes. Send your problems to "Ask the Diver." - By mail to Durango Telegraph - Attn Diver -534 Main Ave., Durango, CO 81301; by email at telegraph@durangotelegraph.com, or by fax at 259-0448.
Diver,
My kids lately have been at each other's throats and it's driving me insane! All they do is fight, fight, fight. Well, they don't actually get into a fist-fight, I usually stop them before it comes to that. However, if one of them got punched in the nose by the other, do you think that would scare them into thinking fighting's no good? One day I just want to let them go at it and see what happens, after all, siblings have been fighting with their fists for years. What do you think?
– Mom
Dear Mom,
Props for being unconventional. We need to breed more violent people in this country. I'm a firm believer in a Taser; it'll be more fun if you lash 'em out yourself. However, my parents used your suggested method, and look at me, I'm freakin' "Dear Abby"over here.
– Let 'em at it,
Diver