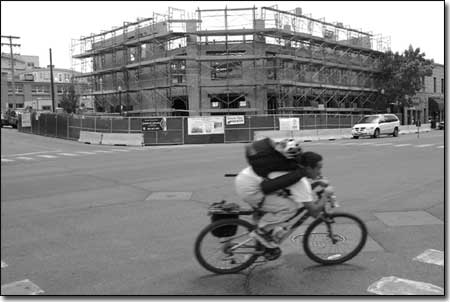 A cyclist whizzes past the corner of Seventh Street and Main Avenue, the site of the future Stillwell building, which will house commercial space as well as three deluxe penthouses. The Stillwell is one of several pending or planned high-end condo developments in the downtown area./Photo by Todd Newcomer.
A high-end residential building boom has come to downtown Durango, with more than 50 units either in the works or proposed for the near future. While developers say the luxury units, some selling for as much as $900,000, will boost sagging downtown tax receipts, help decrease dependency on cars and provide infill, city planners are guarded on how the development could change the face of the historic district.
"I am concerned; I think everyone should be," said City Planner Greg Hoch. "The city is concerned about the impact that significant, taller buildings will have on the downtown. We are concerned about the possible effects these new additions will have on our historic fabric, so we want to proceed cautiously."
Right now, the most recognizable sign of this growth is the Stillwell Building, at the corner of Main Avenue and Seventh Street, which will contain three penthouse suites as well as commercial space. A block to the north, the former Do it Best hardware building has given way to a renovation project that proposes to yield at least two more condominiums as well as commercial space on the lower level, Hoch said. Also currently making it through the pipes of the city approval process are a four-story building on the corner of 12th Street and Main, which would house 10 residential units, eight offices, two retail spaces and a parking garage; and a proposed second story of residential units for the building formerly occupied by the Buzz House.
In addition to these, Hoch said there are many more units in the preliminary stages.
"There is a huge infill project being talked about for the 400 block of East Second, including a parking garage, commercial space and residential," he said, adding that city planning staff was meeting with the developers on Thursday to learn more about it. He said other possible sites being discussed for residential use include a lot west of Main now being used for railroad parking, a building across from the County Courthouse on East Second and another building near the Main Avenue-College Drive intersection.
"With all these and many more significant big projects to come, I'm really worried," he said. "We are supportive of infill, but we don't want to lose the feel and character of the existing downtown."
But perhaps even more so, Hoch said he is concerned about losing Durango's working class, which he fears will be forced out by the high prices of the downtown real estate.
"Prices appear to be trending toward extremely high end, high cost," he said. "We need places for our working class people. Unless developers recognize the need for diversity in unit types and cost, the end result may not be that beneficial."
While it may be too soon to tell what sort of impact high-end developments will have on downtown, one thing is generally agreed upon by Hoch and others. The recent trend in upscale, urban housing has been fueled by the success of the Mears House, a luxury condo development in the 500 block of East Second Avenue. Since it went on the market last year, 15 of the 18 units, priced in the $550,000 range, have sold.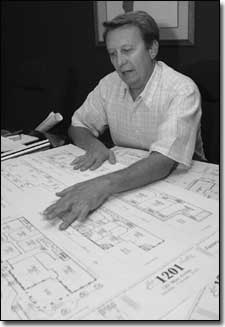 Developer Tom Caver Jr. looks over the plans for his new 38,000-square-foot building at 12 Street, which would include 10 residential units, office space, retail space and a plaza./Photo by Todd Newcomer.
"Looking at the prices people can get, the Mears House was a litmus test for other developers," Hoch said.
Gina Piccoli, owner of Coldwell Banker Heritage House Realtors, which is 4
listing the Stillwell, agreed that the Mears House proved there was a market for pricey downtown living.
"The first high-end development downtown was the Mears House, and it was successful," she said. "Fifteen of the units sold right away."
Piccoli said this demand stems from a wider trend taking place, that of people leaving suburban areas in favor of the amenities of the city.
"The trend of the population has changed," she said. "People are moving into cities and living downtown. They like to be able to walk to where they're working."
Economic factors also play a role in urban residential development, Piccoli said.
"That's the direction people say downtowns have to take to maintain their viability," she said. "The goal is to get residents downtown so there's some activity, so there's people shopping for real life things, not just tourist things."
Tom Caver Jr., who is developing the project at 12th Street, predicts his new building will do just that.
"The general philosophy is to bring more people to live downtown, and they won't have to get in their cars to drive," he said.
Caver also said with offices below the apartments, he hopes the building will present a true live-work situation for residents.
"Our architect has six kids, with only one still at home, and now he's got this big, empty house," he said. "So, he plans on buying a unit and the office downstairs from it."
It is these so-called "empty-nesters" as well as retirees and young professionals that Caver envisions as future residents. And although the listing prices for the units have not been established, these people will likely be the only ones able to afford to live in them.
"We're looking now at how much it's going to cost us," he said. "They'll be upper end. I don't believe they'll be as expensive as Stillwell, since they're smaller, so the price will be smaller."
Caver said the average size for his residential units will be 1,800 square feet. By contrast, the largest of the three Stillwell penthouses is upwards of 2,500 square feet and is listed at $900,000.
Piccoli said cost overruns combined with luxurious amenities, such as large balconies, fireplaces and underground parking, help justify the hefty price tag.
"They are really nice units with a lot of features," she said. "And construction costs have been more than expected."
Caver said the price of his units will largely depend on decorative finishes, construction costs and whether the city will grant him a variance for parking. Right now, he is required by the city to have about 82 parking spaces, however he only has room for about half of that in the basement garage. He can either pay the city an in lieu parking fee of $6,000 per space or request a variance, in which the extra spaces will be waved.
"If we have to buy 40 spaces, it will affect the price dramatically," he said.
Caver, who will be pleading his case Sept. 13 in front of the Planning Commission, is confident the fee will be waived, noting that the Stillwell was granted a similar variance.
"What's more important? Space for people or space for cars?" he asked. "Infill is important, and keeping the downtown vital is important."
And while Hoch agrees, he notes there is a caveat: that infill is done correctly. To that effect, the city recently began developing a Downtown Vision and Strategic Plan. Expected in April, the plan will be written based upon the findings of an outside consultant and several focus groups – one of which is a housing and infill group. He said the groups, city staff and consultants will meet Sept. 27 to discuss their findings, and a public meeting "charette" will be held Sept. 28 to invite public input.
"Yes, I'm concerned, but it's how the issue gets resolved that should be the focus," he said. "Durango has always been well balanced. Our challenge in the future will be to keep the balance."