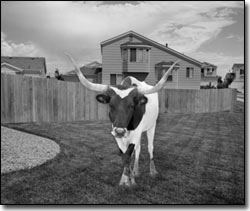 Twenty acres
This will be the ninth time in a day when we pass each other in cars and trucks. There were more times on foot and farm equipment. I look at his face and his slab hand as he raises it with the palm open. I remember to notice now if he is doing the same. I watch his eyes and the way his head moves to just but surely make this contact. These narrow and loose old roads take a good share of attention. What I can't be sure of until I ask him tonight, with more hand gestures and Latin rudiments over sweet tea or cerveza , is does he want me to know that he rolls honorably, unarmed and has no intention of hurting me. We have some history between us.
-Haz Said
It is often said that big surprises come in brown paper wrapping. That wisdom is realized in a slim, unassuming, beige book of poetry recently published by Durango author Haz Said. Said's debut book Town and country , offers profound and memorable glimpses into how life ought to be. Each poem in the collection is sparingly beautiful, written with a measured and controlled cadence.
Town and country is the work of a disciplined poet, writing a poem a week for one year. SaEFd remarked that he finds fodder for his poetry in his profession as a beekeeper, commenting that both involve a certain amount of danger: a fear of exposure. Of the original 70 poems, the final book has been culled down to 24 polished works arranged thematically into two sections: "The City Proper" and "Off the Grid." Each chapter opens with a poetic invitation of sorts ("Choosing two" and "Ready road") to accompany the reader on the poet's journey through various landscapes.
From raw snapshots of rural ranch life to haunting narratives of cityscapes, Said's brilliant and often powerful imagery remains etched in the reader's mind for days. At times his tone is playful, even humorous, but most of his verse is quietly contemplative, grounded in a keen observation of the natural world. "Choosing two" will appeal to all who commute to work on bicycles or who love a trip through town on their cruisers. In "Apron string," Said demonstrates his salt as a poet by showcasing his ability to write about the personal, "I have erred a living's worth in my quarterlife and/ yet, here well before your dying,/ I have imagined your wings," without falling into the deadly traps of cliche, pained nostalgia or sentimentality.
Said effectively maintains objective distance from his subject matter while also cultivating a personal connection with the reader. He uses understatement to great effect, honestly painting urban and rural realities with sharpness, clarity and sensitivity. In "Terminal," Said captures the humanity and nobility of an aging vagabond with such powerful images as "An old man mutters/ you never lose your love for trains/You look for the eyes, past the bb pocks/and switch furrows." In "A day where I live" he paints in unforgettable earth tones the daily struggles of a hungry rancher listening for "her truck /grinding up and grading the curves in from town. News of the world, and dinner."
The poems unravel in deceptive simplicity, leaving one with the impression that what has been left unsaid between the lines is just as important as what has been said.
Said's poetry has been compared to the works of the literary greats Thomas Hardy and Thorton Wilder, but he has truly cultivated his own unique style and authentic voice . He demonstrates amazing versatility as a poet, moving between poetic prose and tightly structured verse. He delights in playing with language, and in the surprises that result when words are forced into "differently shaped containers."
While each poem exists as a separate entity, they work together seamlessly to present a cohesive picture of our world. Woven throughout are the themes of family, tradition, love, death, relationships and an appreciation of nature. SaEFd vividly captures the dual nature of existence for those of us who are caught between the often conflicting backdrops of the town and the country.
Town and country's combination of bold but pared-down style with a positive spin on the ordinary gives the book universal appeal. This should be true whether you live in "The city proper" or "Off the grid."