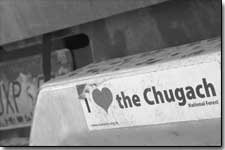 Alaska or Bust: Despite recent dumpage in the San Juans, some local skiers are still dreaming of the great, white north./Photo by Todd Newcomer.
Mercy gets final nod
The Durango City Council unanimously granted final approval to Mercy Medical Center last Tuesday. The expanded medical facility will be the focal point of the Southern Ute Indian Tribe's 2,293-unit Grandview development and plans to break ground this month and open in January 2006.
Ellen Roberts, chair of the Mercy Medical Center Board of Directors, said the council's decision opens an exciting chapter for the region.
"Without a doubt, we are very excited to be able to move forward because we truly believe this is going to help improve the region's access to quality health care," she said. "We also look forward to being a good neighbor to the people in Grandview. That all sounds superficial but we really mean it."
Roberts noted that the hospital is aware that it is changing the dynamic of Durango and will work to minimize adverse impacts, including to the already crowded U.S. Highway 160 corridor.
"We're definitely aware that we're going to be impacting the development and direction of Durango, and we want it to be done in the best possible way," she said.
She also added that Mercy will work to be a good neighbor in Grandview. "It's not lip service," she said. "We want to be truly integrated in the environment out there."
Meanwhile, Mercy has been working with city and county staffs and the La Plata Economic Action Development Partnership (LEAD) to come up with a plan for the current hospital facility.
"The hospital has been in conversation with the city, county and LEAD and we're trying to work together to get a comprehensive view of what downtown Durango might look like, particularly after the hospital leaves," Roberts said. "We are in favor of doing something fiscally responsible with the building that does not compromise the community."
Vision for downtown takes shape
Downtown Durango is sparking interest on another front. Efforts to retain vitality in the Central Business District are currently being made by the La Plata Economic Action Development Partnership (LEAD).
Bobby Lieb, of LEAD, explained, "In the grand scheme of things we have a very successful Central Business District and basically we want to keep it that way. With the Missionary Ridge Fire, we had two years that showed us our vulnerability. It's very important that if we want to keep the heart of our town, we need it to be economically viable."
In February, LEAD hosted a public visioning session to get ideas for keeping the heart of Durango viable. Lieb said that there is an abundance of good ideas, and now it's just a matter of developing a game plan.
"There are a gazillion great ideas on what we should do to help it, but no game plan, prioritization or assessment of the resources needed," Lieb said. "What we hope to do is identify those priorities and put them in a comprehensive plan."
On Friday, March 5, a second gathering will be held at 8:30 p.m. at the Durango Community Recreation Center. A preliminary sketch of a new umbrella organization to represent all downtown constituencies will be presented, and overall objectives will be discussed.
"Basically we'll throw the proposal up there and let people throw darts at it and give their input," Lieb said.
For more information, contact LEAD at 259-1700.
In a related and surprising move, Wal-Mart announced this week that it has launched a Business Directory program with the purpose of promoting the downtown business community.
"At Wal-Mart Durango we share the philosophy that success in business starts by building strong and healthy communities," said Russell Parker, store director. "By creating programs that contribute to the success of our local small businesses, everyonewill win."
A printed directory of downtown businesses will be distributed at Wal-Mart and other key locations, and an on-line directory is available at www.downtowndurango.org.
Study finds housing costs average
In spite of popular perception, a recent Colorado State University study reports that the costs of living and housing in La Plata County are actually average for the state of Colorado. The study also showed that the local gap between wealth and poverty is smaller than in all but 15 other counties.
Elizabeth Garner, a co-author of the study, noted that the cost of living and housing is average in La Plata County and slightly above average in the City of Durango. Garner also said that an average cost of living does not necessarily point to easy living, and that the study did not consider local wages.
"It's all relative," she said. "If you've got a lot of jobs in La Plata County that are servicing the tourism industry, they tend to not have the highest income level. It might make it tough for those employees to afford housing."
Garner also explained that the study looked at income distribution within the counties and La Plata County scored very well. "La Plata came out as average, which is really good," she said. "That means you have a nice distribution of income rather than extremely high incomes or very low incomes."
Garner also said that the study is a year old, and with escalating local property values is rapidly becoming dated.
Silverton boarding school coming
The Rocky Mountain Adventure Academy is planning to open its doors in Silverton, and Dr. Bruce Kienapfel, who formerly supervised schools in Ouray, is hedging his bets that parents from throughout the country will cough up $25,000 for yearly tuition, room and board at the new school.
The Rocky Mountain Adventure Academy is described as a "10-month, co-ed, academic and outdoor adventure experience for teen-agers from the United States and all over the world," according to a report in the Telluride Watch . The story continued that the Silverton School Board has embraced the idea of importing students but will not make a financial contribution.
Felon breaks out of Hilltop House
Authorities are currently searching for an inmate who escaped from Hilltop House Community Corrections last Sunday night. Nineteen-year-old Joseph Castro, of Ignacio, left the facility without permission. He had served three months of a three-year sentence for felony burglary of the Youth Build program in Ignacio.
Castro is described as a Hispanic male who is small in stature with very short brown hair. He is 5 feet, 6 inches tall, weighs 150 pounds, and his distinguishing features include: "KRIME" tattooed on his upper right arm, a tattoo of a woman on his lower right arm, a tattoo of a little boy with a hat on his lower left arm, a tattoo of a cross on his right hand and a scar on the middle finger of his right hand.
Anyone with information on the whereabouts of Castro is encouraged to call the Durango Police Department at 385-2900.