Film Festival surges into 4th year
From Oscar to Palme d'Or and everything in between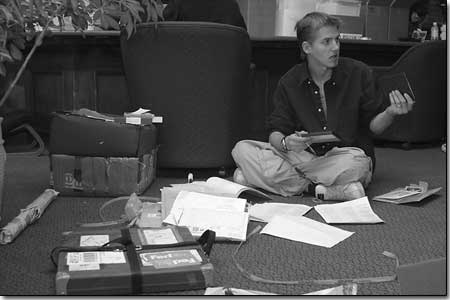 Durango Film Festival volunteer Sean Farrell works diligently on the floor of the film festival offices on Monday, sorting through mail and incoming submissions. The festival kicks off Friday and runs through March 14./Photo by Todd Newcomer.
For the first time, an Academy Award-winning film will play at the Durango Film Festival. Maryann DeLeo, who directed and produced "Chernobyl Heart," accepted an Oscar for Best Documentary, short subject, on Feb. 29, and will be showing the film at this year's festival, which runs March 6-14.
And this is just one sign of the increase in caliber of the Durango Film Festival. Over the past four years, the festival has grown from an entirely volunteer-run event, as in its first year, to a respected film festival with a growing reputation.
"The thing that rings true is that (the filmmakers) absolutely love Durango," said Joe Booth, a festival board member.
Booth said that the hospitality of the town, the fact that audiences fill theaters for most screenings, and the festival's focus on films and filmmakers – rather than distributors – have led to positive word of mouth. Last year, Booth even had a filmmaker tell him that he heard about the Durango Film Festival while attending the Cannes Film Festival.
"The word is out in the industry that (the Durango Film Festival) is a filmmakers' festival," Booth said.
And filmmakers love receptive audiences. Booth said in other festivals, a filmmaker might show up to his or her screening and face a dismal showing of only five or six audience members. But in Durango, "often it's a sold out crowd and they're just blown away," Booth said.
"When screening their films, we bring an audience," Booth said.
He said filmmakers also respond to the community in general. Booth cited as an example a New York filmmaker who attended the Durango Film Festival a few years ago.
"He said, 'I live in New York City, where statistics show you pass by 80,000 people a day, and you never talk to anyone. I'm in Durango for two days and walk into a coffee shop and people say, 'Hey Dave!'" Booth chuckled.
Sofia Van Surksum, festival executive director, agreed that the response from filmmakers has been overwhelmingly positive, and has fueled the continuing evolution of the event.
"It was the filmmakers' experience here in Durango that gave us the reputation we've gotten," she said. "My goal was 400 (submitted films this year) and we ended up with 450 submissions."
Of the 450 films submitted, 125 were accepted. In 2001, the festival's first year, there were 174 entries, of which 79 were selected.
"Each year we've grown tremendously," Van Surksum said.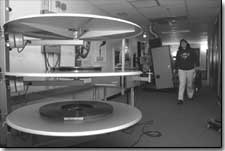 Rick Evers, manager of the Translux Theaters, spools a new roll of film in the
projection booth at the theater on Monday./Photo by Todd Newcomer.
This year's film selection offers 33 world premieres, and a number of films that have received recognition at major festivals. One of them, Gus Van Sant's "Elephant," won the Palme d'Or award – essentially the top award – at the 2003 Cannes Film Festival. The film, based on the Columbine tragedy, examines high school life on a seemingly ordinary day. 4
"This is a big film, an amazing film," Van Surksum said.
Still, she said that in addition to high quality independent films, there are other impressive activities during the festival, such as parties, panels and kids' shows.
"We're not in contraction mode; we're in expansion mode. Every aspect of the festival has grown," she said.
Parties include an opening night gala at the Smiley Building on March 5, and a "Meet the Filmmakers" party at CafE9 Sari on March 11. The day before, there will be a reception for artist Darren Vigil Gray, who in addition to donating use of his painting on festival posters and its program, will donate the painting itself – valued at more than $10,000 – to a silent auction at Sorrel Sky Gallery to raise money for the festival.
There will be a special reception for Les Guthman, executive vice-president for Outside TV, at Backcountry Experience on March 8. Guthman worked on four films at this year's festival – "Yunnan Great Rivers Expedition," "Fire on Ice," "Farther Than the Eye Can See" and "Messner" – which feature subjects climbing Everest or boating in Western China.
"These films speak to the incredible nature of the human spirit," Van Surksum said.
Another special event is the March 12 James Twyman "Benefit Concert" at the Community Concert Hall at Fort Lewis College. Twyman will perform on the guitar and then screen "Indigo," a feature about a grandfather and his 10-year-old psychic grandchild. The benefit will raise money not only for the festival, but for Iraqi children rendered homeless by the war. In fact, Van Surksum will accompany Twyman to Baghdad just a few days after the Film Festival concludes.
"I consider it a privilege that we're able to raise money directly here in our community and be able to go to Baghdad and see the kids that are benefiting from this," Van Surksum said.
Local children also will benefit from this year's film festival. Around 600 third- and fourth-grade students in the 9-R School District will be bused to see a special series of films at the Durango Arts Center. Additionally, Escalante and Miller Middle Schools will have in-class screenings and visits from filmmakers for grades 6-8.
"Around 1,200 students will be exposed to independent films being played during the festival," Van Surksum said.
The school program is one of the festival's beneficiaries of $10,000 donated from the city of Durango, its first donation to the Film Festival.
"The money from the city has given us the foundation to build and expand every area of the festival, from the school program to the venues," Van Surksum said.
For example, 12 regional films – which are free – will be shown at the Durango Arts Center this year. Last year the free films were shown at Brainstorm Industries, a 30-seat venue. By showing the regional films at the larger center, "about 1,000 people will be able to see free films, Van Surksum said.
And the future continues to look bright for the Durango Film Festival, thanks to next year's banner anniversary.
"Going into our fifth year, we will be able to seek funding from outside of the region, both from grants and sponsors, so with that we'll have the financial foundation we need to hire more staff and continue to do the work that we're doing, as well as developing new programs," Van Surksum said.
But for now, the focus is on the 2004 festival.
"We invite everybody to come out – meet the filmmakers, see great films and support independent film in Durango," Van Surksum said.