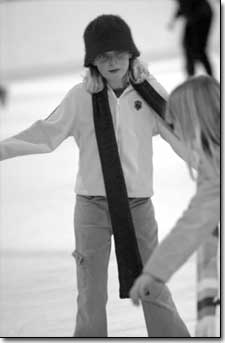 SteadyNow: An ice skater catches her balance at the Chapman Hill ice rink Monday afternoon./Photo by Todd Newcomer.
Excel School granted 5-year contract
Things are looking up for the Excel Charter School. Last Thursday, members of the Durango School District 9-R Board approved a five-year contract contingent on scholastic performance. Excel has been plagued by staff and board member turnover as well as problems meeting state and national requirements, and last summer the school was in danger of losing its charter.
Since that time, Excel has worked to get back on track, and 9-R Superintendent Mary Barter said efforts to meet academic standards have been successful.
"Many charter schools went off in innovative directions but did not seek to live up to academic standards," she said. "Now, I think there's a much better understanding by Excel of what it takes to meet the standards that are in place."
Barter added that the alternative middle and high school has made significant progress since last summer. "I think in the last year huge strides have been made to make Excel viable in this new environment," she said. "That's why I was very pleased to recommend a five-year extension of the contract."
However, Barter said that Excel will be expected to perform on par with other schools in the district. Specifically, Excel must demonstrate that its students meet or exceed other 9-R performance standards; must maintain a school rating of at least "average" on the State Accountability Report; must maintain a minimum enrollment of 100 full-time students; and meet other state and federal standards.
"Like all contracts, if you violate the contract, you put your future in jeopardy," Barter said. "This contract requires that Excel perform up to the standards of our district's other secondary schools."
Efforts try to slow Navajo pipeline
Grassroots opponents and state legislators are trying to slow a massive new water project just across state lines in northwest New Mexico. The Navajo Nation and New Mexico State Engineer's Office are working to fast track a settlement that would enable the tribe to build a $900 million pipeline to siphon 322,000 acre-feet of water out of the San Juan River each year. The pair would like to have the settlement before the U.S. Congress in March for a vote.
In late January, New Mexico Senate Majority Leader Manny Aragon introduced legislation that would delay the settlement and allow other water users and stakeholders to scrutinize the proposal. "The slow down will give non-Native American water stakeholders in the San Juan Basin an opportunity to gather information," Aragon said in a press release.
Steve Cone, of the Citizens' Progressive Alliance, added that it is a push to get the public involved in a process that it has been largely excluded from. "What some of the legislators appear to be concerned about is what some of the local entities and groups have been saying for the last two months, and that's that the whole process needs to be slowed down," Cone said. "People's property rights, and particularly their water rights, could be impacted."
Cone added that at the same time the legislators are working for due process, the Navajo Nation and state engineer are trying even harder to speed it up. He concluded by saying that the Navajo pipeline could be potentially disastrous for the river and the area. As a result, opposition to the fast track has grown to include Navajos and non-Indians.
"Actually, there's a fairly broad-based concern and human cry coming up from Navajos and non-Indians that this has been mishandled and could be faulty," he said. "None of the technical studies or specific information has been provided to the public, and it's the public that's going to be asked to pay for this."
Canada Lynx recovery plan aired
A broad-based push to aid in the recovery of the Canada lynx is under way locally and throughout the Rocky Mountains. The Forest Service has released a draft environmental impact statement on a proposal to amend forest plans on seven national forests in Colorado and Wyoming, including the San Juan National Forest. The amendments would provide direction in the conservation and recovery of the endangered lynx.
Scoping has been completed, and public comments were across the board. Many people expressed concerns that lynx management would place limits on "hazardous fuels reduction" and snowmobile use.Based on these, other comments, and its own findings, the Forest Service has recommended a proposal that would contribute to lynx conservation while addressing wildland fire risk.The plan also responds to findings that grazing, mineral extraction, forest roads and over-the-snow activities are not a threat to lynx as a whole.Additional public comments will be accepted through late April, and a final EIS and decision are expected this fall.
Rocky Mountain Regional Forester Rick Cables commented: "A great deal of new scientific information about lynx has become available in the last few years. This is providing a better understanding of the lynx, its prey base and its habitat requirements.The Forest Service must ensure our actions contribute to the conservation and recovery of the Canada lynx, while preserving the overall multiple-use direction in existing plans."
Computer recycling event offered
Residents have the opportunity to get rid of their early generation PCs this week. A three-day computer and television recycling collection will be held Feb. 5-7 at the Durango Recycling Center.
According to state regulations, certain electronics cannot be disposed of in landfills because of hazardous materials. Individuals, businesses, governments and schools are all invited to participate.
"Out-dated computer equipment has a way of piling up in homes, offices and warehouses where it takes up space and isn't put to use," said Nancy Andrews, the city's Resource Conservation Coordinator. "The Recycling Center is offering a solution for residential and commercial computer waste by providing this three-day computer and television collection."
There will be a $5 fee for CPU's, printers and scanners. Each monitor, laptop and TV up to 32 inches will be $15. Items such as keyboards, cables and mice will be accepted at no charge. Cell phones and inkjet and toner cartridges will also be collected for free. Companies wishing to bring in large quantities should contact Andrews to make arrangements for unloading and processing. For further information, contact Andrews at 385-2863.