by Mike Sheahan
T here is a definite "good news, bad news" scenario brewing in Durango this week. You say you want the good news first? Very well. The good news is, now that Snowdown and Super Bowl Sunday are quickly becoming vague memories, our little burg is beginning to return to normal. You may never have to see another neighbor dressed in leopard-print pajamas or tiger-striped car seat covers again. And unless, like me, you are an insomniac and cannot fall asleep until you've seen two hours of Cartoon Network programming, you will surely go a long time before you hear the words "yabba dabba do" again.
The bad news happens to be the same as the good. Durango will soon be the sleepy little town alluded to above, and after a few weeks of Snoozeville, USA, we may all be wistfully hoping for some wildly over-served mother of three with a bone in her hair to interrupt our lives. Instead of being force-fed a steady diet of superficial and sometimes bawdy fun, we are again left to our own devices. That is where "The Goods" comes in. I have been working tirelessly to help you cut through the fatuous to find the fabulous.
Friday, Feb. 6, offers the widest ranging and most compelling possibilities for a fun night out this week starting at the Community Concert Hall at Fort Lewis. Bluegrass aficionados and purists will love a visit by modern legend Rhonda Vincent . This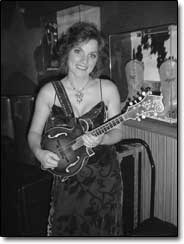 Rhonda Vincent
accomplished mandolin and fiddle player has won many awards for her work and represents the dwindling group of modern bluegrass traditionalists. Bluegrass runs in Vincent's family (she began performing in her family band at 3), and her music shows it. The ticket price is a relative bargain as well.
If you prefer your live music entertainment with a few more teeth, then Friday should find you at Storyville for a night with Amazing Larry , Burial and Jean Jacket . If the live music roster alone isn't enough to get you off the couch, it should be known that the night is a benefit for Tex from Durango's first band of punk, The Thirteens. It seems the young man was injured in a kite boarding accident right after Christmas. All sorts of donated things will be auctioned during the night. Durango loves a benefit, and Tex-apalooza should be no exception.
Let's say the rock stylings of the above bands still don't satisfy your thirst for sheer volume and power chords. In that case, Saturday night, Feb.6, the Abbey Theatre will feature the heaviest, most bone crushing music to be found in Durango. Satyrica, the band formerly known as Sacred Sun, Prima Facia and Dying Tribe will perform in what is being called Metal Mania night. Sure, a night of constant metal can be trying with its atonal growling and relentless barrage of power chords, but anything is better than yet another night of watching some kid noodle out scales on his Paul Reed Smith.
Attention all musicians: Another KDUR theme night is quickly approaching. The theme this time is "One-Hit Wonders." Instead of being restricted to a single artist, you now have the freedom to learn any one-hit wonder song and surprise everyone in what will surely be a packed house at Storyville. The show is March 20, so now is the time to dust off your version of "Come on Eileen" and "Ice, Ice Baby" and be ready to have a blast.
Website of the Week: If you think this column is cynical and angry at the world, then a quick visit to www.maddox.xmission.com is in order. The site is a collection of rants written by some guy named Maddox about how he hates the world and everyone in it. From the cartoon cat Garfield to the art work of small children, nothing is safe. The site's author has quite the potty mouth, so it is not really safe for family consumption or for those who don't understand irony. Those with skin thick enough to get the joke, though, are in for a few good laughs.
Album of the Week: The Mekons are a band that a lot of people seem to have heard of, but not many have heard. Formed in England in the mid-70s, The Mekons flirted with success playing punk rock before it was called punk rock. Eventually, the group's releases became fewer and farther between, and the members moved on to other endeavors. In fact, several Mekons went on to form the alternative pioneer band, the Waco Brothers.
It can't be called a reunion since there never was a dissolution, but The Mekons are back with a new album titled, simply, "Punk Rock." The album features 15 songs written in the late '70s but recorded last year. The resulting sound is an interesting combination of old and new, youth and maturity. The songs on "Punk Rock" are full of the frustration and anger so prevalent in some of the music written 25 years ago.
The ability of the musicians has obviously progressed over the years, giving the album a more organized, less wildly reckless, feel. The punk angst is still there, but the sloppy playing and production so often associated with that genre are gone, making this the perfect introduction to The Mekons.
Tell me all about it. mpsheahan@yahoo.com