Majoring in bicycle racing
Fort Lewis takes its cycling club to new heights
by Amy Maestas
Sidebar: Taking the next step: Local mountain biking team scores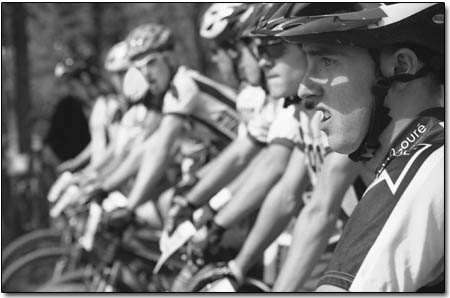 FLC racer and men's conference champion, Jeremy Howard, eyes the track ahead just prior to the start of the short track race at last weekend's conference finals at Fort Lewis College./Photo by Ole Bye
Durango has long been known as "God's velodrome." The topography, of course, is largely responsible. Turn in any direction and there are flats, hills or mountains to pedal either skinny or fat tires up or down. To boot, this town is home or training grounds for several worldclass cyclists. This combination has kept Durango on the country's cycling map for well over a decade.
But now, Durango gets its glory from several dozen up-and-coming cyclists on the Fort Lewis Cycling club. A mere 10 years ago, Fort Lewis didn't even have a cycling club. To many, that seemed a travesty in a town with so much bicycling heritage. Then, in 1993, 12 students created a loosely formed FLC cycling team, hoping to cash in on the town's backdrop and community interest. At the time, the fledgling club had little funding and hardly any recognition among other college teams.
Just to support the team financially, members had to take a referendum to the FLC student body, asking it to allow $3 of activity fees to be diverted to the cycling club. When that passed, members felt it was the first step on a long road toward national recognition. Most expected it would take a few years until FLC was a major competitor in the college circuit. After all, they were new to the college scene. They were dead wrong.
A year later, the FLC club was crowned the National Collegiate Cycling Association mountain bike champions.
Alex Hagnan leans into a turn on the short track race Saturday at Fort Lewis College/Phot by Ole Bye.
Racing with the big dogs
"At the time, no one knew who we were," says Coach Rick Crawford. "People thought it was awfully unusual for such a small school. But it started something big at FLC."
Indeed, in its 10-year history, FLC has won mountain biking championships four times – 1994, 1995, 1996 and 2001. It placed second in the nation five times from 1997-2000 and again in 2002. In road racing, team members were crowned Division II road biking champions in 2000 and 2001 and placed second in 2002 in Division I road nationals. The team has consistently overwhelmed its competition, often competing as a Division II school in the Division I category with larger schools.
Last year when FLC showed up at the road national championships in Berkeley, Calif., race organizers tried to discourage Crawford from entering his Division II team in the Division I category.
"We chose to race Division I because it's not fair to race in Division II since we are so strong," Crawford explains. "People call us sandbaggers because of it, but we can hold our own there. It's where we belong – competitively."
Finding freaks
Crawford is completing his third season as FLC's cycling coach. The club continues to grow; it has about 75 members, with at least 50 of them participating in races each year (it's a club sport, so everyone is invited). The club's annual budget is about $40,000, according to Crawford, with half coming from the school and half being raised by club members.
A former professional triathlete and cyclist, Crawford has brought matchless assets to the FLC club because of his athletic history. Besides competing internationally, Crawford is credited with introducing five-time Tour de France winner Lance Armstrong to professional road cycling.
After discovering the "freakish talent" of a "wild-eyed and ignorant" Armstrong, Crawford coached the elite cyclist for two years, setting him on the path to become one of the world's fiercest contenders. Though at the time Crawford was only 28 years old, and Armstrong only 14, the younger athlete touched a nerve in the more experienced Crawford and unearthed a yearning to coach.
"I was still young at the time I met Lance, who was just a rip cord of muscle," says Crawford, "but I like to think I gave him the benefit of my experience. He made me want to coach."
Since then, Crawford has coached other nationally ranked cyclists. He's in his sixth season of coaching Levi Leipheimer, the American cyclist and Tour de France racer who rides for Team Rabobank. He also is universally recognized as the man who turned former Fort Lewis College racer Tom Danielson into a powerhouse cyclist, poised to match Armstrong's caliber and one who has his sights set on competing in the Tour de France.
Earlier this year, Danielson claimed the new record for the Iron Horse Bicycle Classic, shattering Jonathan Vaughter's 1996 record by three minutes. As homage to Crawford and the burgeoning FLC biking scene, to which he attributed his success, Danielson donated his race winnings to his alma mater's club. It will be used to create the first scholarship program.
"There's no doubt Danielson will win the Tour some day," Crawford says.
Danielson's former teammates agree. They also believe that the buzz surrounding Danielson is a boon to the cycling club's future.
"It has all been a big boost of confidence to watch Tom do his thing," says Cody Peterson, club president. "It let us know that (becoming professionals beyond college) can be done."
Like at least half of his co-riders, Peterson, a member since 1999, chose to attend Fort Lewis College because of the club. Raised in Ketchum, Idaho, where there is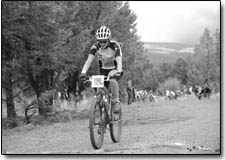 FLC Women's racer Brittny Squires crosses the finish line to win a women's short track race last weekend at FLC./Photo by Ole Bye.
an abundance of mountain bike trails and challenges, Peterson wanted to go to school where he could develop the cross-country mountain biking career he started at age 14. After seeing three successive years of FLC champions, Peterson believed he would excel at a school where the administration and community wholeheartedly supported the rising sport.
"Part of our success is that the team has matured a lot," he says. "It was just once a party school interested in being loud. The people who gave the team its reputation are gone now, but we have so many pro cyclists on the team, we have become a spot where all the fast people go to win instead of party."
As club president, Peterson says he answers about five to six e-mails each week from prospective college students who want to attend Fort Lewis specifically to be on the team.
"We are big talk," he exclaims. "Everyone at the school is interested in us. They like to see their team win. And since second place overall is the worse we've ever done, we do well."
The untouchables
Mike Wilk, former team president who graduated in December, also attended Fort Lewis just for the biking experience. Coming from New Hampshire in 1998, where he raced from the age of 12, he joined the club.
"I wouldn't be a professional if it weren't for FLC," Wilk says. "It was the best experience of my collegiate years."
Now, he says, not only do students attend Fort Lewis because of the nationally ranked club but also because of Crawford's coaching.
"Rick came when we were probably the lowest of the low and now we are the highest of the high," he says. "Trying to motivate a college cycling team is like trying to herd cattle. It's a lot work, but Rick's done it."
Crawford says the college years are the grassroots of cycling in the United States. High schools across the country don't have organized teams or clubs, leaving colleges to encourage and educate wanna-be cyclists.
"A lot of endurance athletes get their big start in college. And since cycling is such a hard discipline, most of those athletes are older when they start peaking," he adds.
Now that many of the club members are older, Crawford says FLC has developed an "untouchable" group of cross-country racers. He says racers also are improving in the downhill discipline, as well as in road racing. Once the club is universally strong in all disciplines, Crawford will have reached part of his goal.
"I want to create a pretty balanced cycling community," he says. "I want to make FLC the premiere development tool for young cyclists in this country. What's great is that this program is almost there."
Last weekend, Fort Lewis hosted the Rocky Mountain Collegiate Cycling Conference finals. The club won the conference overall, with various individual racers winning every class. The team will return to the national championships this weekend in Angel Fire, N.M., where they hope to dominate the field and capture a fifth title.
Meanwhile, Crawford has his eye on the various talents of his club members. Using his experience as a gauge of what's to come from the Fort Lewis cyclists, there may well be more Armstrongs and Danielsons from this corner of the country. After all, Crawford believes it exists here.
"This team is a putting a hickey on the giant schools."