Taking the next step: Local mountain biking team scores
written by Missy Votel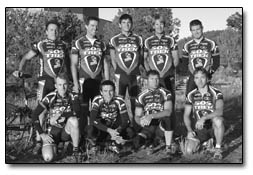 Team 505 Trek/Honey Stinger atop the college mesa, back, left to right: Robin Rasmussen, Andrew
Ferguson, Greg Lewis, Rick Callies and Brent
Winebarger; Bottom, left to right: Anthony Colby,
Miles Venzara, Sean Peck and Dave Harris (missing:
Amber Pommier)./Photo by Todd Newcomer.
For a stint in the '90s – thanks to a list of legendary locals like Tomac, Furtado and Overend – Durango was synonymous with mountain biking. And while that racing hey day has come and gone, a group of 10 area riders is doing its part to help restore the town's former status – and perhaps add a few new names to that legendary list.
Fresh off its first competitive season, Team 505 Trek/Honey Stinger is boasting wins in several venues, including a 2nd place finish in the men's pro division at the Mountain States Cup Series by team racer Anthony Colby, and a national championship in the men's 35-39 category, courtesy of Dave Harris.
"We had an awesome season," said team racer Andrew Ferguson, who at 42 is one of the team's senior racers.
Team 505, which takes its name from its two main sponsors as well as the New Mexico area code, was started by Brent Winebarger, who co-owns Farmington's Cottonwood Cycles with his father, Ralph. Winebarger said Team 505 was an outgrowth of the former Go Jus team, which dissolved a few years ago.
"When it faded out, I figured, 'What the heck, I have all these resources and contacts already,'" said Winebarger, who raced with the Go Jus team. "I got a group of people together and went to my reps and hit them up for sponsorship."
Winebarger said the team was founded on the premise of making racing accessible to all levels.
"We try to cover all categories, not just the best of the best," he said. "Sport beginner riders can have just as much of an impact if they have a good attitude. Everyone has a chance of becoming a pro."
Indeed, the team's make up reflects this philosophy, with racers of all ages (16 to 42), representing every division (one pro, four semi-pros and five experts), racing at all levels, from the regional Four Corners Cup Point Series to the NORBA Nationals.
"Our goal was to be successful on every different level," said Ferguson.
And so far, the team seems headed in the right direction, he said.
"We had some good results nationally, did good regionally and pretty much kicked butt in the local races," he said.
Nevertheless, Ferguson insists the team is made up of regular, working-class guys (and one gal, 16-year-old Bayfield student Amber Pommier), who all share one common interest: a zeal for racing.
"Really, we're just a bunch of local guys trying to organize something and pursuing an interest in bike racing," he said. "We're all people who have jobs and are trying to balance our love of bike racing."
Nevertheless, Team 505's victories speak for themselves. In addition to the aforementioned wins, four team members finished in the top 20 in last weekend's Farmington Road Apple Rally (including a second place finish in the 40-plus division for Ferguson); and Colby, who also races for FLC, placed 26th at the NORBA championships at DMR in August.
"Andrew is on fire," said Winebarger. "He could very well be in the national top 20 next year."
Down the road, the team would like to gain enough sponsorship dollars to send its members to bigger races with more exposure, he said. The cost of traveling to races, especially those on the national and international circuit, can be prohibitive for fledgling racers.
"We want to make it so the average person can go and race and not pay a big chunk out of their pocket," said Winebarger.
However, both he and Ferguson noted that, as of late, racing has offered little in the way of financial payoff.
"From what you hear and see and read, it seemed like last year was rock bottom," said Winebarger of the national racing scene, noting that not even the pros won cash prizes in the NORBA nationals.
However, it's a trend he believes is on the upswing.
"There's going to be a turnaround," said Winebarger, adding that interest in Team 505 has exceeded his expectations and that the team expects to add three new members next spring.
"Just yesterday I had a guy call me up and say, 'What can I do to get on the team?'" he said. "It threw me off guard."
Ferguson, who has raced for several years, also noted a change in the prevailing wind.
"There was a little bit of a lull for a few years 85 but now it seems like interest is on the rise again," he said. "Durango is being seen more and more as a mountain biking Mecca."
In the meantime, Ferguson said Team 505 racers – as well as the local road and mountain biking community in general – are lucky to live in a place that fosters prospective riders. In addition to the terrain and climate, which offer countless miles of road and mountain training year round, there are a number of local sponsors willing to help out as well as worldclass riders and trainers who call Durango home, he said.
Among those is Rick Crawford, who coaches the FLC mountain biking team as well as road riding phenom, Tom Danielson, who trains here in his off season.
"You have people like Rick Crawford ... and people like Tom Danielson and Todd Wells are really accessible and friendly," he said.
Ferguson and Winebarger also recognized the Durango Wheel Club, which holds weekly road rides for people of all levels, including Danielson and Wells, for providing inspiration. Although Team 505 is a mountain bike racing team, its members spend just as much time – if not more – training on their road bikes.
"Wheel Club rides are famous, and to have it so close is awesome," said Winebarger.
Ferguson added: "You get a chance to go out and see how hard (racing) really is."
And hard it is, they admit. Yet, although the hours are long and the pay crappy, they find themselves still drawn to the sport.
"We do it for the love of it, basically," said Winebarger.
Ferguson added: "Once you're addicted, you're addicted. There's not much you can do about it."