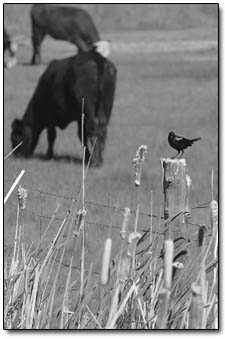 On the fence: A red-winged blackbird takes a perch on a fence post along County Road 214, south of Durango on Tuesday morning./Photo by Todd Newcomer.
Local fire bans go into effect
Fire restrictions are once again in place in La Plata County and some surrounding public lands. Earlier this week, officials enacted the bans on open fires, fearing a possible repeat of last summer's devastating wildfires.
Citing extremely dry conditions, the La Plata County commissioners enacted a ban on "open burning" on private and public property throughout the county. "Open burning" was defined as the burning of trash, yard waste, ditches and camp fires. The ban did not prohibit charcoal barbeque fires. The local Fourth of July celebration is also exempt from the ban. However, all other fireworks are prohibited by state law.The fire restrictions were enacted upon the recommendation of Sheriff Duke Schirard and the chiefs of the local fire districts and will remain in effect until the threat of fire danger in La Plata County has reduced significantly.
This Friday, June 27, restrictions will go into effect on some areas of the San Juan National Forest and local Bureau of Land Management lands. This year, federal fire managers are taking a new approach to fire restrictions and dividing national forest into lower- and higher-elevation zones.
"It is extremely difficult to apply fire restrictions that fit conditions on lands that range from 4,500 feet to over 14,000 feet in elevation," said Mark Lauer, fire management officer for the San Juan Public Lands.
The new zones also are based on definable features. From Highway 550 east to Wolf Creek Pass, the low zone includes all San Juan Public lands outside of the South San Juan and Weminuche wildernesseses. West of Highway 550 over to the Utah border, fire managers have used roads and trails to define the low zone, which includes lands south of Kennebec Pass, Spruce Mill Road and the West Dolores Road. Basically, all BLM-San Juan Center lands, including Canyons of the Ancients National Monument, are in the low zone, except for those located in San Juan and Ouray counties outside of Silverton.
To further complicate matters, three stages of fire restrictions have been created, with Stage 1 being the least restrictive and Stage 3 the most restrictive. This Friday, lower-elevation zones will be placed into Stage 1 fire restrictions. Stage 1 restrictions call for campfires to be limited to permanent fire rings or grates within developed campgrounds; no smoking except for in vehicles, buildings or 3-foot wide areas cleared of vegetation; spark arresters on all chainsaws and other internal-combustion engines; a ban on the use of acetylene and other torches with an open flame; and a ban on the use of explosives.
There are currently no plans for restrictions in the high zone, but if the monsoon season doesn't arrive by mid-to-late July, restrictions could be possible.
Silverton Mountain EIS released
After three long years of analysis, the local Bureau of Land Management has announced a proposal to allow a maximum of 475 skiers per day on the Silverton Mountain ski area. With last week's release of the draft environmental impact statement, the BLM called for a mix of unguided and guiding skiing, depending on snow conditions. The ski area had wanted completely unguided skiing.
Several years ago, Aaron Brill first hatched the dream of an atypical ski area where the turns would be steep, uncrowded and always in powder. He also wanted to make this ski bum's dream accessible to the ski bum and said he would limit ticket prices to $25. However, several years later, Brill is looking back on two seasons where his operation was limited to guided tours and $99 lift tickets. Brill owns 350 acres of old mining claims on the 13,487-foot Storm Peak, roughly six miles from Silverton. However, he has gone after a 40-year permit to allow skiing on 1,300 adjacent acres of public land.
With this in mind, Brill said, "I'm happy to see that the EIS is out. The proposed alternative is the second best thing they could have chosen."
Explaining the alternative, Brill added, "Our ideal was to have unguided skiers go all over the mountain. The BLM has come back to us and said they would like some areas closed to unguided skiing. Which areas would be closed would be a day-to-day decision made by our ski patrol director."
Brill said that he is expecting a final decision by mid-winter and consequently, Silverton Mountain will be all guided again for the winter of 2003-04. The BLM will be accepting comments on the proposed mix of guided and unguided skiing until Sept. 18.
"I'm hoping that we won't really get too much comment," Brill said. "I think people know that we've been operating for a couple years now and have some faith in us. It's not like we're just starting up."
Officials prepare for bioterrorism
However improbable a bioterrorist attack in Durango may seem, local officials have taken steps to prepare for the possibility. The first Southwest Colorado Regional Public Health Emergency Preparedness exercise was held June 18 and involved a simulated contamination of the local food supply by an extremist organization.
First responders, local governmental officials, representatives from Durango 9-R, Fort Lewis College and Mercy Medical Center, and public health staff from area counties and tribes participated. Roughly 50 people participated in the exercise aimed at identifying the policy issues necessary for a response to a bioterrorist event or naturally occurring disease outbreak.The exercise involved a slide presentation and facilitated discussion regarding an evolving outbreak of illness.Discussion topics included agency roles, interagency communications and public information dissemination during a public health emergency.
The event was evaluated by the section chief of bioterrorism for the state health department and the Cortez fire marshal.
County to decide Dry Side's fate
The fate of new development on the west side (Dry Side) of La Plata County may be determined on Monday, July 7. At that time, La Plata County commissioners will consider the adoption of a resolution concerning the ability of the Lake Durango Water Company to provide water to new development.
The commissioners have held several previous public meetings and accepted public testimony regarding the quantity, quality and dependability of the Lake Durango water supply. At issue is whether the water company has a sufficient supply of water given its commitments to existing customers.
- compiled by Will Sands