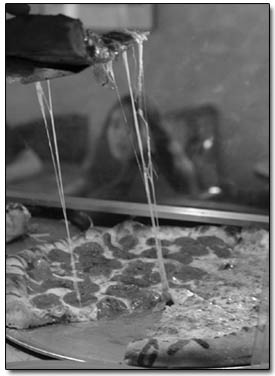 A slice of pepperoni pie is served up to a waiting customer at a local pizza restaurant. In the past year, five pizza places have opened in Durango, creating
stiff competition for restaurant owners but plenty of options for local pizza connoisseurs. /Photo by Todd Newcomer.
A local battle is afoot, and cheese, crust and toppings are the weapons of choice. Currently, one of the most cutthroat segments of a tight Durango economy is the local pizza trade. Eleven local restaurants count pizza as their chief product, at least that many other restaurants offer the dish as a component of their menus, and five new pizzerias have sprung up in the last year. There's one thing that all of them agree on – the Durango pie is not big enough for all of them to share.
"We know there has to be a shaking out. Durango can't sustain this number of pizza restaurants," said Audie Morris, co-owner of Brothers Pizza, on Florida Road. Morris and his partner opened Brothers last fall, making it one of Durango's newest pizza dealers. He is quick to characterize the market as "highly competitive."
"In this kind of market, you've got to stay sharp," he said. "There are a lot of challenges."
Morris said that to rise to the challenge and meet customer need, Brothers is aiming for "high-end, quality taste." He added, "Our business strategy is hard to unveil, but we're going to make the best quality pizza we can."
Cory Kitch opened Home Slice Pizza, on College Drive, last Labor Day Weekend with his wife, Lynn, and his brother Gabe. He noted that "high-end" pizza seems to be the aim of many of Durango's pizzerias. "It seems like a lot of pizza places are trying to do exactly the same thing," he said.
Kitch said that a lack of quality local pizza inspired him to look back to his roots near Chicago and open Home Slice. "I was kind of fed up with the pizza that was available in town," he said.
However, Kitch was hit with an unexpected hurdle as he was preparing business plans and running numbers prior to opening. His house in Vallecito burned to the ground last summer, shortly after he finished remodeling.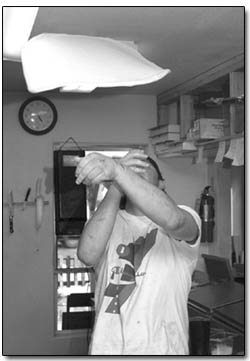 Jordan Frane, of Home Slice Pizza, tosses the dough for a large pie Monday afternoon. Home Slice is one of the new kids on the local pizza scene, opening on Labor Day Weekend last year. Owner Cory Kitch said despite tough competition, his pie operation is doing good business and exceeded his expectations. /Photo by Todd Newcomer.
"It was a real bummer," he said. "But we used a lot of the wood we had left over from the house to remodel Home Slice. So it is cool because a big piece of the house has survived."
Since opening, Home Slice has strived for a good slice at a reasonable price, Kitch said, and the plan has been working. "For us business has been great," he said. "But we opened with low expectations and started out small. There was a lot more competition but also a lot more business than we expected."
Like Morris, Kitch said that the current competitive environment can't last. "I think there must have been a demand that wasn't being met," he said. "But I don't think there's demand for all the pizza places. I'm just glad it's working for us."
One new pizza restaurant where times have been a little leaner is Legends Pizza, on North Main. "It's been a hard year all over town for lots of business," said Anita Miller, who owns Legends with her husband, David. "Times are tight, but with the snow we're hoping money will come into town."
Legends opened last March with the same mission of offering Durango a high-grade pie. Miller said that Legends' pizza speaks for itself, and word of mouth is the restaurant's primary advertisement.
"Word of mouth will pass, and that's what we're hoping for," she said. "Many of our customers say they've gone out and tried the new places but have come back. People have even come all the way from Farmington for our pizza. If people will come from Farmington to have it, we figure they'll come down the street."
Miller said that given the recent explosion of new pizza restaurants, Legends actually has attained senior status despite approaching only its first anniversary. Looking over the past year, she quickly rattles off the names of four new restaurants and mentioned that the local Dominos franchise had closed and reopened in the last year.
"It's a waiting game," Miller said. "I don't think that two or three people who have popped up since us will make it. I don't wish them any ill will. I just think they should have done their homework."
Tight times or not, Miller said that Legends will survive. "We get too much good feedback to not stay here," she said "We're in it for the long haul."
Dalaney's came on the local restaurant scene last May, taking the place of Lori's family restaurant and opening a pizza delivery operation in the Domino's space. The pizza wing of the operation has not done as well as was hoped.
Serenity Nelson, one of the restaurant's managers, attributes the slowness to the restaurant's May opening, which was too late for publication in the phone book. "We've been doing a lot in order to get our name out there," she said. "We've been doing a fairly decent job."
Like Legends, Nelson said that Dalaney's pizza operation is going to hang on for the long run. In order to do this, the entire business diversified last week by splitting the restaurant into a 24-hour, family restaurant on one side and Big Daddy's Nightclub, a bar including a dance floor, on the other.
"The pizza restaurant has not been as profitable as we'd like it to be," she said. "It's a little rough now, but it is holding its own."
Diorio's South Pizza has been holding its own for the last 5BD years. Dryke Hutchinson, owner of Diorio's, said that the difference between success and failure is up to the pizza-eating public. In spite of a tough business climate all over Durango, Hutchinson said that his location, friendly staff, proven recipe and low prices have kept people coming through his door.
"The bottom line is, I've been untouched by a lot of this stuff," he said. "My low prices, friendly staff and the fact that I'm putting out a great slice have kept people coming back."
John Carpenter has a unique perspective on the current competition in that he owned and operated Mesa Pizza, at Elmore's Corner, since 1995. Carpenter recently tired of the day-to-day running of the restaurant and sold it to a couple who will be closing Mesa Pizza and opening the Upper East Side Coffee Company at the same location.
Carpenter said that when Mesa Pizza opened, the local pizza market was even tighter than it is now, with 15 pizza restaurants vying for Durango's dollars. After extensive research, Carpenter decided to take his restaurant east of Durango and past Grandview.
"There is a bigger population base within a 10-mile radius of Elmore's Corner than in the town of Durango," Carpenter said. "At that time, the Artesian Valley Ranch was being proposed and they had done a traffic study. At that time, 20,000 cars per day were driving through that intersection. Now, it's up to around 25,000."
Carpenter said he credits a good deal of the glutted pizza market, in 1995 and today, to the simplicity of the product. "Italian food, and pizza in particular, is the largest sector in the food service industry," he said. "With pizza, there are not many barriers to going into business.You don't need to be a food specialist or have much culinary skill. The only obstacle is start-up costs."
Carpenter is banking on this easy start-up for the future. Though he is taking a break from Mesa Pizza for the time being, he has plans to license the product and the name and sell it throughout the Four Corners. "I feel like we have as good a reputation as anyone," he said.
And while Carpenter believes that pizza will endure in the region, he said that the current number of businesses can't last in Durango. "My prediction is you'll see a number of pizza restaurants shake out over the next year," he concluded.