On top of the world
Durango resident pushes climbing envelope
written by Missy Votel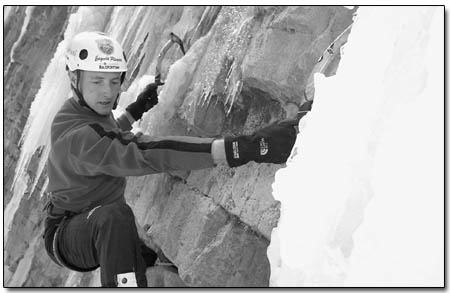 Jared Ogden dials in a mixed route in Cascade Canyon, north of Durango, last week./Photo by Dustin Bradford
You're dangling a thousand feet in the air on a platform barely the size of a twin bed with a cold slab of granite for a headboard. You're cold and wet, and have been wearing the same clothes for days; maybe weeks. You try to start your campstove for the daily ration of ramen, but the sideways rain and wind thwart your efforts. Darkness sets in, and your uncooperative cracked, cold hands fumble the lighter. Too tired to retrieve it, you give up and slink into your soggy sleeping bag. Buffeted by sleet and wind, you attempt to shiver off to sleep.
Welcome to the world of big-wall climbing – where every day is a sufferfest and only the strong survive. And being a smart ass never hurts either.
"Probably one of the best assets is being sarcastic," said Jared Ogden, world renowned big-wall martyr and free climber. "In the middle of the worst situation, you usually start cracking up, and that laughter is what gets you through."
That and something Ogden calls "retrospective pleasure."
"A lot of times when I'm in the middle of something awful, I think about the future and how nice it'll be when it's done, and I can look back and say, 'Oh my gosh, look at what I've done.'"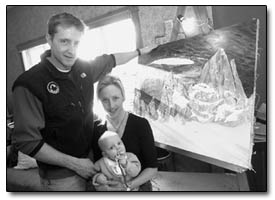 Jared Odgen at home with his wife, Kristin, and their 10-month-old son, Tobin. Behind Ogden is a painting he is working on of the Fitzroy Massif. The former Fort Lewis College art student paints in his spare time./Photo by Dustin Bradford
Apparently the approach works. Since beginning his climbing career about 13 years ago, the 31-year-old has pioneered hundreds of first ascents, including a 4,000-foot assault on the north face of Pakistan's Nameless Tower in 1995 and a 1996 ascent of Baffin Island's Polar Sun Spire. He also won two gold medals in ice-climbing at 1997's X-Games and successfully summitted Pakistan's remote Shipton Spire. Along the way, he has shared portaledges with the likes of Mark Synnott, Greg Child and the late Alex Lowe. His feats have been immortalized in National Geographic films and Outside magazine and landed him sponsorships with La Sportiva and Black Diamond as well as a spot on the prestigious North Face climbing team.
Perhaps Ogden's greatest technical accomplishment was his 1999 ascent of the nearly 6,000-foot northwest face of Pakistan's Great Trango Tower, believed to be the biggest wall on Earth. The feat, which he undertook with longtime climbing partner Synnott and Lowe, has been called the greatest big-wall climb – and sufferfest – ever. The face's sheer size and 20,500-foot summit, coupled with a perilous approach beneath a hulking glacier that regularly sends down house-sized chunks of rock and ice, had earned it a reputation as a "death route." However, after weathering 36 days of storms, hypothermia, exhaustion, a mysterious intestinal illness, a 50-foot fall, 1,000 pounds of gear, falling rock that left Lowe unconscious and a 48-hour retreat in a tempest, the team returned successful.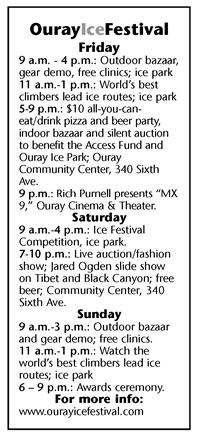 Despite all this, the climber, who lives in Durango with wife, Kristin, and 10-month-old son, Tobin, remains remarkably grounded for an icon in a sport that in recent years has seen a surge in popularity thanks to the commercialization of extreme sports and the rise of reality television.
Ogden admits it wasn't always this way. After his first taste of success in Pakistan, he said he was hungry for more.
"I got back and started getting sponsorships, and there was a story about it in the Alpine Journal," he said. "It gave me a taste of what I wanted, and I wanted more."
Ironically, it was the Trango expedition – which arguably would be the coup de grace for any professional climber – that proved to be Ogden's big-wall swan song.
"It was the media bonanza of the century," he said.
In addition to being filmed for an NBC special, the climb was simulcast over the Internet on the now-defunct San Francisco-based sports Web site, Quokka.com. Via daily graphics, maps, photos and e-mails, armchair climbers could make a virtual ascent alongside their heroes. And although it was a plausible idea in concept, Ogden said what sells to the masses doesn't necessarily make for a safe or successful climb.
"(Quokka) didn't comprehend the amount of work it would take for us to do what they wanted," he said. "Basically, we were taking orders from this geek behind a desk in San Francisco."
Added to this were the demands placed on the climbers by North Face, which footed half the bill.
"Those trips cost a lot of money, and since North Face was paying for half, they had a say, too," he said. "It snowballed out of control."
According to Ogden, the hype and greed left such a bad taste in his mouth that it affected his love for big-wall climbing.
"It complicated things to the extent that it tainted my experience," he said. "It intruded on our purpose. We were there to go climbing, to try to do something for the sport, and all this media crap weighed us down.
"Pretty much since then I quit doing those big-wall climbs."
But this isn't to say Ogden, at what was possibly the height of his career, turned his back on the sport. Rather, the experience, coupled with the responsibilities of a new family, caused him to re-evaluate his climbing career. In a sort of coming of age move, he decided he was no longer going to climb for someone else, but only for himself – and leave egos out of it.
"If things seem risky, I'm like 'Forget it; it's not even worth it,'" he said. "Climbing's always been a very large priority. But it's not like I'm changing the world by climbing. Having a family has rooted me more than anything else I can think of."
Ogden also said he has been humbled by the new generation of climbers pushing the limits of the profession.
"The '90s spawned a whole generation of extreme athletes," he said. "Before it was kind of these fringe characters, and now there's serious people who train and are so much more talented. Things are being climbed that are harder and sketchier and so out there that it's a little incomprehensible."
And with the higher stakes comes more money.
"Kids are getting paid more than I do," he said. "I'm over the hill, some people would say."
But a look at Ogden's recent endeavors shows he is still very much on the hill. Recent expeditions include a 2000 trip to Mount Jannu in Nepal, where Odgen, Synott and Kevin Thaw were beaten back by 10 feet of fresh snow and massive Himalayan avalanches. In 2001, he and Synott summitted Alaska's Moose's Tooth, only to get lost in a storm and nearly die on the descent. July of 2002 was spent in Tibet, and December of 2002 was spent in Patagonia, where Ogden and fellow Colorado climber Topher Donahue put up two new routes.
Looking ahead, he has three different trips in the works (which one he takes will depend on sponsorship funding) as well as this weekend's Ouray Ice Festival. And further in the distance, he has his eye on several more unclimbed peaks – the lure of which proves too strong for Ogden to resist.
"First ascents are my favorite," he said. "Climbing them is like total anarchy. And the cool thing is that no one's shown you the way. You are making your own way and doing it the way you want. It is total freedom."