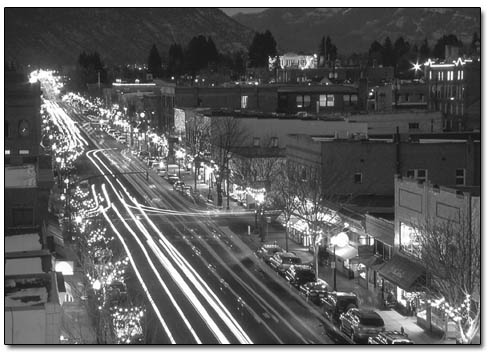 Downtown Durango and La Plata County as a whole have seen a steady rise in drug-related crime. In particular, use of methamphetamine and associated thefts and burglaries have "exploded" locally, according to local law enforcement./Photo by Todd Newcomer
"Doug" wanted to be quoted anonymously for fairly obvious reasons. First, crystal meth use is generally not something one broadcasts. Second, Doug is not your typical methamphetamine user, even if he was only "experimenting." He holds down a professional job in Durango and has a small family. Nonetheless, he said, "Sure, I'll give it a whirl" when offered a snort of the gray-white powder at a party several months ago.
"I snorted a very little bit and was up for hours," he said. "I wasn't gritting my teeth and being all anxious like I'd done cocaine, but I'd say I was comfortably awake.
"When I was still comfortably awake after midnight and chugging beers so I could go to sleep, I was like, 'Man, that's some wild stuff,'" he continued.
Describing the experience as a whole, Doug noted, "I could function well enough to do simple things, but I did a very small amount. I couldn't imagine doing any more than that. I wasn't 'bugging' but I could see how you could be."
When asked if he will use the drug again, Doug replied "probably not." He then gave one of his reasons, mentioning an acquaintance that developed a meth problem that included smoking and shooting the drug. The problem eventually led to a couple stints in jail after several thefts to feed the habit. As far as Doug knew, his friend was out of prison but still using.
Doug and his friend are not alone in La Plata County. Methamphetamine use and its associated crimes have gone from being virtually nonexistent a few years ago to leading the list of local offenses. As crystal meth eclipses cocaine and marijuana use, local law enforcement has continued an uphill struggle to control the rampant spread of the drug.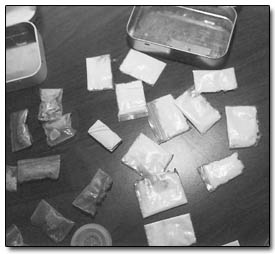 Pictured at top are packages of the final methamphetamive product seized in a recent bust. Below is what Sgt. Davis referred to as a "very sophisticated" meth lab. At bottom is rag soaked with ephedrin, a key methamphetamine ingredient, which has been extracted
from over-the-counter pharmaceuticals./ Photos courtesy
Southwest Drug Task Force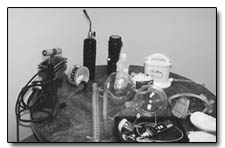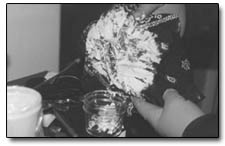 A local explosion
Sgt. Tony Archuleta of the Durango Police Department noted that it seems like marijuana and cocaine have always been problems in Durango. However, when asked what tops local officers' lists of concerns, he quickly uttered methamphetamine, noting that the drug has emerged in recent history as a new front runner.
"We've seen a large increase in methamphetamine use recently," Archuleta said. "Three or four years ago, you'd hear a lot of talk about meth use down in New Mexico. Now it's really prevalent here."
Sgt. Kelly Davis, of the Southwest Drug Task Force – a cooperative effort among the Colorado Bureau of Investigation, the La Plata County Sheriff's Office and the Ignacio Police Department – agreed.
"Meth use has exploded locally," he said. "Within the last four to five years, we've seen a dramatic shift from cocaine to methamphetamine."
Davis and Archuleta cite the drug's highly addictive nature as being partially responsible for its spread in La Plata County. In spite of the drug's lower-class image, Archuleta said that the street price of a gram of crystal meth is on par with that of a gram of cocaine. "The going price for methamphetamine and cocaine are about the same," he said.
The difference, he said, is the duration of the high. While cocaine provides a relatively short-lived buzz, methamphetamine can last for 12 hours or more, "depending on who cooked it," he said.
Too many cooks?
The drug's inexpensive manufacturing process has provided another incentive for its local spread.
Davis remarked that the drug can be made very simply. "A meth lab can consist of two plastic coke cups and a straw," he said.
The drug also is composed largely of household chemicals that can be acquired easily and inexpensively. "I think part of what's encouraging methamphetamine use is that people can manufacture it pretty cheaply," said Archuleta. "You can take $300 worth of chemicals and produce an ounce of methamphetamine worth $2,800."
Archuleta added that his department has seen an upswing in the number of local meth labs, largely because rural areas favor production of the drug. "The meth labs have been moving toward rural areas," he said. "It provides more space, and the smells that go along with cooking the drug aren't noticed."
However, Davis noted that the vast majority of local methamphetamine and other drugs are trafficked into La Plata County. "We do have growing instances of labs being found in our area," he said. "But we feel that the majority of the methamphetamine that we see comes from our southern border if not Mexico."
He remarked that La Plata County is designated as one of the few High Intensity Drug Activity counties in the region, and he said the designation is not for obvious reasons.
"Obviously, there's drug use on the college and in town because of the students," he said. "I can't quantify exactly how much, but if I did it would probably be a relatively small amount."
Noting that Highway 550 has long been called the "snowline highway," Davis said thatDurango and La Plata County sit at a crossroads of drug trafficking. "What you see is that the police pressure on the interstates has pushed traffickers onto secondary routes," he said.
Anything for money
John Schmier, director of the local, minimum-security corrections facility, Hilltop House, characterized methamphetamine simply: "It's nasty," he said. He went on to note that the drug is responsible for a great deal of the volume at the halfway house.
"A third of the clients in the program at Hilltop House are connected to methamphetamine," he said. Addiction to the drug leads to check fraud, theft, burglary and armed robbery, according to Schmier. "You see more violent crimes related to alcohol," he said. "With methamphetamine, people are doing whatever they can do to get money."
While Schmier acknowledged a jump in local methamphetamine use, he noted that La Plata County is still way behind places like Grand Junction and Mesa County. Because the drug has such a foothold in other places, Hilltop House has adopted a referral policy.
"We historically have not taken methamphetamine referrals," he said. "We figure we've already got a big enough problem. Why bring someone down here, eventually release them and have them open up a lab locally?"
While crystal meth has been grabbing headlines lately, Davis noted that there is still a serious cocaine problem in La Plata County. He also said that heroin has started making a strong showing locally. "We recently completed our first heroin investigation in 14 years," Davis said. "We were able to identify the source of heroin here and in Albuquerque and identify a large number of users."
In total, the Southwest Drug Task Force netted more than 100 busts last year. While the number sounds significant, Davis said he's not sure the problem will be solved so easily. Solving the problem begins with education, he said. If that fails, enforcement and treatment take over.
"Is 100 a dent?" he asked. "I don't know, but people do know we're out here."