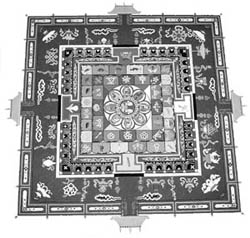 When airplanes were grounded last Sept. 11, many visitors to Durango were unable to leave as scheduled. One of them was the Venerable ZaChoeje Rinpoche, a Tibetan Buddhist monk who was recognized in 1984 by the Dalai Lama as the sixth reincarnation of one of the highest Buddhist Lamas of Eastern Tibet.
He's not exactly your typical Durango tourist.
Rinpoche was in town to address a number of groups, including the Durango Sangha, a meditation group that meets twice a week at the Rocky Mountain Retreat Center. After gathering with others to pray at the FLC chapel on Sept. 11 and 12, he drove back to his home in Scottsdale, Ariz., where he is the spiritual advisor at the Emaho Foundation, a nonprofit Tibetan organization. But he soon returned to Durango to discuss the topic of fear and the problems it creates.
"If you are worried about tomorrow, you will not sleep very good tonight," he told listeners.
Margi Buiso, an endoscopy nurse at Mercy Medical Center who has studied with Rinpoche for the last three years, said hearing him speak after Sept. 11 was comforting.
"We were all stunned...and came out of there feeling peace," she said.
Fast forward to last Monday night, a few days before the anniversary of Sept. 11.
Rinpoche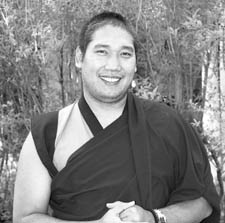 was in Durango reflecting on the topic of how to achieve peace through forgiveness for a crowd of about 50 gathered at the Smiley Building.
"Forgiving is like opening our heart and making more space there," he said. Forgiveness also leads to inner peace, which is the key to world peace, he said.
"Inner peace is about feeling less emotional turmoil," he said. "Outer peace is the reflection of inner peace. If we are really concerned about outer peace, world peace, we must have inner peace."
Although he spoke of serious issues, Rinpoche's sense of humor was never absent from the talk. When speaking of love, he gently poked fun at Westerners for thinking "loving somebody is giving your heart to them."
"You give your heart to one person and then what is there for other people?" he asked with a smile.
He ended the meeting by asking attendees to open their hearts "as big and open as the universe" and send love and compassion to all sentient beings.
After the talk, Chuck Reams, a county employee, said he enjoyed Rinpoche's "wonderful combination" of authority, gentleness and humor.
"Everything he says is such seamlessly flowing wisdom," Reams said.
Reams also attends the Durango Sangha. The sangha, which refers to a community of like-minded people, began in the early 1990s when several members of the community decided to "sit" together.
"After a while, about '93 or so, we decided to try to invite teachers to come here, and that's what's happened ever since," said Bill Manning, an organic peach farmer and landscaper.
He said the group's foundation is the "Vipassana," or insight, tradition of Theravada Buddhism, but the group is for "anyone who finds meditation a useful tool to strengthen spiritual practice."
He said he has seen Catholic priests at Buddhist retreats, and that many Western meditation teachers come from strong Jewish backgrounds.
"It's not the exclusive spiritual practice that we often think of when we think of religion," Manning said, pointing out that when someone asked the Dalai Lama what his religion was, he answered, "Kindness."
Rinpoche, who has met the Dalai Lama, said when he was a 17-year-old living in India, he received the letter that "transformed" his life: a letter from the Dalai Lama that identified him as the reincarnation of an important lama who had died in a Chinese prison camp.
"I wasn't expecting to be a reincarnated lama. I was just growing up as an ordinary boy," he said.
Rinpoche said he was nervous when he met the Dalai Lama for his initiation, but the Dalai Lama made him comfortable by cracking jokes.
"Surprisingly, he was just a human being," he said.
After his initiation, Rinpoche studied at India's Drepung Loseling Monastery and graduated in 10 years, half the time it should have taken him. He came to America in 1998.
Now that he's here, he's busy, often guest teaching at Fort Lewis College in Assistant Professor Sean Cridland's religious studies classes. Cridland said Rinpoche's classes are always popular with students.
"Those have always been the best-received classes," said Cridland, who also teaches philosophy and political science. "We're especially lucky, with Rinpoche and his amazing talents coming to our community."
Margi Buiso's son, Ryan, a 15-year-old Durango High student who attended the Monday event, agrees. "I don't think there's anything he doesn't know," he said.