Thieves take to local artwork
Downtown establishments experience rash of kleptomania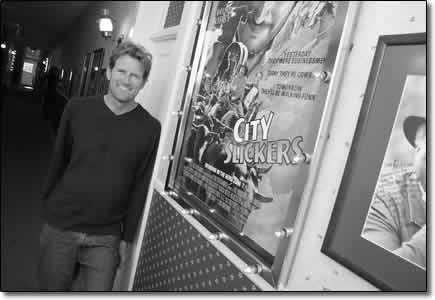 Kirk Komick, owner of the Rochester Hotel/Leland House, stands next to one of the hotels' collection of now-14 movie posters. The posters were selected as the most popular movies shot in Durango. At the beginning of the month, a poster for "National Lampoon's Vacation" was stolen off a second floor wall in the Rochester./Photo by Todd Newcomer.
by Missy Votel
Just as they were yanked off the air in '83, California Highway Patrolmen Frank Poncharello and Jon Baker have been prematurely ripped from their spot on a local restaurant's wall of fame.
"It was a beautiful picture of Ponch and Jon sitting on their bikes, and it was signed, 'Home Slice, you're the king of the road - Ponch and Jon,'" said Corey Kitch, owner of Home Slice pizza. According to Kitch, the framed photo was stolen a few weeks ago from the men's bathroom.
Kitch and his employees have no leads in the case, although they say anyone could have lifted the 8-by-10-inch photo.
"I have no idea who did it," an exasperated Kitch said Tuesday afternoon. "The bathroom's right near the back door, it's the only place we can't see from the kitchen."
Kitch is not alone in his frustration. Since the beginning of the year, a handful of downtown businesses have grappled with the problem of petty art theft, leaving owners not only rethinking security measures but feeling downright stymied.
"Why?," said Kitch "Why such a heartless, cruel and inhumane act?"
While a photo of two '80s TV stars may hardly be considered high art, Kitch points out that beauty is in the eye of the beholder.
"That photo definitely is someone's unique take on the world, is it not?" he asked.
A few blocks away, Kirk Komick is feeling a similar loss after a movie poster from "National Lampoon's Vacation" was stolen off a wall in his East Second Avenue Rochester Hotel. Komick said the poster is part of a collection of posters of the top 15 movies filmed in Durango (the infamous pool scene with Christy Brinkley and Chevy Chase was shot at the Holiday Inn.) According to Komick, the heist likely happened a few weeks ago when the staff was holding a meeting next door at the Cyprus Café. Like Kitch, Komick is unsure who is responsible, although he speculated it was "probably some bachelor pad artwork need."
"Who knows? Somebody must have really liked it a lot," he said.
He said the poster's close proximity to a second-floor fire escape likely had something to do with its sudden disappearance.
"It was upstairs all the way in the back, right next to the fire exit," he said.
Bob Lyon, owner of Blue Tiger Tattoo on 15th Street, has experienced a similar run of bad luck. Earlier this year, a 5-by-7-inch framed watercolor was stolen off the back wall in his shop, and on a recent Sunday evening, he emerged from work to find his sign had been stolen.
Although the sign can be replaced, Lyon said the artwork was part of a set of five original paintings given to him by a friend. But even worse than the gaping hole on the back wall of his shop is the hole in Lyon's trust. He said the theft occurred while both he and his partner were in the shop working, and the culprit was likely someone posing as a customer.
"They probably came in, saw we were both busy tattooing, put it under their coat and walked out," he said. "That's what gets me. Someone comes in as a customer and then just takes something. I take it very personally"
Lyon said the artwork in question is a blue skull on a background of clouds with light bars coming out of the mouth in a wooden, oriental-style frame.
When he was working back East, Lyon, who recently moved back to Durango after leaving in 1985, said he expected4 such behavior and everything on the walls in his shop was screwed down. But this behavior in Durango comes as a letdown.
"That's what surprises me," he said. "It's a shame. I think Durango has changed, unfortunately."
Nevertheless, Lyon said he is not letting the theft get the best of him.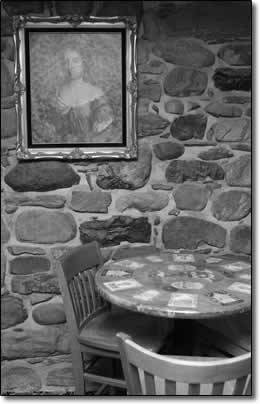 The recently fortified Lady Falconburgh rests in her place of prominence on the walls of Lady Falconburgh's Barley Exchange on Tuesday. The Lady has taken a few unscheduled trips out of the restaurant but has always returned./Photo by Todd Newcomer.
Nevertheless, Lyon said he is not letting the theft get the best of him.
"I try not to let it bother me," he said. "If someone wants it that bad ."
However, he is being more vigilant when it comes to keeping an eye on things. And he said he holds out hope for the safe return of his artwork, which he valued at $200.
"More than likely, it will show up, it's a small town," he said. "I'm just curious why?"
Meanwhile, one downtown eatery is no longer asking questions and instead has taken steps to stem the theft of its most prized possession. After two mysterious appearances and re-appearances of the comely Lady Falconburgh, the owners of Lady Falconburgh's Barley Exchange, Zak and Aaron Sinberg, have taken to covert security measures to ensure the family heirloom stays put.
"I cannot discuss security arrangements, I wish I could," said Aaron Sinberg. "It would give the thieves too much information."
Although Aaron, like the other victims, is not sure who the perpetrators were, he suspects college students in the first incident and a cult in the second. In the former, a young woman returned the painting, saying her friends had taken it. In the latter, the painting was found, unharmed, under a tree at Lemon Reservoir, surrounded by candles in Elvis-shrine fashion.
"I think it was some sort of cult," he said.
Although he's not pointing fingers, Aaron suspects the cult also may be implicated in the Ponch and Jon disappearance.
"I've heard rumors of a '70s TV cult north of Bayfield that walks around in tight polyester uniforms," he said, refusing to divulge further information.
Meanwhile, Kitch said he has ruled out the main suspect, rival pizza joint The Schoolhouse, near Needles, which has stolen artwork in the past.
"I had my suspicions, but I've been up there and spoken to some reliable sources," he said.
Like Lyon, Kitch said he is taking a more vigilant stance. "So don't try anything funny, I'm watching," he said.
He also has taken a cue from the Sinbergs. "Some of the more valuable artwork is bolted to the wall," he said. "To steal something, you've got to rip it out of the studs."
And while he awaits Ponch and Jon's safe return, Kitch has offered a "substantial pizza reward" to anyone with tips in the case. However, he notes a value cannot be placed on the photo.
"It's priceless, really," he said. "Try to find John Wilcox these days. Maybe he's in the Betty Ford clinic, who knows? But I'll never get that signed again."
Komick, of the Rochester, believes karma will be the determining factor in the return of his poster, which he values at $500.
"To restore their good karma, the thief should bring it back," he said. "No poster is worth that loss."
However, Kitch believes in a different sort of retribution. "God was very clear about thieves going to hell," he said.