Area power plant cleans up its act
Polluter to implement $200 million in clean-air fixes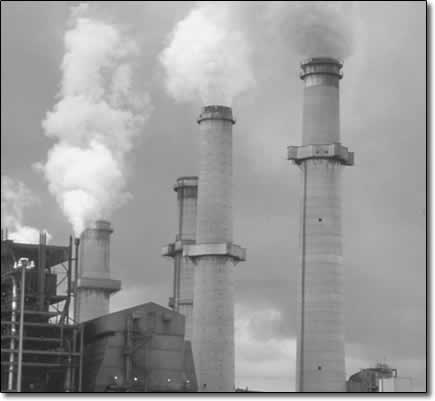 The San Juan Generating Station, near Farmington, seen in this undated photo, will soon be undergoing a $200 million transformation that will reduce mercury emissions by as much as 75 percent./Photo courtesy Grand Canyon Trust.
by Will Sands
Local residents can breathe a sigh of relief this week. Courtesy of a landmark agreement, the quality of air in Durango and the Four Corners will improve measurably in coming years. More than $200 million in pollution-control measures will be implemented at the San Juan Generating Station, one of the dirtiest coal-fired plants in the region and nation. Of particular note is the plant's push to eliminate hazardous mercury emissions, the first effort of its kind in the country.
Operated by Public Service Co. of New Mexico (PNM), the San Juan power plant is a 1,600-megawatt, coal-fired facility near Farmington with a shady track record when it comes to emissions. In 2003, the station spewed more than 14,500 tons of sulfur dioxide, 25,000 tons of nitrogen oxide and 750 pounds of mercury into local air, according to the Grand Canyon Trust.
These volumes, along with violations, led to legal action. The Grand Canyon Trust and Sierra Club filed a lawsuit in 2002 alleging that PNM was violating its air quality permit at San Juan. One of the key charges was that the plant was regularly well over its opacity limit (the density of toxins in the plume coming out of the plant's smokestacks).
In February of last year, Federal Judge Bruce Black concurred that the plant had regularly been in violation of its permit. Eventually, PNM agreed that it had violated the opacity limit at the plant a total of 42,008 times. Now, the Sierra Club, Grand Canyon Trust and PNM have successfully negotiated a settlement, and as a result, thousands of tons of air pollution, linked with local health problems and haze, will no longer be dumped into the Four Corners' skies.
"This is a strong step in the right direction," said Roger Clark, air and energy coordinator for the Grand Canyon Trust. "This will visibly decrease the plume coming out of the plant. The particulate matter will be substantially reduced. Most significantly, they have agreed to control mercury up to 75 percent. They're the first utility to do that in the nation."
Clark said that the mercury reduction is particularly interesting in light of a new "rather tepid requirement for mercury reduction" by the Bush Administration. In sharp contrast to the 75 percent drop in the toxin at San Juan, the administration announced this week that plants would be required to reduce mercury by 21 percent by 2010.
Verl Hopper, a member of the Grand Canyon Trust and an Aztec resident, was particularly happy about the news. "The San Juan power plant has been dumping pollution into our air for years, which has put the health and well-being of me and my neighbors at risk," he said. "We all have a responsibility to maintain our quality of life for future generations, and this agreement means we'll soon be breathing cleaner air and viewing clearer skies."
Even New Mexico Gov. Bill Richardson hopped on the bandwagon, calling the agreement testament that the state is a national clean-energy leader. "This historic agreement will take more than 16,000 tons of pollution out of our air, which is the equivalent of removing half a million cars from New Mexico's roads," he said in a written statement.
Specifically, the San Juan Generating Station is being required to install: equipment to reduce sulfur dioxide by several thousand tons; state-of-the-art "burners" to reduce nitrogen oxide emissions by more than 10,000 tons; giant vacuum bags called "baghouses"; and activated carbon pollution-control equipment to reduce mercury by as much as 80 percent.
Dan Randolph, a coordinator with San Juan Citizens' Alliance, agreed that this week's announcement and the coming improvements are moves in the right direction. However, Randolph said that the region still has a great deal of ground to cover.
"It's great, and this is absolutely a step forward, but there's a long way to go," he said
The San Juan Generating Station is by no means the only power plant in the region or the only polluter, according to Randolph.
"The biggest emitter continues to be the Four Corners Power Plant," he said. "Because it's on the reservation, it's harder for citizens groups to go after that plant. This agreement doesn't affect them, and they're the largest source of local pollution."
Clark concurred saying, "In Durango, you still have the Four Corners plant as well as emissions from all of the natural gas pumping in the area. Those sources remain significant."
The Grand Canyon Trust is doing its best to go after the Four Corners plant. "We're currently in discussions with them," Clark said. "We hope that they are looking at the decision seriously and that they will follow the lead."
Clark concluded by saying that there is hope that the San Juan Generating Station agreement will mark a "historic shift" in the way power plants behave in the Four Corners. If it does not, the Grand Canyon Trust will be holding the power plants' feet to the fire.
"We're hopeful that we can continue to be in productive dialogue with utilities without having to resort to litigation," he said in closing.
A cloudy future for the Four Corners
Courtesy of this week's agreement, local residents will soon be breathing cleaner air. However, this improved situation could be short-lived. Two new, coal-fired power plants are proposed for the region and currently jumping through regulatory hoops. One of these will be a massive addition to the local landscape and airshed.
Sithe Global Power has announced plans to build a major new plant near Shiprock by the year 2008. In collaboration with the DinE9 Power Authority, Sithe would build the coal-fired plant on Navajo Reservation land for an estimated cost of $1.4 billion. When completed, the new plant would be among the largest in the nation and generate enough energy for 1.5 million homes. Numerous companies have entered into negotiations with Sithe to buy power from the new facility. Sithe also has signed an agreement with the developers of a planned power transmission line that would begin in Shiprock and end in Las Vegas.
A coal-fired plant plant one-fifth this size, named the Mustang Project, is also seeking approval to begin construction between Farmington and Grants, N.M. Originally, the plant was expected to be operational by this year, but there have been delays. Mustang has categorically refused to consider alternative and more environmentally friendly technologies.
With respect to the Sithe plant, opposition groups recently celebrated a minor victory, as the Bureau of Indian Affairs reopened the public comment period because of public pressure. Consequently, there will be more opportunities for public comment during the week of March 28.
The closest meeting to Durango takes place on Mon., March 28, from 4-8 p.m. at the Cortez Middle School Cafeteria. Scopings also have been scheduled in Shiprock, Albuquerque and in the vicinity of Farmington. For more information, log onto www.desertrockenergy.com.