Hot, oil and wrestling!
By Ted Holteen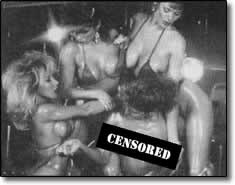 I'll try not to waste too much of your time on non-oil wrestling events, but I must include as much other "entertainment" as will fit on the page as it is part of my mission to showcase ALL of the available options for our readers. And yes, that includes those odd musicians who perform, as the French say, "sans l'huile." I know, I don't understand it either, but some folks just don't get it.
We begin at the Summit on Friday night with Global Funk. Their cyber description invokes the names of Phish, Medeski, Martin & Wood, Weather Report, Mahavishnu Orchestra and Frank Zappa. But who goes to the Summit for the music, anyway? Then on Saturday night, it's New Monsoon. I would have dismissed them right away, but it turns out that the two founding members are Penn State alumni, so if nothing else they are men of tremendous character. And, they have a piano player, which adds to their charm. They also have a tabla and conguero player; neither word made it past Spellcheck, let alone my infinite ignorance, but I'm sure they sound just great.
You would think that a Canadian step-dancing fiddle player would struggle to make it in this oil wrestling-centric world. But although she is more than physically qualified to step into the ring, for reasons unknown Natalie MacMaster long ago spurned the opportunity, to instead make a go of things with her other talents. And I'll be damned if it didn't work out for her. In fact, I bet you'd be hard pressed to name even one other lovely, blonde, Canadian step-dancer who can also play the fiddle. Since you can't, it's a good thing Natalie will be in town Saturday night at the Concert Hall. If you believe the Halifax Herald (and when have they ever steered you wrong?), Natalie alone is better than the entire corps of Rockettes, and ticket prices are surprisingly reasonable. Showtime is at 7 p.m., and please refrain from yelling "take it off" or other romantic catcalls.
Better load up on culture to pre-purify your soul. And you can save time and money doing it by sleeping in your car in the parking lot of the Community Concert Hall on Saturday night to be among the first to show up on Sunday afternoon for a very special performance of The San Juan Symphony, with special guest R. Carlos Nakai. Nakai is one of the best-known and just plain best American Indian musicians performing today (or, more accurately, Sunday). If you've never seen a classical performance at the Community Concert Hall, this is a great time to make it the first time, as the acoustics in the joint should be an ideal showcase for Nakai's cedar flute. Yeah - he plays flutes made out of cedar. And he plays them well. But don't ask him to play one just anywhere - we tried that at KSUT, and he wouldn't do it because moisture ruins them or something. Not that we were going to soak him with water balloons or anything so juvenile, but it's a humidity thing. Just go see the symphony and don't throw anything.
Fun stuff happening in Cortez. There's no punch line here - I'm serious. On Saturday night, it's high velocity honky-tonk at the American Legion, and it should be a hoot. For one low price (actually, I have no idea how much tickets cost), you get three kick-ass bands, and I really wish I was going to be in town for this. The headliner, from Dallas, Texas, (duh) is Speedtrucker, and I'm a sucker for any band with the word "trucker" in its name. So that's a really good start. Also on the bill is Dave Insley and the Careless Smokers, as well as the band with the best name in the biz, The Beautiful Losers. Of the three, I've only seen the Losers, but I think they're great; and if they're the third act on the marquee, then Cortez should be in for a hell of a night. Get yer tickets at Canyon Sports or at the door - 8 p.m. start time. And it is at the Legion, so chances are you won't have to leave at 2 a.m. if you don't want to. But don't quote me on that, and if they do ask you to leave, please do so.
I wish I could say that I've never witnessed hot oil wrestling so that my curiosity would be piqued heading into Wednesday night at Scoot ?'n Blues. But alas, I am a man of the world and therefore know just what is about to unfold. You see, I used to be on the staff of the old San Juan Room back in the day when strippers, foxy boxing and hot oil wrestling brought heretofore unseen confusion and mayhem to the unsuspecting populace. And we were better people for it, with a few notable exceptions now on file with the Durango Police Department. And so, the Hollywood Knockouts return for, well, hot oil wrestling. I had planned on saving about 900 words for this event, but come to think of it, it kind of sells itself. It's a 2½-hour extravaganza, where for 10 bucks you can either watch really attractive ladies wrestle while coated with a thin veneer of microwaved baby oil, or for the more daring among you, join the fun yourself. That, of course, will cost you a bit more. They're calling it "Men's Night Out," but ladies, I think you may enjoy it even more. Then afterwards, there's the regular Wednesday night Open House Dance Party thing, and it would be a shame if that turned out to be more of a cell block sort of party with a whole bunch of misguided and sexually frustrated men pairing off on the dance floor. If you miss this night, you may regret it for the rest of your life.
Lube me up. ted@ksut.org. On second thought, don't do that.