Off to the big ring
Durangoan aspires to 'Too Legit' professional wrestling career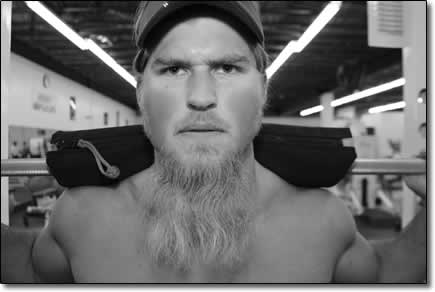 Aspiring professional wrestler Logan Austin wears his game face during a grueling set of squats on Tuesday at Fitness Solutions 24/7, where he pumps iron at least four times a week for two to three hours in preparation for the world of pro wrestling./Photo by Todd Newcomer.
by Lainie Lowndes
On any given day, Durango bustles with a number of aspiring athletes hoping to turn their sporting affections into professional careers. The combination of local weather and terrain has given rise to skiers, boarders, boaters, cyclists, rock climbers and an abundance of other outdoor enthusiasts, all with their eyes on the prize. But a hopeful professional wrestler? Believe it or not, there is at least one man in Durango who has his sights set on making the big time in the hard-hitting world of professional wrestling.
Ladies and gentlemen meet "The Natural-Too Legit." Logan Austin is a handsome, 23-year-old with a tricolored, 6-inch long billy goat beard and a determined dream of becoming the next big star in the WWE. For those not in the know, that stands for World Wrestling Entertainment, a multi-million dollar wrestling operation formerly known as the World Wrestling Federation. In the 1980s, the WWF turned out such success stories as Hulk Hogan and The Macho Man Randy Savage before it was forced to change its name due to a lawsuit filed by the World Wildlife Foundation. Apparently, the real WWF feared that logo similarities between the two organizations could hinder donations if folks became confused and thought panda bears were being made to fight each other in cage matches.
For those readers who are familiar with the world of professional wrestling, "Too Legit" is in no way related to famed wrestler Stone Cold Steve Austin. But at 6 foot 1 and 220 pounds, Logan Austin does bear a vague resemblance to the WWE darling of the same last name. Logan Austin grew up in the south central area of Santa Fe and moved to Durango five years ago to attend Fort Lewis College. Although he received his degree in business administration and marketing, his real passion remains throwing down on the mat. The very first time he saw a wrestling match as a young and impressionable teen, Austin knew he wanted to be part of the exciting world of violence and pageantry.
"I wasn't allowed to watch wrestling on TV at my house, but the delinquent family across the street had a cable descrambler and invited me over to watch a match," he says of his introduction to the "sport."
The then-14-year-old believed that he had found his true calling. As he witnessed the WWF characters "Man Kind" and "The Undertaker" square off in a ballet of brutality on the screen, young Austin was spellbound.
"Man Kind was thrown onto the announcers' table from the top of the cage and the cage collapsed. He dislocated his shoulder, punctured a lung and one of his teeth came up through the top of his mouth. It was amazing," Austin recalls.
Despite injuries like the ones Austin described, many believe that professional wrestling is not a sport at all. Many insist it is a theatrical production and is therefore unworthy of any relation to athleticism. As the word "Entertainment" in the WWE title suggests, there is a good deal of truth to notions of manufactured performance. Austin admits the events are planned, however, he maintains that the pain involved is very real.
"When you get hit in the head with a chair, you might know that it's coming, but it still hurts," he says.
Whether or not the performances are staged does not seem to be of any consequence to the millions of international fans or the scores of individuals trying to break into the game. There are schools throughout the United States that offer wrestling training. Perhaps the most prestigious of them is Ohio Valley Wrestling, an institution Austin plans on attending late this spring. The school is located in Louisville, Ky., and classes are limited to 30 students. Its program is touted as a 13-week "boot camp" designed to determine if pro wrestling wannabes have what it takes to break into the business. Each of the students spends $500 for the beginner course in hopes of being the next Herculean hero of the WWE. However, there is no guarantee that attending the school will make you a star.
"OVW tells you straight up, 'No promises,'" Austin explains. "You have to work hard, and then maybe you will move into the intermediate level."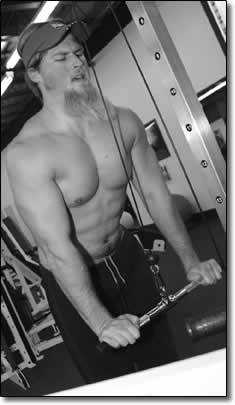 "Too Legit" Logan Austin earns his bulk the old-fashioned way./Photo by Todd Newcomer
"OVW tells you straight up, 'No promises,'" Austin explains. "You have to work hard, and then maybe you will move into the intermediate level."
The intermediate classes cost $1,500 and last a full year. Those that make it to this level achieve a status similar to hockey or baseball players who play for farm teams. Like the farm team players, OVW students hope they can show the scouts what they have to offer and be moved up into the big leagues.
According to Austin, the next stage is the advanced level, where the would-be wrestler is coached in personal style, persona and signature moves.
"They teach you ring psychology, how to interact with the crowd, how to work the camera," Austin says. "Stone Cold (Steve Austin) is probably just a beer-drinking redneck, but he learned how to turn it up for the crowd."
As for his own style and persona, Too Legit imagines himself wearing tight spandex, ultimate fighter fashions complimented by a velvet smoking jacket and big black boots. "Essentially, the persona that I would like to portray is that of an overzealous, elegant, cocky ex-model," he says.
Unlike some professional wrestlers, Austin prefers to build his muscles the old-fashioned way. "The Natural" refers to his strong aversion to the use of steroids in his training regime. He does not believe that it is necessary to inject a synthetic form of what the body naturally creates. Instead he trains for two to three hours a day, four to five times per week at Fitness Solutions 24/7. With the guidance and experience of trainers Don & Tony, "Too Legit" believes that he can achieve the size and strength he needs to become a contender without steroids, and that those who do use them are cheating. "I want to get bigger, but there are so many supplements I can take and other things that I can do besides sticking a needle in my ass."
He also has already developed his patented moves. One of his self-made moves is called the Dragon Screw 450 Splash. "You throw your opponent into the corner turn buckle, climb up onto the ropes, do a back flip and take him down by the neck," Austin says. "There are subtle nuances involved - you have to squeeze his head right or you could kill somebody."
But Austin doesn't let these threats of injury sway his determination to go pro. "People have died in the ring from spinal cord injuries, but you could be driving to the grocery store and have that happen," he says.
Austin is also confident that he will survive OVW and make it into the big ring. He's already had experience locally. If you were one of the many spectators at this year's Snowdown parade, you may have seen "Too Legit" in action. During the parade, Austin wrestled as the "Garbage Goliath" in a float sponsored by Phoenix Recycling. If you missed the parade, be on the lookout.
"The Natural-Too Legit" could be coming to a ring or television screen near you.