Ten years of battling Rotgutzen
Ska Brewing celebrates a decade in the beer biz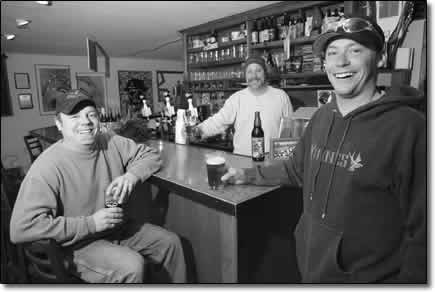 The Ska boys, from left, Dave Thibodeau, Bill Graham and Matt Vincent, sample some of the product at their home-away-from home in Bodo Park on Monday afternoon./Photo by Todd Newcomer
by Amy Maestas
The business formula the owners of Durango's Ska Brewing used to start the company was, they all admit, a bit tricky for even the smartest MBA student to interpret. After all, it's not something taught in even the most elite business colleges. Loosely defined, it looks something like this: Renegade Spirit + Beer infatuation2/Employment needs x Business dreams = Customers.
If someone must know the name of the model, it's called: "Fly by the Seat of Your Pants." Will it work for others? Maybe, says Ska co-owner Bill Graham. What's more important is that it worked for him and Dave Thibodeau in 1995. (The third co-owner, Matt Vincent, bought into the business a year later.)
Graham and Thibodeau were self-avowed beer-loving, scooter punks. They were also successful home brewers. At the time, with only two other microbreweries in Durango, the duo homed in on a lack of available microbrew beer in large quantities - aka kegs. Knowing that locals wanted such, he and Thibodeau decided to take their beer-making skills to a higher level.
"We saw some things in the market that we could exploit," Graham says.
But without deep pockets or the ability to get bank loans, the two weren't sure how to move forward. Turns out, they borrowed money from family members, threw in what cash of their own they had, and took the plunge. Not surprisingly, it was a brave venture. They truly did not have a business plan sketched out. In fact, Graham explains that the entire company was built up from a comic book they did at the beginning. It was from that comic book that Ska derived all of its graphics and marketing material, from beer labels to logos. When a new beer is introduced, the character becomes part of the story.
The comic storyline is about the three owners ("We are minor, however," Graham proclaims). Caricatures of Vincent, Graham and Thibodeau abound on all products. The settings include an old castle, which is really Ska's office in Bodo Park, and a bowling alley (hence the Ten Pin Porter). The villain is the Evil Pinstripe - whose namesake ended up on Ska's first beer - and his gang of thugs, known as Rotgutzen. Together, they set out to destroy the three characters, "because we are insurgents into his beer market," Graham explains.
Among Pinstripe's henchmen is Buster (whose namesake is Buster Nut Brown). The trio ends up getting saved by Lana Lovibond, who, unbeknownst to the three guys, really is a superhero. The voluptuous Lana, astride a scooter, graces the brewery's True Blonde flavor. Raven is the comic's narrator. Carlos Javier, the Mexican Logger, is also a superhero of sorts. From his territory in Silverton, he joins the fight against Rotgutzen.
"The comic book was not a marketing gimmick," says Graham. "It is just how we are as people. It's something we like."
Incorporating the comic book into the business is, perhaps, the most tangible evidence of how successfully the owners of Ska have blended beer and culture. Graham says that from the get go, he and his partners were keenly aware of the beer-drinker culture. Those who really savored the brew were constantly looking for new flavor mixes to try. Often, beer drinking blended with music and recreational activities.
"The only way to sell beer is to sit down and drink it," he adds.
"The only way to sell beer is to sit down and drink it," he adds.
To achieve that, Graham and others spent many days each year going to various beer and recreation festivals, kegs in tow and stories to tell. Sometimes they had to hitchhike to get places, but it was part of their renegade spirit. They were young and eager, without many obligations to worry about in Durango. More importantly, they were part of the fraternity that is characteristic of the industry.
In the course of these times - and they were plentiful - Ska owners learned what beer drinkers yearned for. Realizing that nearly every microbrewery had pale ale, blonde and porter style beers, Graham says they stepped up their malt and hops blends to give people what they wanted. Most times, they were successful. Graham isn't able to mention many lowlights in the company's tenure, but he still has memories of a failed hefeweizen.
During the late 1990s, many microbreweries went out of business because of declining sales. It also was somewhat inevitable since the growth in that industry exploded that decade. In the late 1970s, there were fewer than 50 breweries in the United States - a paltry number when compared with the pre-Prohibition era, when some 3,000 breweries nationwide were estimated to exist. Industry experts report that there are about 1,400 microbreweries today. The industry shakedown hit Colorado hard, but Ska survived unscathed. Graham attributes that to the company's eccentric ideas and fun packaging.
"Beer culture is really fun," he says. "If you lose touch with that culture and become strictly a business, it really shows. You have to be fresh and dynamic."
Part of that dynamism meant not getting wrapped up in expansionist aspirations and instead remaining true to its grassroots. That didn't mean stunting its growth, though. Graham says the company's growth has exceeded all of their expectations. Still, the owners haven't culled any detailed business plan. They never have had and never will have Monday morning staff meetings, says Graham. It just isn't part of their souls.
"There definitely were times when we wanted to throw in the towel. But it was the only job we all had. There was no way we could give up our jobs."
Despite being a medium-sized brewery, Ska faces challenges from major beer houses. Because those major domestic brewers buy in such large quantities, it would be easy for them to deplete beer-making supplies in the general marketplace. To address this possibility, Graham says microbreweries band together in the form of co-ops, which help them maximize their buying power and sustain their spots in a market that is again on the upswing.
With a brewing capacity to churn out 7,000 barrels per year, Ska is poised to continue its success. However, Graham says that doesn't necessarily mean expansion. Instead, the owners' plans are to remain in touch with the beer culture, particularly the local one. Quick to attribute their success to the community of guzzlers in Durango, Graham says it isn't all about profit.
"We have to continue to focus hard on not losing our roots. They are in Durango," he says. "This isn't about business; this is about community."

Ska Brewery Milestones
1995 - Punk home brewers and ska music fans Dave Thibodeau and Bill Graham notice how difficult it is to get their hands on a keg of micro brewed beer in Durango. Not ones to let this travesty continue, they grovel for money from family members. Ska Brewing Co. opens in a 600-square-foot shop in Bodo Park.
1996 - Matt Vincent, brewer extraordinaire, leaves his post at Durango Brewing Co. and buys into Ska Brewing, becoming the third part owner. Ska brews and supplies the first official Snowdown beer.
1997-2000 - Ska survives the microbrew shakedown, during which many businesses fold due to slow sales. The fizzle goes flat, and the brewing industry almost gets cannibalistic.
2001 - The Durango Chamber of Commerce awards Ska the Small Business of the Year award.
2002 - Ska wins a gold medal at the Great American Beer Festival Competition.
2003 - Ska wins a gold medal at the Great American Beer Festival Competition. ESB Special Ale, Ska's first and so far only, microbrew in cans, hits the commercial shelves. Customers move past their initial hesitancies to drink a microbrew from a can and help make it a success.
2004 - Ska begins distributing in New Mexico. Ska's plant grows to more than 7,000 square feet and produces 5,000 barrels of suds. Ska wins seven awards with four different beers in four different national and international competitions - this includes another gold at the Great American Beer Festival.
2005 - Ska unveils a series of three special bomber-sized beers - called Robust Reincarnations - in celebration of its 10th anniversary. The first in the series is the Decadent Imperial IPA, with a 10 percent alcohol by volume and 95 International Bitterness Units. To follow are the Nefarious Ten Pin Porter and the True Blonde Dubbel, with a slightly less punch of 8 percent alcohol by volume. Distribution extends to Arizona. For its 10th year in a row, Ska provides the Snowdown beer: Ska-pow!