Getting a grip on mental illness
Southwest Colorado Mental Health Center looks to the future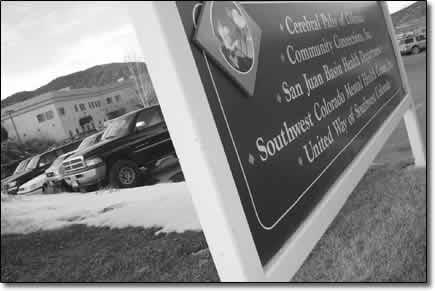 The Columbine Center, in Bodo Park, is home to the Southwest Colorado Mental Health Center. An effort is under way to establish a health-services district that would fund a local in-patient primary mental-health care facility. Currently, the closest such facility is in Pueblo, creating a hardship for local patients and their families./Photo by Todd Newcomer.
by Dean Powers
Just before Thanksgiving in 1999, Brad Lantz's behavior seemed "terribly wrong" to his wife, Amy. Once, Brad thought his cell phone was an FBI tracking device, she said. At other moments, Brad spoke in rhymes that made little or no sense. During that month, Amy, friends and the couple's priest drew together around Brad, who sought help even though he could hardly fathom the cause of his behavior.
On the night before Thanksgiving, Amy picked up the phone at 10 p.m. to hear Brad's voice flooding the receiver. He'd dialed her from his cell phone in the Emergency Room at Mercy Medical Center.
She hurried to the hospital, where her friends and the priest quickly convened. Over the next five hours, Amy, the group and doctors held sporadic council while Brad was "up and down, and roaming around," she recalled.
A doctor told Amy she thought Brad was suffering from bi-polar disorder, and at 3 a.m. she made the painful decision to have her husband committed involuntarily to a psychiatric facility until he posed no immediate danger to himself or others.
As she coped with the diagnosis and pondered what it would mean to their lives, doctors told her that the state facility in Pueblo was the nearest one that could accommodate Brad. Earlier that year, Mercy Medical Center had closed its own facility because of financial issues. Amy recognized that she had no control over the situation and agreed that Brad would fly to Pueblo. But when he took off early that morning by plane and under heavy sedation, the couple was pried hundreds of miles apart during Brad's most dire hours.
Southwest Colorado still remains without the type of facility that would have kept Brad close to home and within a community of familiar faces. Of 17 regions in Colorado, only this one has no urgent psychiatric care center closer than two hours by car. But help appears to be on the way.
Currently, grantors and municipalities are coming together to help cover costs for a new psychiatric urgent care facility. The help is coming from as far away as a $500,000 grant from Gov. Bill Owens' Rural Health Care Initiative and as near as pledges from La Plata County and the City of Durango for $150,000 each for operational costs.
Shovels will break ground at the facility's proposed site in Grandview in 2006 if proponents can secure an additional $1 million grant for its construction from the State's Energy and Mineral Impact Fund, which supplied the initial $500,000. La Plata County's charity also will be tested this fall when voters will likely decide whether or not to create a health-services district that would partially fund the facility's operational costs.
"Getting that health-services district passed will be based in large measure on the community's understanding of what it's like to have a mental illness," said Bern Heath, president and executive officer of the Southwest Colorado Mental Health Center (SWCMHC). The center, in Bodo Park, has doctor's offices but is not a primary care facility.
Hearts and minds must be won because community support will help ensure a future facility's sustenance during periodic shortfalls in federal and state aid. The proposed health-services district would channel roughly $350,000 toward operational costs for the new care center by raising property taxes, a stipulation likely to encounter resistance.
Backers seek La Plata County tax-generated subsidies for the facility because of an economic hangover from the 2001 recession, TABOR spending limits, increased health-care costs, lowered federal reimbursement rates for insurance and unpredictable cuts in state contracts for programs like Medicaid.
The nonprofit SWCMHC would run the new facility but depend on two state contracts for its survival. State cuts in the budget over the past two years cost the mental health center more than $675,000, or 14 percent of total revenues. The cuts resulted in layoffs and escalating costs and removal of care for clients without adequate health insurance.
Money raised for the health-services district through the increase in property tax would soften the blow from these cuts. It could also help primary-care providers of childhood immunizations, prenatal services and home-based elderly and disability care.
"What happens is we begin to think (financial problems have) gone away," said Missy Rodey, a member of the Citizens Health Advisory Coalition. "That's not true. It hasn't gone away, and very possibly, it's going to get worse."
Rodey's group is working with the Action Coalition for Medical Excellence to pass the health-services district initiative. She explained how in the late summer of 2003 a flurry of support followed news of job cuts at Valley Wide, a primary-care provider with services in Durango. People eventually forgot, but she hopes they will remember when they check the ballot.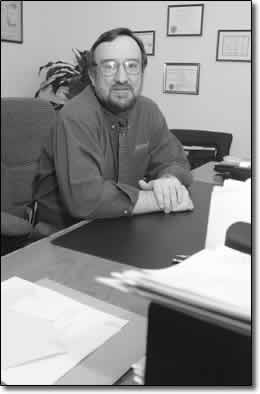 Bern Heath, president and executive officer of the Southwest Colorado Mental Health Center, sits at his desk on Tuesday. A proposal is currently being mulled to create a health-services district that would channel roughly $350,000 from increased property taxes toward a new mental-health care center in Grandview./Photo by Todd Newcomer.
Rodey's group is working with the Action Coalition for Medical Excellence to pass the health-services district initiative. She explained how in the late summer of 2003 a flurry of support followed news of job cuts at Valley Wide, a primary-care provider with services in Durango. People eventually forgot, but she hopes they will remember when they check the ballot.
Heath said he will seek alternative sources for funding if the health-services district is not passed. However, he and others agree that success for a new inpatient facility depends upon vigilant community awareness and support. For that reason, Amy and Brad decided to write a public letter to distribute and share their intensely private experience with those unfamiliar with mental illness. Amy said she is keen to see a local facility and know that nobody will have to share their ordeal, including Brad's trip to Pueblo in restraints.
In 2003, President Bush's New Freedom Commission on Mental Health released a report that studied the mental health care delivery system. One part warned that restraining patients posed risks that included "serious injury or death, re-traumatizing people who have a history of trauma, loss of dignity and other psychological harm."
Since Mercy closed its psychiatric facility, however, the Sheriff's Department and Mercy have had to transport dozens of people in a manic state of mind under restraint and sedation. Sheriff's Department rules mandate that mental health patients be shackled during transit. "We transport two trips a month, primarily to the state hospital in Pueblo," said Cpt. Dan Bender. The Sheriff's Department transports people who are not covered by insurance or are already in the sheriff's system, Bender said. Sixty percent are flown and the rest are driven the nearly 300 miles by car. La Plata County picks up the tab for travel, hotel and medical attendant fees.
Mercy uses only air transit, but it has a similar number of transports per month, with the trip costing between $8,000 and $10,000, according to Paul Gibson, transport coordinator at Mercy. Most of that cost is covered by the client's insurance.
During Brad's first day in Pueblo, he left 21 messages on Amy's answering machine pleading to come home. In the days that followed, Brad struggled back from mania in a foreign place among strangers.
Visiting would have been easier, Amy said, had Brad been closer. He also would not have spent 10 days in the same clothes without toiletries, a result of Amy's naiveté when she presumed the receiving facility in Pueblo would provide these items.
When Amy did venture out to pick up Brad, it proved daunting: snow delays added two hours to her flight, and messy roads heightened her anxieties that she would not get to Brad in time. Pueblo would not release Brad unless the pharmacies were still open so that Amy could fill his prescription.
A locally based urgent care center would save La Plata County obvious transportation costs and mental anguish. It might also save additional dollars in more opaque ways, according to Heath. During the recent SWCMHC budget crisis, the volume of emergency services increased at the center. Because of increases in fees, people go longer without care and waited until crises have hit to seek help. When clients react quickly to symptoms of mental illness, a full blown disorder can be blocked and clients can be kept out of the emergency room.
"For mental health, or individual private care health, preventive medicine is the key to keeping costs down," said Rodey.
Emergency room services at hospitals are among the most expensive of all services offered. When more un- and underinsured patients visit the emergency room, the hospital begins shifting costs to subsidize that lost revenue. The community at large will eventually feel these effects when health insurance expenses increase, Rodey said.
Amy Lantz has learned a lot about mental illness in the last few years. After she learned from the doctor that Brad might be suffering from bi-polar disorder, Amy immediately consulted the nearest research tool available.
"The first thing I did was get on the internet," she said. "I couldn't believe it as I went down the symptoms. He had almost every single one of them."
Amy hopes that no one should have to endure the same feelings of ignorance, separation or helplessness if a severe mental illness ever surfaces in a close family member or friend.
"It was all one crazy trip," Brad said, five years after his experience. Since then, he has returned to work, held his marriage together and adjusted to his medications. "It was hard to talk about at first," he said, but he can now, partially because he is happier than he has been in a long time.

The many shades of mental illness
The National Institute of Mental Health (NIMH) estimates that one-fifth of Americans will suffer from a mental illness during their adult life. When applied to the 2003 U.S. Census residential population estimate for La Plata County, this figure translates into almost 10,000 people.
Despite this high number, a recent survey by the American Psychological Association (APA) found that 47 percent of Americans do not know when it is appropriate to seek help from a mental health care provider.
In addition, the APA posted in a report on its website titled "Ending Discrimination in the Workplace," people usually believe symptoms such as fatigue, dizziness or weight-loss originate from physical dysfunction, when in actuality they can be the indicators of a psychological disorder.
Mental illness comes in many shades with varying apparentness, and less severe illnesses than Brad's significantly affect the economy by reducing worker productivity. The most common types of mental disorder are: generalized anxiety disorder, panic and major depression, according to a 2001 epidemiological study, led by Harvard Professor, Ronald C. Kessler, Ph.D.
These forms of mental disorder more commonly account for lost productivity. "Clinical depression, which can totally incapacitate a person, costs an estimated $23 billion in lost work days each year," the APA report stated.
Although bi-polar and the more severe schizophrenia disorders are less common, they can sleep in people, as happened with Brad Lantz, for varying lengths of time. Sometimes they will surface - as manic episodes - as early as childhood, and sometimes later in life, according to NIMH.
- Dean Powers