Telling stories with a paintbrush
Artist Chad Colby explains his fascination with art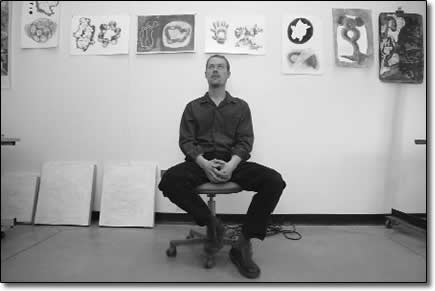 Chad Colby relaxes in his painting chair below a collection of his artwork inside his FLC studio Monday./Photo by Todd Newcomer.
Art serves many purposes in the expression of human creativity and often reflects its time in history. Throughout the centuries, one of the functions of painting has been to tell stories. Before the invention of the camera, painting was a device of record, documenting scenes from daily life. During the expansion of Christianity in Europe, portable paintings depicting Biblical scenes were carried around and used for religious instruction. In modern times, the Surrealist and Symbolist painters used images from the unconscious mind to reveal psychological dramas, telling stories of a world deep within.
Chad Colby, painter and FLC professor, carries on the storytelling tradition in his paintings but has added a contemporary perspective. By layering images in his paintings, he creates "open-ended narratives" in which the storyline is left up to the viewer's interpretation, a kind of "collaboration" between the viewer and the artist. Recently we talked about his fascination with making paintings.
JM: You use one of the oldest artistic mediums to express yourself. What is compelling for you about making oil paintings?
CC: Every stage of creating a painting is incredibly compelling and a very fun process for me. I begin collecting images that spark my imagination, such as a recent photo of a big, twisted up piece of metal I saw down by the river. Upon first encounter, I couldn't identify what it was. For this reason, its presence captivated me. I want to see how this image of the twisted metal, in combination with the human figure, can create some interesting associations. I'm fascinated by how a mind classifies an image and the registration process of trying to make sense of it. Having a 1-year-old child around has really keyed me into this registration process.
JM: Your pictures are richly interwoven with color, compositional elements and imagery. There is a lot for a viewer to take in. I am pulled into your paintings primarily through the color.
CC: Color is paramount. On formal terms - drawing, line, composition, shape and value - they all play a role, but it's color that I use for an immediate impact or seduction. Then, through careful balances and juxtapositions, I try to create the appropriate mood and hold the viewer's attention. The saturated colors keep me alert, like exercise does.
JM: The images are somewhat recognizable but not quite.
CC: My work is playful in that way I like to put a lot of different methods of representing the world into one painting. Being selective about the images, I choose what I call "loaded imagery." One of my paintings in the gallery, "Anemone Anatomy," has a pole-vaulter as the predominant figure in the middle of the canvas. To me, that became a metaphor for human aspirations and defiance of nature. The piece also includes a sea anemone, a creature with tentacles reaching out. I was thinking of humans trying to move upward and yet still being creatures tied to the earth. That combination became fascinating to me, and that's the playfulness I'm talking about.
A classmate once said my work was like a visual puzzle game, where you try to find how many things are wrong with the picture, like a teacup hanging in a tree I liked that comment and it has stuck with me.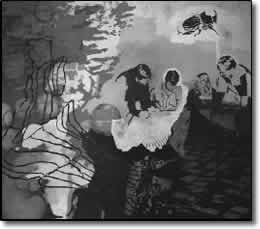 Chad Colby's oil on linen titled "Scientific Conjecture" now on display at FLC./Photo by Todd Newcomer.
A classmate once said my work was like a visual puzzle game, where you try to find how many things are wrong with the picture, like a teacup hanging in a tree I liked that comment and it has stuck with me.
JM: Critique from our peers can be very insightful. What else has been influential in your creative process?
CC: Going back to when I was in school, what formed my methods and interests came from my teachers who had studied with the abstract expressionist generation. They taught the idea that a painting unfolds, that you can't have too solid a conception of it in the beginning, and that you have to give a painting room to grow and have a life of its own. Basically, it's an open-ended process. Also, I'm interested in the work of contemporary artists, like Neo Rauch, whose narrative painting was included in the recent exhibit, "Disparities and Deformities: Our Grotesque," at SITE Santa Fe.
JM: That exhibit was a good example of the exploration and innovation within two-dimensional media today. How difficult is it to come up with something new, to innovative, when it seems as though everything has been attempted?
CC: We can look at it in two ways: by looking at other artists and what's happening in the contemporary art world that's innovative and try to build on that I think that's valid. At the same time, by looking deep inside at what's meaningful to me, finding something very personal and unique and asking, "What kind of art do I want to be making?" It's tough, though, because painting has a strong history and tradition. There are other forms of art that are more reflective of our times digital art, installation and nature-based art are perhaps more timely. I keep coming back to painting. It is the most meaningful and effective and how I have found I can be the most innovative.
JM: You seem to have a rich interior life as a painter. As an artist, what do you see as your role in our culture?
CC: I want to try to make somebody interested in a piece who may not even think they are interested in art! I make paintings to be thought provoking, to make people pause, reflect on our world. I think that's a lofty ideal but I believe in it. I hope to get a response from the viewer on several levels, maybe a guttural response through the color and drawing and an intellectual response with the interplay of the images. If I can get people to become involved and take a longer read on my paintings maybe they will do this in other aspects of their life. Perhaps I make paintings to slow people down and encourage them to take a closer look at our world.
Chad Colby's work is on display at the Fort Lewis College Art Gallery through Jan. 27 and online at www.artistsregister.com. He is represented by Studio Aiello in Denver. n