Restaurants reach out with tsunami relief
Twenty-four restaurants to donate a portion of Saturday's sales to aid efforts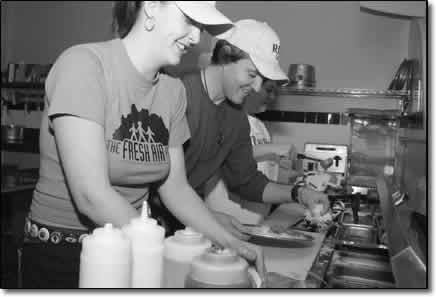 Jen Shupe and Andy Snow, of Nini's Taqueria, work the line on Tuesday afternoon. The two organized EAT for the People, a local relief effort that will donate 10 percent of sales on Saturday from participating restaurants to help with tsunami disaster aid./Photo by Todd Newcomer.
by Will Sands
Durangoans have yet another opportunity to put good times toward a good cause this weekend. Twenty-four local restaurants are pitching in for earthquake and tsunami relief through an effort called "EAT for the People." On Saturday, Jan. 22, participating restaurants will donate 10 percent of their total sales to charitable organizations providing services to victims of the Asian tsunami. Several other restaurants will be undertaking separate efforts for tsunami relief on the same day.
Participating Restaurants
Participating Restaurants
On Saturday, Jan. 22, numerous Durango restaurants will donate 10 percent of their total sales to the United Nations Children's Fund (UNICEF) and a charitable Sri Lankan organization called Sarvodaya. The effort coined "EAT for the People" includes the following restaurants:
Brickhouse Cafè
Carver Brewing Co.
Cocina Linda
Cuckoo's Chicken House
CJs Diner
Cyprus CafE9
Durango Bagel
Durango Joe's Coffeehouse
Farquahrts – Pizza Mia
Golden Dragon
Home Slice Pizza
Jitters Java
Ken & Sue's (on Sunday, Jan. 23)
Kachina Kitchen
Lady Falconburgh's
Magpies Newsstand CafE9
Nini's Taqueria
Norton's To Go
Palace Restaurant
Skinny's Grill
Steaming Bean Coffee
Serious Texas Barbeque
Scoot 'n Blues CafE9 and Lounge
Steamworks Brewing Co.
All participating businesses will have an "EAT for the People" flier posted in their front window and several other restaurants and bars are undertaking independent efforts. For more information on "EAT for the People," contact coordinator Jen Shupe at 749-0013.
The idea for a collaborative donation was the brainchild of Andy Snow, the owner of Nini's Taqueria. "It had gotten to the point where I was no longer able to watch the news because of guilt," Snow said. "I figured I could either send $100 or we could use a resource we all have to help out."
Nini's employee Jen Shupe picked up Snow's original plan and is putting it into motion as the effort's coordinator. "We've all been talking about it for a while, and we want to see what we can do," she said.
"EAT for the People" has been set up so that 10 percent of all proceeds from the restaurants' entire day's sales will go to tsunami relief. Shupe said that any contribution will be helpful.
"At this point, any amount is going to make a big impact," she said. "As little as $15 will give someone a five-piece kitchen so they can do their own cooking. I'll be happy if we get $100. I'll be elated if we get more than that."
The United Nations Children's Fund (UNICEF) and Sarvodaya, a Sri Lankan philanthropy organization, have been selected as recipients for the funds. Donor restaurants will select where they want the funds to go.
"We decided on UNICEF right away," Shupe said. "But we also wanted to find a grassroots charity in one of the impacted countries. Eventually, we settled on Sarvodaya. They're based on Gandhian principles and focus on empowering people and getting them on their own feet."
While "EAT for the People" welcomes any contribution, Shupe said she expects a strong showing from the local community.
"It'd be great to see as many people as possible turn out," she concluded. "It's a great way to support the global community and also support the local community. Durango has always been really good at that kind of thing."