Happy New Year
By Ted Holteen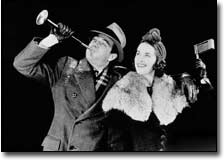 A quick review of financial trends: Remember Thanksgiving weekend? Last weekend? Yes, there was a great deal of retail activity while the sun was up, but come nightfall this place was a ghost town. Seems folks either blew every cent on impelled generosity or they were just too tuckered out after a cutthroat day in the stores to have anything left for a spot of fun at night. And then there was Christmas. But our local proprietors of the nightlife are a prescient bunch. Apparently, in most cases anyway, they have spotted this trend over the years and planned accordingly this year. I realize that it doesn't take a marketing whiz to book a band on New Year's Eve, but the foresight to which I refer was to not waste anyone's time and money with a full entertainment schedule in December. It's been a lean month, but it's got a happy ending.
I've spent some odd evenings in this town on New Year's Eve, the best of which was going to bed at 10:30 p.m. a few years ago. This year, I'm heading up to Haggard's Black Dog Tavern to ring in '05 with the Broke Mountain Bluegrass Band. They'll be joined by Benny Galloway and some guys from Hit & Run Bluegrass and, oh, did I mention it will be at Haggard's? To paraphrase Dr. Thompson, things just haven't gotten strange enough for me yet. Hope to see you there.
One way to guarantee that you'll have fun on NYE is by going to Durango Mountain Resort for the Torchlight Parade. Surely you've at least heard of this if you haven't attended in the past. People ski down the front side with torches (duh) and a lot more people stand at the bottom and watch them and say stuff like "cool." It's a good time, a mix of locals and tourists and people drink a lot. Civitas, a band of which I know nothing, will play as well. I'm sure they won't disappoint, and let's be honest, who would notice if they did? A can't-miss gig if ever there was one. DMR usually runs buses, and I'm assuming they are this year as well. Please use them. Nothing like a roadside with a cop who's already pissed off that he has to work on New Year's - don't be stupid.
If you're one of those with more money than I've got - that is to say, those reading this - then you might want to try something totally different, and it comes with a designated driver. The Durango & Silverton Narrow Gauge Railroad runs a train up to Cascade Canyon, complete with champagne and stuff. It won't be a full moon, which would be really cool, but it should be a little more than half-full, which should still make for a lovely ride up. I wouldn't expect much of a singles scene, but for groups of friends or those couples spending the evening alone, it's a fine alternative to Dick Clark. And as I hear it, Dick's not doing very well these days, so an alternative is in order.
Now for those savvy innkeepers within the city limits. We'll start at Scoot `n Blues with a nod of respect for being the only ones to keep the live music scene going throughout the otherwise bleak early winter nights. Two words for you: Ralph Dinosaur. You'd be hard pressed to find a man who has taken more champagne toasts at midnight onstage in front of an audience, and there's no substitute for experience.** (See footnote.)
There also appears to be something for everyone this New Year's, which is exciting. The Abbey Theatre has a NYE edition of DOWN, with DJ Brian Ess spinning and mixing and doing what accomplished DJs do. Other people will dance, some will be sitting and drinking, and most people should be happy. If the club scene is your scene, this is your spot. Dress to impress, and don't forget church on Sunday.
Across the street, the Frank Trio will play at the Summit. They don't really fit into a category so to speak, which I think is a good thing. Just a really good, loud live band that can do a whole lot of different things well. They're a perfect accompaniment to any NYE party, which really works out well in this case. (What with The Summit havin' a New Year's party and all.)
And finally, if it's Durango, it must be bluegrass, and Carvers has got it. That's where The Hot Strings, formerly the Pagosa Hot Strings, will be. The bluegrass crowd has a difficult decision to make between Carvers and Haggard's, but there are no losers here, only drunks. I've made my choice; it's between you and your God now.
Whatever your New Year's plans, seriously, don't drive. Even if you're sober, don't drive. There are a lot of people out there who don't read this column and therefore don't know that drunken driving is bad. No bar will refuse you a cab - a tab, maybe, but not a cab - and no one will have any sympathy for you if you do drive drunk and something happens, least of all me. In fact, I'm going to start publicly humiliating every one who does do it that I know of, so consider that a warning.
Boycott the BCS. ted@ksut.org. I love you, Mom.
** For the record, Lawrence Welk only had champagne bubbles and was never awake at midnight, ever. He was, of course, a notorious drunk; however there is no evidence of testimony or even hearsay existing to support this allegation.