Blending the rules
The Frank Trio strives to meld urban funk, electronica and jazz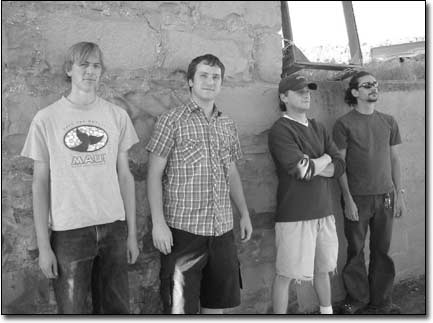 The members of the Frank Trio, from left: Ryan McCurry, keyboards; Corey Sheridan, drums; Pete Pheteplace, guitar; and Johnny Rovetto, bass./Courtesy photo.
Appreciation of music is too often a study in genres. If you like jazz, you listen to jazz. If you like funk, you listen to funk. But what do you do if you like jazz, funk, hip hop, rock and electronica? You take turns listening to the different genres or you listen to the Frank Trio and enjoy them all at once.
The four members of the Frank Trio each bring different influences to the band, but they all share a passion for genre bending and improvisation. While most bands work hard at getting it right, the Frank Trio works hard to make it different. Every time. By experimenting relentlessly and pushing the boundaries of their own experiences, the members of the Frank Trio may have accidentally created a new form of music. And it is unlike anything else being performed in this region.
Different and original doesn't always mean good, but for the Frank Trio the proof is on the dance floor. The band's recent performances at The Summit in Durango have been well attended. At the November show, they transformed a normal bar band scene into an attentive and enthusiastic urban dance party.

"I think what people like about the music is that we're out there giving our heart and soul," says Pete Pheteplace, the Frank Trio's guitarist. "We're putting a lot of energy into it, and we happen to be doing it in a way that makes people want to shake their asses. What people relate to is that it's an open and honest expression. We're up there trying to make a statement, and we get emotional about it."
The members of the original trio – Pheteplace, drummer Corey Sheridan and bassist Johnny Rovetto – met as music students at Fort Lewis College in 1995. After they graduated they went on to help found two of the more notable Durango bands of recent memory: Pheteplace and Sheridan were founding members of Catalyst in 1998; and Sheridan and Rovetto played in local jam band Goodfoot, along with keyboardist Ryan McCurry, now the fourth member of the Frank Trio. The four were on stage together and separately for years, in duos, trios, quartets and big bands, playing everything from jazz and rock to funk and world. Pheteplace and Rovetto got together in 2001 to create the Dome Piece Essentials (aka DPE), a funk and fusion precursor to the Frank Trio. In 2003, Catalyst fell apart after a disastrous name change, and Goodfoot also ceased to exist. After the decade-long experiment, the four had gone from music majors to experienced musicians, doing studio work, teaching music and performing. Now that they were all looking for a band, it seemed logical that they should come together again with a new vision.
"We're all attracted by a collective sense of improvisation," says Sheridan. "It's a certain drive between us. There is a time and place for soloing when it's appropriate, but we also believe in a collective improvisational groove, a space that's between soloing and playing set music. It almost feels like a higher sense of consciousness when it's being played together as a group."
Rovetto agrees, saying, "We create a mood with the music using jazz changes and jazz-like improvisation. But Jazz gets so complex that we try to simplify it." Rovetto says that the difference between their music and traditional jazz is the beat. "There's something to be said for music that means something and has a danceable beat," he says. "The music makes you feel something in your mind and in your body."
Pheteplace says that he is somewhat surprised at the success of the band. "Jazz can be so cerebral that the audience can't grab it and hold onto it," he says. But he notes that tempering the jazz with more dance-friendly grooves may be the secret. "We're a really creative band trying to push the bounds, but we're also trying to make music that people can hold onto," he says. "Put the jazz on top of a driving groove with funk and hip hop influences, and people like that."
Nevertheless, he says the band has not lost its improvisational bent, which lends an element of surprise as well as risk. "It's still about the freedom of the music and spontaneous composition," he says. "We set up structures and platforms, and we're free to go in whatever direction it goes. Sometimes we even improvise on the structure of a song. It's risky. Improvising is a double edged sword, but I wouldn't trade it."
The band has 18 original pieces that are mostly collaborative creations. "Someone will come in with an original idea," says Pheteplace, "and we'll work on it in a shared songwriting process where everybody creates the structure of the song and the outline of their parts."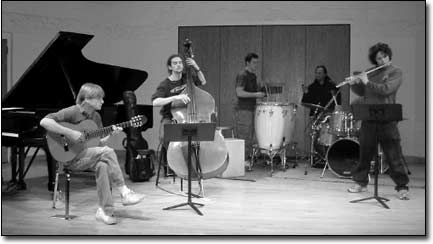 Former classmates and musical majors at Fort Lewis College, Pheteplace, on guitar, Rovetto, on standup bass, and Sheridan, on drums – seen here performing in the Roshong Recital Hall – have been playing together for nearly a decade in various configurations./Courtesy photo.
Only a few songs have vocals, but that may change. "I am starting to want to write words for some more of these songs," Pheteplace continues. "It's like adding another instrument. We have a few songs with words, and we use them as turning points in our shows. We're interested in experimenting with lyrics, and we'll be joined by a female vocalist for a couple of numbers at our next show."
The band also is interested in experimenting with technology. "I teach some electronic music and it's a way for everyone to be creative," says Rovetto. "I've been working with some apps to loop and change the bass line so I can lay down a different pad on top of it. I can be playing two or more things at once."
Bass, keyboard and guitar all take advantage of sampling technology to change the voices of their instruments as they play. It serves as another improvisational variable. "It's amazing how we can use technology to get more of what we want to do in our music," concludes Rovetto. "It's part of our lives."
The members of the Frank Trio are optimistic about their prospects and are preparing to record a CD and put together a tour, despite their numerous other projects. Pheteplace also teaches guitar, gigs jazz, and plays bass for another local band, Formula 151. Rovetto teaches music part time at Excel Charter School, does studio work, and plays jazz with Jeff Solon. Sheridan teaches drums and has recently been playing with Freewill Recovery. The trio also plays together in the cover band "Airborne," which is a "disco, funk, Latin, reggae, rock, working band," according to Pheteplace, "that keeps us from having to get a day job."
"We're really serious about our music," says Sheridan in closing, "and our hearts as musicians are in the right place. I firmly believe that with that dedication and a sense of patience we've got a great shot at it."