Getting her hands dirty
Potter Rebecca Barfoot on the passion of the clay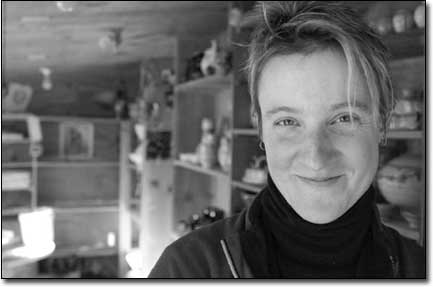 Rebecca Barfoot stands in her Durango studio earlier this week. Barfoot's pottery can be seen at the Durango Art Center's Gallery Shop through spring./Photo by Jared Boyd.
Attention last-minute shoppers: only a few days remain in one of the most active consumer cycles in America. While doing our part to boost the economy, for some, this patriotic act can be overwhelming. Trying to select the "right" gift to satisfy each recipient on the list, often, is ruled by uncertainty. If we gift-givers miss the mark, we can be soothed by the notion that it is the thought that counts and that someone at the homeless shelter will certainly be warmed by the cozy sweater that elderly Aunt Mosie sent AGAIN this year. For others, the desire to give comes straight from the heart and employs the hands to make home-crafted gifts from our gardens, pantries, craft cupboards and bead boxes. For those less sure of their creative abilities, purchasing a gift made by an avowed creative maker, especially someone that we might know, can be the perfect antidote to the commercialism of the season. Frequently these unique, hand-made gifts emanate the quality of "soul," a characteristic that can't necessarily be seen but can most always be felt. One local artist who is putting her passion into her pottery, and it shows, is Rebecca Barfoot. Looking at her creations and listening to her talk about working with clay, I am aware of an urge inside of me to get my hands in some muddy earth quick!
JM: You are absolutely passionate about clay.
RB: I feel passionate and very, very lucky. Is there any medium more sensual than clay? Yum it just feels so good. I love the tactile quality of working in clay, first throwing a pot and then altering it further with my hands. Although my work, as yet, is not a literal interpretation of the body, as I'm throwing a pot on the wheel ... it "is" a body, a vessel. My muse is the human form.
JM: What are you working on that is really juicing you?
RB: Currently, I am making a lot of thrown and altered pitchers and vessels, my "Dancing Girl" series, and ohhh I'm really in love with all the little cups I've been making with words scribed on them. The words are thoughts I've taken from my journals (I'm a mad, voluminous journaler) that speak to the humanity in all of us. People have really responded to them, usually commenting on how "precious" they are ... I think of them as "intimate."
A favorite experience is when I'm at a show and people come around to my work and stop then they catch their breath and smile, look and laugh. Their utter delight is such a gift to me! When I see this, it satisfies me to know that I have helped someone forget all their stress and seriousness long enough to experience their own joy. Perhaps they are reminded of a time when life was more playful and spontaneous, maybe a place called childhood?
JM: Beyond its playful presence in your pottery making, how does creativity manifest itself in your life?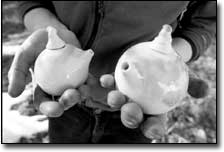 Barfoot displays some of her recent work./Photo by Jared Boyd.
JM: Beyond its playful presence in your pottery making, how does creativity manifest itself in your life?
RB: Ah, it is everything. Creativity is a daily pursuit, a lifestyle, a journey of personal exploration that also affects the lives of the people dear to me. I'm sure if I didn't work in clay I would paint or expand my writing endeavors. It is my personal belief that art is the language of the soul, and dramatic as it sounds, I would feel rather dead without its huge presence in my life.
JM: This is a noble pursuit, to live committed to an inspired and artful life. What challenges do you experience on this path?
RB: It is difficult not to be coerced by the trends of the market into making what sells. Frustration can set in when I find I have to keep making mugs and bowls because they sell. These items are wonderful, I put myself into them, and people like them, but I also feel stifled, not challenged creatively, if this is all I'm making. I have more, so much more to offer than mugs and bowls. It's important to keep expanding my creative vision so that I can keep growing and evolving as an artist and a person.
I have always valued my time and the significance of my personal endeavors over money. Even though people may envy my life as an artist, most wouldn't want to live this kind of hand-to-mouth existence. Some folks even laugh when I tell them I'm an artist and question, "What kind of a career is that?" In other words, in their eyes, being an artist is not a viable life choice of mainstream Americans. As a culture, we don't deeply value art, and when I think about, as I've said before, art as the language of the soul, I wonder about how I have made it so far, with my creativity alive and strong.
JM: What are your aspirations in the coming year?
RB: I want to be able to bring more of "self and soul" to my work. I have struggled with this for years because much of what I make is "functional" pottery. This definition feels limiting because the concerns are about how well does that spout pour or how does the hand fit into the handle. I want to abandon function entirely and focus on feeling, beauty and the message. I feel that I have so much to give. Being a seeker and thinker, I want to help wake people up and invite them to explore the boundlessness of all that is our existence. I've come to think that we inhabit such a small part of ourselves and explore so little of our potential as humans, and all of us are here for such a brief time. I absolutely ache to achieve this with my work: to create something that will, if only for a moment in some small quiet way... touch you. Deeply.
Rebecca Barfoot's sensual clay pottery can be seen, (and touched, carefully!) at the Durango Arts Center's Gallery Shop through this spring. ☯