Durango Police accused of brutality
19-year-old's arrest sparks internal police investigation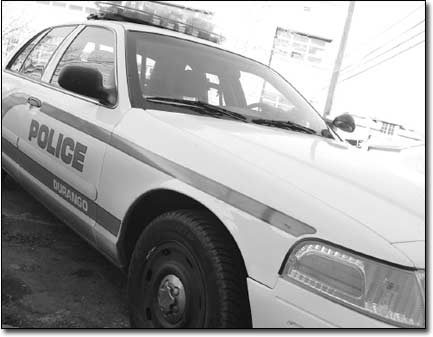 The Durango Police Department is currently undertaking an internal investigation of one of its offers. A local 19-year-old has alleged that he was the subject of unnecessary and excessive abuse at the hands of a local officer recently./Photo by Todd Newcomer.
by Amy Maestas
When Jacob Cramer was recently awakened from a dead sleep in the early hours of the morning, he didn't expect to endure what he calls two minutes of unbridled and pointless abuse at the hands of a Durango policeman.
In that flash of time, the 19-year-old Cramer suffered a fractured arm and multiple bruises and cuts, and the incident has erupted into allegations of police brutality and an internal police investigation.
On Nov. 24, Cramer says he was suddenly aroused at 1 a.m. from a deep sleep in his home in north Durango. He was in bed when he saw someone flashing a light into his bedroom window. Thinking that it was friends or roommates harassing him, Cramer says he yelled at the person to leave him alone. But the person continued to shine the light. Still trying to wake up, Cramer says he continued yelling, thinking by then that it might have been a possible intruder. With the light still flashing in his eyes and making it impossible for him to see who was outside, Cramer says he picked up a lotion bottle sitting nearby and chucked it at his window. The bottle broke the glass, but was halted by the screen.
Cramer then says he hopped out of bed, put on nothing but a pair of jeans and walked out of his bedroom. At that time, he explains, he was "attacked" by several Durango police officers, who had been called to Cramer's house earlier to retrieve a female minor. The girl's parents had called police upon learning her whereabouts.
In the next two minutes - at least by Cramer's approximation - police officers aggressively dragged him outside, threw him against cinder blocks and handcuffed him. Cramer says the arresting officer was the most forceful, often stomping on his bare feet, shoving his nightstick into his ribs and repeatedly yelling at him to remain silent. Stunned by the actions, Cramer says he asked why he was being detained but never received an answer.
Meanwhile, Cramer claims, other police officers kept Cramer's roommates and friends inside the house's kitchen, where they could not help him or witness the events. Cramer says his friends told him they could hear his cries for help, but they weren't allowed to come to his aid.
From there, Cramer says the police took him to the Durango Police Station, where they questioned him for about 30 minutes. Ultimately, officers released Cramer from custody and drove him home.
Now, Cramer has filed a complaint with the Durango Police Department, alleging that the arresting officer used excessive and unnecessary force. He believes that his fractured arm and multiple other wounds are proof that the officer took things too far after Cramer threw the bottle at the window.
"They totally ruined my whole year because of this," Cramer says. "It was the worst thing that's ever happened to me. I was in so much pain."
Cramer's allegations have set off an internal investigation by the arresting officer's superiors. Because the investigation involves a personnel matter, Durango Police Capt. Dale Smith would not speak specifically about the case and whether Cramer's version of events are in line with the officer's.
Smith did say that he knows Cramer threw the lotion bottle at the window, and because of that, the officer felt there was "probable cause" in apprehending him for assault on a police officer. Aside from that, Smith would not confirm the name of the arresting officer or give other details of the incident. To date, the "professional standards investigation" is ongoing, he says.
The complaint is being conducted by a departmental investigation, whose findings will be passed on to Chief Al Bell, Smith explains. Those findings may fall under one of six categories - ranging from false allegations with no discipline necessary to supported allegations with discipline recommended. It is possible, Smith adds, that the investigation would result in criminal charges against that officer. Those charges would be recommended by the police department and passed on to the Sixth Judicial District Attorney's office.
The result of this investigation is still a ways off, Smith says. No matter the outcome, Smith says it is "rare" for such complaints to surface in the city police force. In fact, this is the first such complaint that has arisen against an officer this year, he explains, and the rarity indicates that there isn't a trend or a problem within the force.
"We take this as a serious issue in our department," Smith says.
Deputy District Attorney Craig Westberg echoed Smith's words. Westberg says that Cramer contacted the D.A's office shortly after the incident. An investigator interviewed him and recorded his testimony, but Cramer was told to first file a complaint with the police department, which he did four days after the incident.
Westberg says the attorney's office doesn't work on many police abuse cases, but it will step in if asked when appropriate.
"We rarely deal with these things. It's not because we are afraid to look at them. In fact, we are all interested in the credibility of officers in the community. They aren't a law unto themselves," he adds.
Cramer says he realizes the process of an investigation must be followed. However, he adds that excessive force was in no way needed and he can hardly imagine how it can be justified.
"I was just sleeping, not doing anything wrong," he says. "I don't know how they think they can treat people that way. I was so scared that I didn't even want them to take me to the hospital."
Cramer says he sought medical attention at Mercy Medical Center on his own. He was stunned to learn that his arm suffered a hairline fracture. Weeks later, he still has remaining welts and bruises he says were from the incident.
"I'm afraid they won't do anything to this officer and someone else will end up having the same thing done."
Smith says Cramer will learn only of the label of the investigation's finding - meaning if the department concludes the allegations were substantiated or not. Barring filing criminal charges, he won't be privy to know how or if the officer was punished. ☯