Linking Durango and Iraq virtually
Brainstorm Internet offers families of troops a holiday connection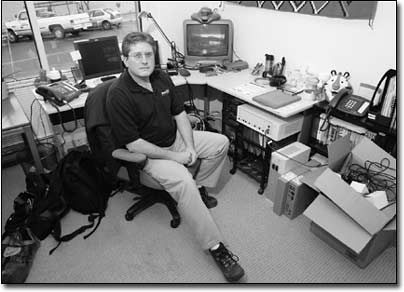 Jim Roberts, of Brainstorm Internet, sits in his office earlier this week in front of equipment used to teleconference between Iraq or Afghanistan and Durango. Working in conjunction with a national organization, Freedom Calls Foundation, Brainstorm is allowing locals who have relatives serving in the Middle East to use their offices for a one-on-one visit for free. /Photo by Todd Newcomer.
Queue up the Christmas carol, but change the lyrics to "I'll be virtually home for Christmas."
Durango-based Brainstorm Internet has joined forces with a national organization that works to put soldiers fighting in Iraq and Afghanistan in touch with their families and friends here in Colorado this holiday season. Working with the Freedom Calls Foundation, a nonprofit organization, Brainstorm is part of a new paradigm of wartime communication.
Using video teleconferencing equipment and the Internet, Brainstorm is allowing locals who have relatives serving in the Middle East to use their offices for a one-on-one visit for free. There is little effort involved, requiring only an agreement on when to meet and Internet services on both ends of the line. Once that's achieved, families can sit down in a room and chat away with their friends or relatives serving in Iraq.
Brainstorm signed on to the project after one of its engineers, Jim Roberts, heard about it while attending a seminar at San Juan College in Farmington. It piqued his interest, so he contacted Freedom Calls to get in on providing the service. Now it is set up, and Brainstorm is anxiously awaiting locals to call and take advantage of it. Like the organization, Roberts hopes the company's participation will be a show of support for servicemen and servicewoman and help diminish separation anxiety during a particularly stressful time of year.
"It's just something we can do to help these families out," Roberts says.
To set up a onference session with a soldier in Iraq or Afghanistan, contact either Brainstorm Internet, at 247- 1442, or Freedom Calls Foundation ,on the web at www.freedomcalls.org.
Families have to contact Freedom Calls so that the foundation can set up a meeting time - and to ensure that there is Internet service and transmission center wherever the solider is stationed. To achieve that, the foundation has relied upon corporate and individual donations. Each station costs $300,000, according to co-founder John Harlow. The goal is to establish eight stations in Iraq and two in Afghanistan.
Roberts says the setup effort on Brainstorm's part was simple. As a reseller for telecommunications equipment, the company took advantage of its demonstration system and put it to good use. Ultimately, it allows everyone to benefit, he says - Brainstorm can use the tools and families can wish happy holidays with more heart.
The Foundation is directly responsible for thousands of people across the nation being able to show off their newborn kids to remote parents and even marry people across long-distance, which is what Staff Sgt. Shadow Evans and Sgt. Rick Everton were able to do in June. Evans, the bride, was in Iraq. Groom Everton was in Durango. In a teleconference staged at the DoubleTree Hotel, the two exchanged their vows with the foundation's help.
Brainstorm wants to expand such a uniting force during the holidays especially, but Roberts says the company is committed to participating with Freedom Calls for as long as is necessary. He expects this will help to boost morale and warm the hearts of those who long for the comforts of American soil. If Brainstorm's participation extends long beyond the holidays, many more people may not have to wait to see their newborns at the airport and they may be able to render an off-key birthday song. Local judges may even have to come up with a new wedding ceremony wrap-up: you may now kiss the LCD monitor.