Nordic Center faces the future
Cross-country and construction seek middle ground at DMR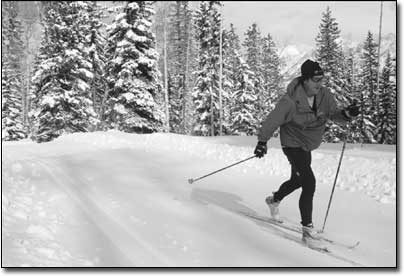 A classic skier enjoys the Nordic Center at Durango Mountain Resort. The center is open with good coverage for the season, but DMRís development plans have made its future somewhat uncertain. Currently, the resort is planning on leaving the Nordic system intact and routing it through the two villages planned for the property./Photo by Todd Newcomer.
by Will Sands
D ozens of locals strapped on the skinny skis and observed an annual ritual last Thursday when the Nordic Center at Durango Mountain Resort opened for the season. Although the Nordic skiing area is up and running and boasts exceptional coverage this year, the future still looks a little murky. The Nordic Center's trails are on acreage earmarked by Durango Mountain Resort for real estate development. While the resort has committed to keeping the system in place and even improving it, the exact configuration remains unknown.
Relative to other Nordic skiing areas in the state, the Durango Nordic Center has developed a reputation for being small but mighty. Challenging ups and downs make the area seem much longer than its actual 16 kilometers and have turned it into an appealing spot for racers in training, along with recreational skiers.
"We stack up well in terms of terrain, grooming and races," said Ineke Boyce, who has served as the Nordic Center's director since 1984. "But we don't have much room in terms of expansion. We are one of the smaller areas, but we do have challenging terrain and exceptional scenery."
Unfortunately, the exceptional scenery also has appeal beyond skate and classic skiers. Though it is financially independent of DMR, the Nordic Center operates on acreage owned by the resort. And that acreage, located directly across U.S. Highway 550 from the DMR base area, is a big piece of the resort's master development plan, which includes a total of 1,649 new housing units.
"This is prime real estate, and we've always known that," said Boyce.
Two separate phases - Twilight Village and Boyce Lake Village - are proposed for the property that stair-steps down into the Lime Creek drainage. A mix of estate homesites, standard homesites and townhomes, along with a community park, are envisioned for the area that Nordic skiers now call home. In light of this future development, a number of alternatives have been pitched for the Nordic Center's future.
In vogue several years ago was a plan to relocate the Nordic Center to the top of Durango Mountain Resort. While that plan may have filled the terrain gap, it raised several other problems, according to Boyce. At more than 10,000 feet, the new center would have been too high for most tourists and too high to host Rocky Mountain Division ski races. There were also potential encroachments on lynx habitat and no download option on DMR's Lift 1. Plus, as Boyce noted, "Most people who come cross country skiing do it to get away from the alpine ski area experience."
However, she did add that additional rather than primary terrain would be welcome high on Purgatory Mountain, saying, "At some point, there might be extra terrain up there, and it is absolutely gorgeous. But I think that's a long way off."
The elimination of that option has brought the Nordic Center and DMR back to working with the existing trail system. However, Boyce said that she still has no absolute commitment from DMR.
"I do believe that they are trying to work with us, but there haven't been any answers so far," she said. "They have always maintained that we're going to have a Nordic track through the developed area. But so far, we've got the feeling that nobody knows what's going to happen."
Matt Skinner, DMR spokesman, answered this concern by saying that the resort is committed to working the Nordic system into the Twilight and Boyce Lake developments. However, the plan is not totally certain and details remain unresolved.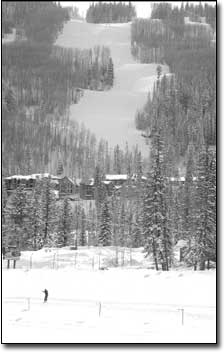 The runs and base at Durango Mountain Resort seem to tower above the Durango Nordic Center early this week. As part of the resortís master plan, Twilight and Boyce Lake Villages have been proposed for the acreage currently containing little more than Nordic trails. /Photo by Todd Newcomer.
Matt Skinner, DMR spokesman, answered this concern by saying that the resort is committed to working the Nordic system into the Twilight and Boyce Lake developments. However, the plan is not totally certain and details remain unresolved.
"Several different options have been considered," Skinner said. "At this stage, we're planning on keeping the Nordic Center in its present location as well as updating its facility and trails system in the years to come."
Skinner added that the existing trail system will not only remain intact but will be enhanced. "The Nordic Center trails will work within and throughout the development plans as well as into forest areas," he said. "There's nothing specific on the books right now, but we are committed to help the Nordic Center grow into the future."
Boyce said that she takes comfort in knowing that there will be a Durango Nordic Center in years to come. However, she said routing the trails through two large, housing developments may not fulfill many people's expectations.
"I think it's a perspective thing," Boyce said. "I think about half the skiers use the track for training and don't have much time to look around. A lot of townies and visitors ski here for a wilderness experience, and we'll probably lose them."
Getting Nordic ski track over or under the numerous roads proposed for the property would pose an additional problem, according to Boyce.
"If they have a great track, we can probably keep most people happy," she added. "But if we're crossing roads, we've got to have bridges and underpasses, and I don't know who would cover those expenses."
Skinner replied that DMR would be committed to making the situation work. "The Nordic Center is an integral part of the resort," he said. "We appreciate the efforts of the Nordic Center staff over the years and look forward to a continued partnership."
Although the Nordic Center has been in existence for more than 20 years, Boyce charged that the resort has realized a full appreciation of the amenity fairly recently. She pointed to DMR's recent efforts to gain approval for its ambitious development as one catalyst for that appreciation.
"When DMR sent out the petitions for their master plan, they were surprised that a lot of people wouldn't sign because they would be signing the Nordic Center out of existence," Boyce said. "I think they've realized that a Nordic center is a valuable part of a ski resort experience and people expect it."
And just like during the past 20-plus years, the Nordic Center is currently up, operational and development-free for the 2004-05 season. How long this situation will last remains uncertain. Skinner said that the resort still hasn't put a timeline on when construction will begin on the Twilight and Boyce Lake Villages and that it is "likely several years down the road."
For her part, Boyce is taking it year-to-year and not looking that far down the road. "I would venture to say that we'll probably be here next year," she concluded. "But only as long as there aren't infrastructure improvements going on that could impact our operations." ☯