Tom Danielson goes Postal
Local cycling phenomenon to ride alongside Lance Armstrong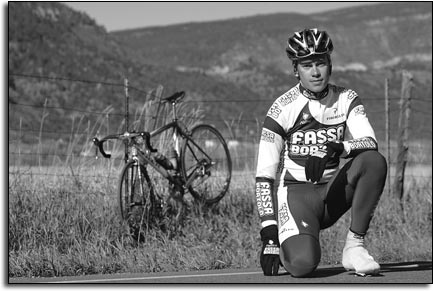 Tom Danielson in his Fassa Bortolo wear takes time out of his busy training schedule to pose for a picture along CR 250 late last week.
It's been a good month for Tom Danielson. In early November, Tom and his fiancée, Kristin, tied the knot at Wit's End in Vallecito. The next day, they closed on their first home in downtown Durango. To top it off, Danielson recently received word that he will be riding alongside six-time Tour de France champion Lance Armstrong next year. Not only will Danielson be racing with his hero in Europe, he's being groomed to replace him when Armstrong retires.
"They want an American guy who can contend in the big tours and fill Lance's shoes when he retires," Danielson said of the two-year deal he signed with the Discovery Channel Pro Cycling Team. The Discovery Channel has replaced U.S. Postal as the title sponsor of Armstrong's squad.
Danielson's rise to the top of competitive cycling has been a quick one. Danielson, a Connecticut native, first came to Durango in 1999 to attend Fort Lewis College. During his time at FLC, he competed on the cycling team as a mountain biker and struggled with inconsistent results. However, late in 2000, Rick Crawford came to Fort Lewis and Danielson met his new coach and made the shift to road riding. In the spring of 2001, Danielson entered New Mexico's Tour de Gila stage race. He left the race with a third place in one of the individual stages, an eighth place overall and a contract to ride for Team Mercury.
A year later, Danielson would go on to tackle the Mount Washington Hill Climb in New Hampshire, a 7.6-mile race that goes virtually straight up with grades averaging 18 percent. Danielson showed up for the race fresh from a victory in the Tour of China and broke what was thought to be an unbeatable course record set in 1999 by U.S. Postal's Tyler Hamilton. Later that year, Team Mercury dissolved largely because of poor management, and Danielson signed on with Saturn, a team with a largely domestic focus. With Saturn, Danielson pulled off the overall victory at the Tour de Langkawi, one of the world's top stage races. He also came back to Durango and shattered the record for the Iron Horse Bicycle Classic.
Late last year, Danielson set his eyes on Europe, signed on with the Italian powerhouse team Fassa Bortolo and raced with the team this spring and summer. What followed was a challenging but enriching freshman year of European racing.
"Every first year in Europe is difficult," Danielson said. "It becomes more difficult when you're on a foreign team with no other riders who speak your language. But I looked on it as a learning experience."
On Fassa Bortolo, Danielson found himself completely without support and protection from his teammates and wondering if the team knew he was American when they signed him. Still, he managed to turn in respectable finishes at the Tour of Romandie, the Euskal Bizikleta, the Tour de Suisse and other races.
"I was making a lot of mistakes in the flat stages and even the climbing stages, but I was able to be there at the finish with guys like Jan Ullrich and Roberto Heras," Danielson said. "Those were good results and showed me that next year, hopefully, I'll be able to put on the missing 15 or 20 seconds."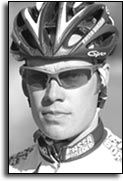 Tom Danielson is currently finishing up training locally before heading to Austin to train with the Discovery Channel team.
"I was making a lot of mistakes in the flat stages and even the climbing stages, but I was able to be there at the finish with guys like Jan Ullrich and Roberto Heras," Danielson said. "Those were good results and showed me that next year, hopefully, I'll be able to put on the missing 15 or 20 seconds."
Danielson's first year in Europe also educated him on the rigors of the European peloton, a potentially rough place for an unsupported rider. "This is the Division I, European peloton," Danielson said. "It's the cream of the cream peloton. You've got this insane group of people, and they're all fighting for position. All 200 guys are fighting for a place on those narrow European roads."
However, Danielson looks back on his summer of hardship with appreciation, saying the hard knocks prepared him for what he hopes will be a strong second European season. "It looks like it was a negative experience, but for me it was a critical experience," he said. "With Mercury and Saturn, I was babysat and never really learned to fend for myself in the peloton. I needed that. Now, I'm a more complete rider."
Johan Bruyneel, the team director of U.S. Postal, recognized this growth and Danielson's potential and approached him this summer. After some legal wrangling, Danielson was able to break his contract with Fassa Bortolo and sign on with the renamed Discovery Channel Pro Cycling Team. Danielson said that despite rumors of Armstrong's impending retirement, he expects to see Lance go for his seventh Tour de France victory this summer.
"I think Lance will do the tour for sure," he said. "Right now, there's no one I can see that can beat him. But I think he's going to ride the Tour not to win No. 7 and beat his own record, but because he loves the race."
Danielson said that it's hard to predict where he will be this coming summer. However, he expects to be at the start of at least one of the three major tours.
"It all depends on how I'm riding," he said. "I know you'll see me in one of the grand tours. It it's the Giro d'Italia or the Vuelta a España, I'll be trying for stage wins or an overall victory. If it's the Tour de France, I'll be working for Lance, and I'll be very excited to be pulling for him."
Team Discovery's training camp kicks off next week in Austin, Texas, and Tom and Kristin will relocate to Gerona, Spain, this winter in preparation for next year's racing season. However, Danielson said that Durango will always be his home base. He fondly remembered coming to Fort Lewis as a nobody and the local community supporting his rise.
"I love it here," Danielson said in closing. "I can now say that I've been all around the world, and there's no better place than Durango."