Going astray
Searching for a solution to the abandoned pet problem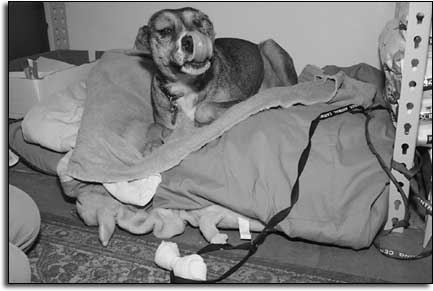 Olivia, a young pit-bull cross, relaxes in her makeshift bed behind the front desk at Aspen Tree Animal Caring Center on Tuesday. Olivia was brought in nearly dead in early October after being rescued from a New Mexico roadside./Photo by Todd Newcomer.
When Karen Zempel first saw Olivia, a young, stray pit-bull cross, she was so overcome with despair that all she could do was sit on the floor and cry.
"She literally barely had enough skin to cover her bones," said Zempel. "Her face was swollen and one of her eyes had ruptured. It looked like she had been hit by a car."
Olivia was rescued from the side of the road in New Mexico by a college student on her way to the Albuquerque airport. The young woman decided to postpone her flight and return to Durango to seek care for the dog. Upon returning, she contacted Zempel, who runs Dogsters, a local nonprofit spay and neuter program. The dog was then referred to Dr. Becky James, of Aspen Tree Animal Caring Center, who handles Dogsters' medical cases. Here it was discovered that Olivia, as she was named by the staff, actually had been quilled by a porcupine. The embedded quills had become badly infected and the resulting abscess put so much pressure on Olivia's eye that it ruptured. In addition, the staff found that the dog's ears had been cut off with a scissors, and the medium-sized dog was badly malnourished, weighing a mere 22 pounds. Olivia was in tremendous pain, and Zempel and the veterinary staff were faced with a tough decision: put her down or try to save her. As Zempel sat on the floor at the vet office grappling with the decision, Olivia made the choice for her.
"When I sat down next to her, she wagged her tail, and as I reached over to pet her, she gave me a kiss," Zempel said. "She had such a will to live."
In Zempel's 30 odd years of fostering and rescuing strays, she said Olivia's case was the worst she had seen.
"This dog probably would not have lived another 24 to 48 hours," she said. "Everything bad that could have happened to her had happened to her."
Ironically enough, the dog went on to become perhaps the most dramatic success story Zempel had ever seen. Since being rescued in early October, most of Olivia's wounds have healed and her weight has nearly doubled. She spends her days at Aspen Tree and goes home each night with either a staff member or Zempel. In a few weeks, it is expected Olivia will be spayed and ready for a new home.
"She just got better and better," said Zempel. "She's an absolute joy. She likes everybody."
Puppies in abundance
Extreme as Olivia's case may be, some would argue she is among the lucky ones. Each month, about 125 stray dogs arrive on the doorstep of the La Plata County Humane Society, said Director of Animal Services Julie Granito. About half of these are brought in by Animal Control while the rest are either dropped off by private citizens or are "animal surrenders" handed over by their owners. In the four years Granito has served in her position, she has seen the problem grow increasingly worse. In the past year, shortage of space has become chronic, with the shelter typically operating at or above capacity. Currently, the shelter, which can house 44 dogs, has an overwhelming 65 - many of which are puppies.
"We are extremely full," said Granito. "We seem to have an overabundance of puppies."
She said the reason for the glut is twofold but the bulk of the blame is obvious: irresponsible pet owners who do not spay or neuter their animals. Granito said the animals breed, and owners find themselves in a situation they no longer can or care to handle. The result is an overflowing shelter that cannot meet demands.
The unfortunate reality of this is that the most aggressive, unsocialized or unhealthy of the animals are euthanized. In the first 10 months of 2004, the shelter had to put down 369 cats and 92 dogs, Granito said.
Despite these numbers, Granito said the shelter is moving toward trying to save more animals. She said this stance also has contributed to the overflowing kennels.
"Part of it is, we're trying to euthanize fewer animals," she said. "We're holding onto animals maybe longer than we have in the past."
As part of the shelter's new effort, Granito said it has amended its foster family program to include older dogs. Up until recently, foster families were used mainly for animals younger than 8 weeks, the age at which the shelter allows animals to be adopted.
"Just recently we started using foster families as adult fosters," she said. "Some of the adult animals have been here a really long time, and they're good dogs and we want to see them find a home."
The Lonely Hearts Club
Someone who has been "picking up dogs for a long, long time," Laura Rickard has served as an official foster for the La Plata County Humane Society for the past few years. In that time, she has provided interim care and found homes for three adult dogs. Rickard's most recent charge was Bubbers, a female who, after seven months in and out of the shelter, found herself in the "Lonely Hearts Club" - animals who have been at the shelter the longest and run the greatest risk of being destroyed. Rickard said Bubbers came to her in September after being abandoned not once, but twice by her owner.
"She was adopted and then her owner left her while he went on vacation," she said. "The landlord brought her back in. And when the owner returned from vacation, he begged and pleaded to have her back, and a week later, she showed up at the Pagosa shelter."
In mid-September, Rickard was asked to help out with Bubbers, a task she openly accepted.
"I had had my eye on her," said Rickard. "She was one of those that had been in there a long time. She was really skinny from stress and they were worried about her losing her house training."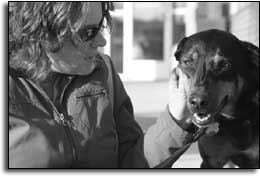 Erin McGraph pets her newly adopted dog Bubbers on Friday afternoon in Bayfield. After about seven months in the La Plata county Humane Society Shelter, Bubbers was put into the shelter's adult foster dog program. Through the work of foster mom Laura Rickard, Bubbers is transitioning into her new home./Photo by Todd Newcomer.
"I had had my eye on her," said Rickard. "She was one of those that had been in there a long time. She was really skinny from stress and they were worried about her losing her house training."
With a stable home, Bubbers soon regained weight, and more importantly, her trust in people and zeal for life. Eventually, through word of mouth, fliers and ads, Rickard found a good home suitable for Bubbers. Without the fostering program, Rickard admits the outcome may not have been so good.
"The good thing about the fostering is that you find people like me, who'll hang onto a dog for as long as it takes," she said.
Fellow foster dog parent Ann Bond is further proof that the shelter's newly instituted program is working. This fall alone, Bond has found homes for four dogs and is now working on her fifth, a young female black-lab cross.
"They all tend to be incredible little dogs," she said.
Bond said she typically goes for the dogs that aren't handling the shelter environment well and have little promise of being adopted. Bond said she works on refreshing their basic skills, such as walking on a leash and sitting for a treat. Once in her care, she finds they flourish.
"It's really rewarding to bring them into a home," she said. "Their true personality starts coming out and they feel safe and that life is good."
Despite this success, Granito said many more foster families are still needed.
"We have a pretty good base," she said, "but it's not nearly enough."
The poster dog
While foster families are one solution to the stray pet population, many agree it is merely a band-aid approach to the problem.
"It's so overwhelming that you work so hard to get a dog a home and 10 more come in," said Bond.
According to Zempel, prevention and education is at the heart of stemming the overabundance of unwanted animals.
"More than 27,000 dogs and cats are put down every day in the U.S., and it's because people are not being responsible," she said.
To that end, Dogster's offers free or low-cost spaying and neutering. The organization averages about 200 procedures a year, but thanks to a recent generous donation, Zempel hopes to step that up.
"We're going to push to do even more than that," she said.
At the Humane Society, Granito said all adopted animals are spayed or neutered before they go out, the price of which is included in the adoption fee. She said the shelter also offers low-income pet owners spays/neuters, which are set up through local vets.
However, both Granito and Zempel noted that these services can only go so far if people aren't educated enough to use them.
"The whole truth is education," she said. "And we want to get them when they're little."
As a result, Zempel envisions using Olivia as the poster dog for an outreach campaign geared toward local schoolchildren. Part of this education will encompass the responsibility that goes into having a pet.
"People need to understand that you just don't leave something on the side of the road," she said.
But rather than tell people, Rickard proposes they go and see for themselves just how serious the problem is.
"I think everyone should be required to go to the pound at least once," she concluded. "People say they can't go to the pound because it's depressing, well get over it. It isn't about you, it's about an innocent creature that shouldn't be there in the first place. It's all of our problems."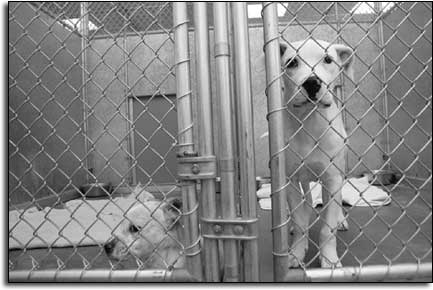 Gerald, a pit bull puppy, looks longingly through his pen door as his 8-week-old roommate takes a rest. The La Plata County Humane Society Animal Shelter currently is 50 percent over its dog capacity, with an overabundance of puppies./Photo by Todd Newcomer.