Talk Radio, Do-It-Yourself and more Bloodsport
By Ted Holteen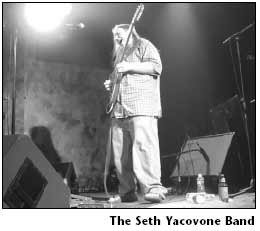 I just figured out what happened on Election Day. Yes, I'm slow, but also blind. Have you people ever tuned into 1240 on your AM dial here in Durango? I was recently a captive (literally) audience and had to listen for about an hour, and now I get it. Within an hour, I heard Paul Harvey, Rush Limbaugh and someone named Mike. Among other issues, I learned that we need to return conservative balance to the Supreme Court and that the Marine who shot the unarmed, surrendering Iraqi is an American hero while the photographer who shot the video footage is a traitor and should receive the same fate as the Iraqi. Wow. Al Franken notwithstanding, there is no counterattack to the national network of conservative radio that permeates the Red states as deeply as the Bible. An AM radio signal, if it doesn't encounter physical interference, can travel hundreds if not thousands of miles. So Mabel in North Dakota can listen to the same station as Big Earl in southern Oklahoma, and then vote in unison. That's why the election went the way it did. And here I thought it was about irresponsible leadership lying to the public and committing war crimes while bankrupting the economy and environment. How foolish of me.
As it turns out, you can't get all of your entertainment from the Bible. Sometimes, you've just got to go to a bar. Now that you have distinguished between the two, may I suggest the Summit this weekend. On Friday and Saturday nights, The Summit welcomes The Seth Yacovone Band from Burlington, Vt. Yes, that's where Phish is from, but it's still a great town. I've never seen Seth or his band, but someone obviously has, as they just played their 1,000th show last month. From what I can tell, they're in the "jam band" category, which isn't my thing, but far be it from me to tell you what to like.
If the peace-and-love hippie band thing's not your style, head across the street to the Abbey Theatre on Friday night for some good ol' fashioned urban violence. (That's a joke. Please do not engage in urban violence.) After the Randy's crowd has finished dining around 10 p.m., locals Dialogue get things warmed up for Atlanta hip-hop purveyors Psyche Origami . I've heard some of their stuff and it's pretty alright. The worst thing I can say about them is that one of the guys has this horrible habit of wearing a Braves hat. But I'm sure that he's just a casualty of geography and I won't read too much into it.
Perhaps you are one of those independent types that believe "If you want something done right, do it yourself." Well, you're not alone. Scoot''n Blues is there for you every Saturday night with Saturday Nite Live - in their words, "The World's Best Karaoke." I applaud the Scoot 'n folks for escaping the burden of trying to get a new band every Saturday night when most of the people in this cursed town won't go check it out anyway. Now, karaoke of course is not a new idea, but that doesn't make it any less funny when drunken idiots with a dangerous overestimation of their talents take the stage for what I can only assume is my enjoyment. Crucial to a successful evening of karaoke is groups. Strength in numbers and all that. Is there anything scarier than a person who shows up to these things alone and goes on to sing like five songs?
Every three months or so, I cajole, beg, trick and implore you all to check out boxing at the Sky Ute Casino . I can't count the number of people who really mean to show up but forget, or will go next time or whatever. That's fine, I do the same thing with doctors and dentists. But this Saturday, the excuses must stop. The four-fight professional card features not one, not two, but three chick fights! For those who have evolved past Cro-Magnon, that's a boxing match between two female contestants. There's an intangible difference in the intensity of these contests, but the real treat comes from the crowd. I don't know what it is, but not since the remarkably foresighted Romans began feeding Christians to various beasts has this kind of bloodthirsty mob been seen. It's refreshing. Amateur bouts get under way at about 4:30 p.m. with the pros going at 7 p.m.
By the way, ski season is upon us. Next Wednesday, Durango Mountain Resort opens, sort of, with their annual benefit day. Whether you've got your pass or not, spend the 10 bucks and support the Durango Discovery Museum. The benefit day that DMR does is a good thing, and many local organizations have been happy for it in past years. It's never ideal conditions, but the day makes for a great social event, so bring the rock skis and do your part. Thank you.
Share your favorite Bible stories with a militant atheist. ted@ksut.org. Fear The Party. ☯