Every mixture is permitted
by Chef Boy Ari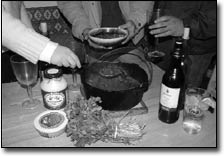 The last potluck I wrote about was held for a group of students I took to Cuba. For my contribution to the meal, I used a recipe for a bread-based garlic soup from a website called icuban.com. This Cuban cooking site is run by three brothers-in-law who call themselves "The Three Guys from Miami." The soup was spectacular, and I must have waxed pretty eloquent in my story, because last week I got a shiny hardcover cookbook in the mail titled Cooking Cuban by The Three Guys, and on the back of the jacket was a quote by Chef Boy Ari. Cooking Cuban is a really nice book. It's funny, thorough, beautifully illustrated and highly educational. Food is a doorway into culture, and the Three Guys mambo through that door with grace.
The exploration of the link between food and culture is behind all the trips that I lead. I'm currently gearing up for a trip this January to Brazil, where my group will look at sustainable agriculture and the communities that are fed by these systems. As our little group approaches critical mass, we held a potluck to celebrate our upcoming adventure.
The pressure was on for me to whip out something extraordinary. After all, I've been to Brazil three times, I'm the trip leader, and I am Chef Boy Ari. No Internet surfing was necessary as I flipped through my mental catalog of Brazilian dishes Alho muchado, carne do sol, muqueque do peixe all of these and more I have on file. But I realized that, for this occasion, one dish stood out as the obvious choice: a black bean stew called "feijoada."
Feijoada is one of the most popular dishes in Brazil and is considered symbolic of the national character. Like the Brazilian population, feijoada is a melting pot of many different types of meat. It's especially emblematic of Bahia, our destination, because Bahia is the most African-influenced part of Brazil. Like the black bean base of feijoada, Bahia is black, in terms of its people, music, culture and food. And as in feijoada, this black ethnic baseline mixes with the other elements, producing astounding mixtures like brown-skinned people with green eyes and red hair.
Fabia came over with the makings for caipiringas, a cocktail of lime, sugar and a Brazilian cane alcohol called cachasa. We call them Brazilian mojitos. For those of you out of touch with the cutting edge of pop culture, the caipiringa recently replaced the margarita, according to E Magazine , as the hippest south-of-the-border drink. They go down smooth and sweet, and make you want to sing and dance. If you can't find cachasa, you can substitute vodka and make a caipirosca, which is almost as hip.
Rosie, a baker, took a stab at Pao de Queixo, Brazilian cheese bread, and Jen brought over these Brazilian chocolate truffle-like things called Garotas that she got from Costco. Gerard came over with duck a la orange. Not exactly - or in any way - Brazilian. But as they say in Bahia, "toda mistura sera permitida" - every mixture is allowed.
The same is true with feijoada: Every mixture is permitted, provided certain ingredients are in place. Step one, if you're using fresh beans, is to soak the beans overnight. Ideally, change the water at least once. If using canned beans, proceed to step two, which is to brown the meat, any mix of meat you want, especially pork. I started with some chopped bacon and oil in a cast-iron pot. I added some frozen deer chunks, pork ribs, chorizo sausage and hamburger meat. I kept stirring it on medium heat until it was nicely browned. Then I mixed in some carrot rounds, chopped hot peppers, chopped onion, chopped garlic and chopped carrot tops. I cooked this for a few minutes, stirring often. Finally, I added the beans in a quantity roughly equivalent to the amount of meat and veggies already in the pan. I'm sorry, but to give exact measurements for feijoada would go against the spirit of it. Developed by the slaves to make use of cheap, random meat scraps, feijoada originally was made of things like pig ears, ox tails and neck meat.
Once you add the beans, it needs to cook together slowly for at least two hours. Season with salt, pepper, a few bay leaves and - very important - vinegar, and add water if it gets too thick. Serve it on rice with fresh cilantro and sour cream or mayo.
The caipiringas were flowing, and Gerard was playing guitar and leading the group through a rousing rendition of "Eu e voce sempre" ("You and me, forever") when I finally brought the feijoada to the table. As we ate, J.T. proposed a toast, asking the gods that the food in Brazil would be this good. I smiled smugly, secure in the knowledge that it would be. Luckily, we cleaned up and went home before the farting began. ☯