Eat, Drink and Be Merry
By Ted Holteen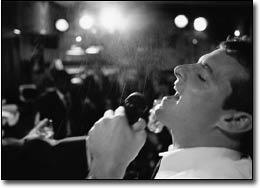 With Civil War II still months away, those of us Blue folks living in the Red have two choices: sit and stew while keeping our guns clean and loaded, or try to put on a smile and make the best of the hand we've been dealt. I recommend the latter. For eons, species have survived by the simple trick of playing dead, biding their time before rising to either attack or run for their lives. Besides, that damn Unabomber has forever sullied the image of the well-intentioned mountain loner with a grudge. So for now, smile and take your subjugation like a man (or tough chick). But stay tuned.
We begin this week with kudos going to Tim Spishock at Durango Joe's Coffee House. Every week, I include an e-mail address at the end of the column, inviting people to tell me what the hell is going on. People will ask, "Why didn't you mention so-and-so," or, "How could you just ignore _____? It was the best show of the year!" Quiet. I must tell you, I really don't go out of my way to gather information, so the squeaky wheel gets the proverbial grease from The Society Page. Tim is the latest to figure this out, and now he will reap the rewards. Every Thursday night, Durango Joe's hosts Open Mic Night . I have a soft spot for these evenings and the people who participate, but I'm torn. As an aficionado of the arts and possessed of an uncanny ability to judge others, I applaud those with the cojones to lay bare their soul before an audience for no more reward than a scattering of applause. As an ignorant cynic, I can't ignore the opportunity to suppress my own insecurities while cowardly insulting the honest efforts of the performers with juvenile barbs. What a country! Show up around 8 p.m. and do us proud.
So that's one day you've killed. On to Friday. The Durango Society for Cultural and Performing Arts is at it again. They must be getting audited and have to liquidate or something, because they're pulling out all the stops. Two shows last week, and now Dave Alvin & The Guilty Men come to The Abbey Theatre. It's the third venue in as many shows for the DSCPA, so maybe they are trying to hide something. That, however, is none of my business. That's what those handy Patriot Acts are for. Dave Alvin is a bona fide institution in the rock 'n roll/singer-songwriter world, and he doesn't need my help to sell his music. I'm just here to spread the word and enlighten those who need it.
The Abbey is also home to Stupid Ted's Pick of the Week on Saturday. I bet they're ecstatic. Anyway, from Los Angeles, California, put your hands together for The Shape Shifters ! Who, or what, are The Shape Shifters? Well, it's a subterranean rap and hip-hop situation, with an ever-changing cast of performers. Remember Menudo? Good. Now forget about them again. These guys are artists, and they've been doing politically and socially charged music for the better part of ten years. The kids'll love it, I promise. I also promise that this is the last you will see of Stupid Ted's Pick of the Week. I'm too inconsistent and unreliable to do regular features.
I like pianos. If we are ever faced with the choice of having to do away with every musical instrument save one, I would spare the ivories. It's versatile, timeless and folds up in seconds for easy travel. We are lucky this weekend to have a lady that can downright abuse the things. Kelley Hunt brings her talents to the Community Concert Hall at Fort Lewis College on Saturday, Nov. 13, and in a fortuitous twist of fate, there's a piano there! Maybe we can convince her to play a tune or two. Kelley has firmly established herself among the elite in the world of blues pianists, and she's got a set of pipes on her to match. She can do it all, from ballads to Chicago blues, and it's a great ride. Nice place, too, the Concert Hall.
As you can see, there's plenty in store this weekend for any music lover. But there's still no substitute for a good old night in a bar with a couple of bands just letting it rip. That's what you get on Saturday night at the Summit. The twin bill features The Frank Trio as the headliner with Freewill Recovery getting things warmed up. After an extended vacation, it looks like the Freewill boys are back to stay, which is nice. They get underway around 9 p.m. or so, with The Frank Trio slated for somewhere around 11:30 p.m.
Oh, and by the way, " Skins " is completing its run this weekend at the Fort Lewis Mainstage Theater. If you missed it last weekend and don't plan to be in Manhattan in March, this is your last chance. It's worth an hour and a half of your time.
Get out there and spend your cash now. By early May, by my estimates, the economy will have collapsed in on itself and those dollars you've been hoarding will have been replaced by Yen. So, in effect, we're playing with house money until then. Spend it foolishly.
Despite a notable setback last week, I still predict a Keystone State Super Bowl in February. Fun fact: Did you know that during World War II, the Eagles and Steelers were combined into one team called the Steagles? Really.
Be like Durango Joe's! ted@ksut.org. Keep the faith - the Nazis only lasted about 12 years, so we're already a third of the way there.