Diver,
I want to kick someone's ass, and I want to do it now! Skinny punks that press charges on harmless residents when they get kicked in a restaurant need to have their asses kicked so they can see what a real ass kicking feels like! You know what I mean?
- Mel
Dear Mel,
Unclamp your angry fists, my friend; will a real good ass kicking get you anywhere? Skinny arrogant punks will feel the wrath of ridicule for conflicting the lives of the innocent in times to come. I say, you would be better off letting their future gold digging trophy wives screw them over with the cabana boys, while these punks continue to be jaded by the almighty dollar.
- Thanks,
Diver
Dear Diver
Remember in the 70s when cars were big, then in the 80s and early 90s, they were small, and now they are big again? What is the deal with this? Do we have fuel to waste?
- John in Hermosa
Dear John,
In the 70s, cars were pimp-long and wide. For the aerobic folk of the 80s obsessed with Richard Simmons, smaller cars came equipped with spandex and hair bands. Then came everyone's power trip with beautiful large and in charge, out of my way, road rage destroyers. Do we have fuel to waste? Well, if you feel like depriving other countries and their cultures of their own way of life, then yes. I say, let us take a step back in time and look at the horse and buggy. We could use the technology of today and jazz up our carriages and hormonally inject our horses to go faster. It would help with pollution and better our soil.
- Thanks,
Diver
Dear Diver
The recent reelection of George Bush has me all freaked out. Not only am I worried that his election will bring four more years of war mongering, hate and recession but I'm worried to walk around my streets at night knowing that half of my neighbors actually voted for that creep. Should I move to Canada?
- Mike in Eugene via email
Diver: Emily Hake from Kat's Frozen Custard
Facts: Politics, entertainment and ice cream make Emily a perfect diver for the return of an unwanted administration.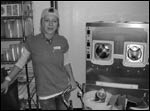 Got a dirty little secret?
Looking for guidance to remedy a sticky situation?
Seek help from the master of the kitchen! The Dish Diver has solutions to life's little messes. Send your problems to "Ask the Diver." - By mail to Durango Telegraph - Attn Diver -534 Main Ave., Durango, CO 81301; by email at telegraph@durangotelegraph.com, or by fax at 259-0448.
Dear Mike,
I too, am concerned for the circus freak show about to unfold. We should be frightened of elephants parading around with fake costumes and unloading more crap then we can clean up. I wouldn't be worried to walk around at night, the ones you should be afraid of, are flooding the streets in the daytime, they probably go to bed early after bashing the liberals. Don't move to Canada, the rest of us will need support crusading the outbreak of wasps that seem to have overwhelmed us.
- Yours in victory,
Diver
Dear Diver,
Why was it such a big deal when Ashlee Simpson got busted lip-synching? Is there really anyone who believes these pop idols can actually sing? I mean, Britney and Justin do it. Hell, J-Lo admits that she does it. Is it fair to pick on poor Ashlee just because she got caught?
- Carrie
Dear Carrie,
Everyone has their day. It is too bad the public mockery and jokes have to unfold so soon for Ashlee. Milli Vanilli were good lip-synchers and where are they today? As for the others, who ever respected the manipulative pop beat sticking to their ears anyways? Maybe Ashlee should look for a new career voicing over songs to Disney films where she'll never have to perform live or stick with MTV and wait to perform on Saturday Night Live when she can handle the pressure and ridicule of the diverse audience.
- Thanks,
Diver