Demystifying the ballot
The Durango Telegraph's annual Election Day cheat sheet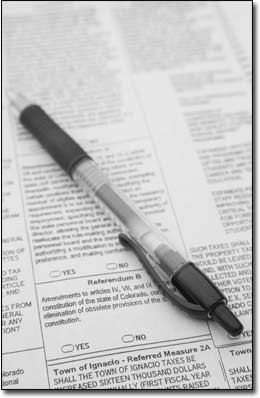 Election season is once again upon us, with its dizzying array of referendums, amendments and initiatives. But before you commit hari kari on that trusty No. 2 pencil rather than decipher the complicated election-ese, take a gander at the Telegraph's annual ballot buster. We'll demystify everything from the state civil service system to tobacco taxes in simple terms that even an Electoral College flunkie will understand. We'll even go a step further by sticking our necks on the line by telling you how we're going to vote, if it helps.
So sit back, relax and come with us as we take a crash course in this year's ballot. Then, stand back up, get out and go vote.
President
We'd be remiss not to mention the headliner of this year's election. However, seeing as how the American public has been eating, breathing and sleeping John Kerry and George Bush for nearly a year, we feel it would be redundant to go into details here. If you happen to be one of those fabled "undecideds" (of which we personally know none) or have just returned from a long extraterrestrial vacation, please flip back to p. 9 for a brief recap.
The oval goes to: Seriously? (again, please refer to p. 9)
---
U.S. Senate

*Pete Coors/Republican:
Background: Chances are this baron of Colorado brewing fame needs no introduction. Although he has no political experience per se, he has spent his entire career in corporate America, serving in marketing, finance and operations for the family biz. He is currently taking a leave of absence from his chairman duties with Coors Brewing Co. and Adolph Coors Co. When he's not fly fishing, water fowling or gardening, he can be found listening to Brooks & Dunn, reading the Bible and, we presume, sipping a cold Colorado Kool-Aid.
On the issues: Like any good businessman, Coors favors smaller government and taxes. He also favors stronger military spending, a constitutional amendment banning same-sex marriage and the overturning of Roe v Wade. On state issues, he opposes raising the tobacco tax and the renewable energy requirement set forth in Amendment 37.

*Ken Salazar/Democrat:
Background: Coming from a long line of farmers and ranchers, this San Luis Valley native has served as Colorado' attorney general from 1999 to present. Prior to that, he served as the executive director of the Colorado Department of Natural Resources, chief legal eagle to former Gov. Roy Romer, and was a lawyer in private practice. When not enjoying a soft serve at his wife's Dairy Queen franchise, he can be found listening to Willie Nelson, running, playing hoops or reading.
On the issues: The son of a poor ("but proud") family, Salazar wants to ensure that all Coloradoans have the same opportunities he was afforded, such as education. He opposes tax cuts for the wealthy and a ban on same-sex marriages. He believes the war in Iraq has been bumbled and the United States should begin to rebuild its international relations to reach stability in Iraq.

The oval goes to: Aside from his horrid environmental record or the fact that his grandfather is named "Adolph" (and rightly so, from what we read) Pete Coors just gives us the willies. We like Ken, not only because he traverses the state in a rusted green 1994 Ford Ranger, but for what he stands for: regular working shmoes, such as ourselves.
---
U.S. House of Representatives

*Greg Walcher/Republican
Background: This peach grower from Palisade served as executive director of the Colorado Department of Natural Resources from 1999-2003 as well as president of the somewhat shadowy Club 20. When not golfing or perusing his coin collection, he can be found listening to ZZ Top or reading the memoirs of Ulysses S. Grant.
On the issues: As a firm believer in small government, Walcher is hoping to put the federal system back on track. He believes the war in Iraq was justified and the world is safer with Saddam Hussein behind bars. He favors a ban on same-sex marriages, more tax cuts and an overturn of Roe v. Wade. Statewide, he opposed the renewable energy amendment and an increase in tobacco taxes.

*John Salazar/Democrat
Background: Another member of the prolific San Luis farming family and older brother to Ken, this spud farmer has served as state rep. for District 62 since 2002. A veteran of the U.S Army, he was named "Colorado Seed Grower of the Year" and enjoys hunting, fishing, Hemingway and John Denver.
On the issues: As a fifth-generation farmer, Salazar wants to help preserve rural Colorado values of family, hard work and community. He opposes a ban on same-sex marriages, supports Roe v. Wade and is calling for amending the Patriot Act. In Colorado, he supports the renewable energy amendment.

The oval goes to: Salazar. Nevermind that Walcher backed last year's Referendum A, a poorly disguised ploy to steal Western Slope water, or that state wildlife officials accused him of playing politics over science during his stint with the DNR, we just think he looks too much like Pete Coors, who gives us the willies. Besides, we'll take potatoes over peaches any day.
---
For an exhaustive who's who, please see last week's Telegraph interviews with Republican candidate Roger Phelps and Democrat candidate Wally White, or go online, www.durangotelegraph.com.
The oval goes to: Suggestive e-mails aside, Wally is also the only hope of maintaining some semblance of balance on the commission. We believe Wally's watch-dogging track record on growth as well as willingness to pass the Land Use Code sooner than later is what La Plata County needs as it enters into a brave new era of subdivisions, big boxes and mini malls.
---
Amendment 34: Construction Liability
Amendment 34 would amend the state constitution to repeal a law (House Bill 1161) passed two years ago that limited the amount of money a property owner can collect from a contractor for shoddy construction. It would also eliminate a current requirement that homeowners give the contractor the chance to fix the problem before going to court.
Those in favor say: Would protect homeowners from sloppy or unscrupulous builders. Many homeowners do not have enough money to negotiate with builders to fix a problem as specified under the current regulation.
Those against say: Would drive up the price of housing and lead to a flood of frivolous lawsuits. The proposal was cooked up by a few lawyers who presumably made their living off such lawsuits and were displeased over the passing of HB1162. If passed, this amendment would also apply to homeowners, meaning they could be sued years down the road for improvements made on a property they once owned. Since it is a constitutional amendment, only another vote of the people can alter it.
The oval goes to: No. The last thing we need is more ridiculous lawsuits clogging up the courts. Under current law, homeowners can still sue to recover medical costs and claim up to $250,000 in pain and suffering.
---
Amendment 35: Tobacco Tax
This proposed amendment to the state constitution would increase the tax on a pack of cigarettes from 20 cents to 84 cents and increase the tax on other tobacco products from 20 percent to 40 percent of the price. The proceeds will be used for health care and tobacco-cessation and education programs.
Those in favor say: The money collected will help low-income residents receive health care. It also will help offset the state's tobacco-related health care costs, which currently are more than $1 billion a year.
Those against say: It would be a hardship on low-income families, who are 48 percent more likely to smoke.
The oval goes to: Yes. The reformed smokers among us don't buy the "hardship" argument, either.
---
Amendment 36: Electoral College
This proposed amendment to the state constitution would do away with the winner-takes-all policy and allocate Colorado's nine electoral votes based on the percentage of votes a presidential candidate receives. The proposal would be retroactive and apply to the Nov. 2 election.
Those in favor say: It would more accurately reflect Colorado's popular vote and may motivate more people to vote if they think their vote will carry more clout.
Those against say: It could make Colorado less influential on presidential elections and could lead to a situation where no candidate gains a majority of electoral votes, thus throwing the election to the House of Representatives, where each state gets only one vote. Smaller states would have disproportionate power, further weakening the popular vote.
The oval goes to: No. While it may sound good in theory, this proposal is wrong on many levels. For starters, it is a partisan proposal spearheaded by wealthy Californian Democrats, embittered by the 2000 election and seeking a way to gain a few more precious electoral votes. However, with Colorado no longer a shoe-in for Republicans, the proposal could easily backfire on its proponents, taking electoral votes away from a Democrat winner. Furthermore, it promises to bring with it a host of lawsuits, thus miring the 2004 election and making Colorado the "Florida of '04."
---
Amendment 37: Renewable Energy
This proposed amendment to state statutes would require larger Colorado utilities to increase the amount of power generated or bought from renewable sources from 3 percent to 10 percent starting in 2007 and ending in 2015. It would limit the amount an energy bill can increase to 50 cents a month and allow a utility to hold an election to opt out of the requirement.
Those in favor say: As natural gas and coal resources diminish, fossil fuels will cost more while renewable sources will become cheaper as technology improves. Energy generated from renewable sources has less of an impact on the environment than conventional fossil fuels. According to the EPA, generating 10 percent of electricity from renewable sources is roughly equal to eliminating carbon dioxide emissions from 600,000 cars.
Those against say: Generating power from renewable sources is more expensive, a cost that will be passed along to consumers. Also, renewable resources, such as wind and sun, are not 100 percent dependable. Furthermore, the use of renewable resources should be market driven.
The oval goes to: Yes. Anyone seen the brown cloud hanging over the San Juan Basin lately? And, with four more coal-fired power plants planned for the area, it's only going to get worse.
---
Referendum A: State Personnel System
One of the more obscure items on the ballot, this would overhaul an antiquated state personnel system, allowing the governor to appoint 140 positions and change hiring and firing practices, among other things.
Those in favor say: The policies of the state personnel system has not changed significantly in 85 years despite the fact that its numbers have increased dramatically, from 1,000 employees to more than 31,000. This would streamline the system by allowing governors to appoint people to carry out his or her policies rather than relying on holdovers from past administrations. It also would do away with a 60-day termination notice period, expand the pool of eligible candidates for job openings and do away with test-based hiring procedures.
Those against say: Would give the governor and political appointees too much power. Institutional knowledge will be lost as experienced senior personnel are continually replaced by political appointees who may not have the necessary job skills
The oval goes to: Yes. Although we are wary of handing over so much power to the governor and his or her 140 cronies, we believe that number is still a small fraction of the 31,000 total employees. Furthermore, we like any attempt to tighten up government flab.
---
Referendum B: Unnecessary provisions
A house-cleaning measure to rid the state constitution of expired, unconstitutional or otherwise unnecessary provisions
Those in favor say: Outdated language is not only a waste of space but confusing and misleading.
Those against say: Removing such provisions would diminish the constitution's historical character.
The oval goes to: Yes. We hate clutter. And besides, anyone who is into reading the state constitution for historical fun who would be put out by this needs to get a life.
---

Voters can cast their ballots in their precinct polling place from 7 a.m.-7 p.m. on Nov. 2. Early voting is available at the La Plata County Courthouse, 8 a.m.-5 p.m. through Oct. 29.