by Ted Holteen
F unny thing, the weekly news-sheet. I, like so many children of the 1970s, grew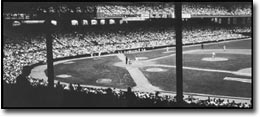 up getting my sports information from Sports Illustrated, often a week or more after an event took place. It's hard to imagine in a world dominated by ESPN and its round-the-clock saturation of stories worthy and otherwise that once a week used to be enough to catch up on one's sports. An example? Take the classic 1975 World Series between the Sox and the Reds. One of the most enduring images in sports is of Red Sox catcher Carlton Fisk flailing his arms, willing his ball to stay fair, which it did in that historic Game Six that knotted the series and forced a seventh game. Newspaper sports writers worked til dawn to find just the right words that might possibly convey the drama and emotion felt in Fenway Park that night. But what of the poor saps at SI? By the time the issue came out filled with the poetry and images that masterfully captured the magic, the Reds had already won Game Seven and the series, right in Boston's front yard. It's sort of like that Jan Brady/middle sister syndrome Marsha, Marsha, Marsha/Rose, Bench, Foster. Irrelevant excellence, we'll call it. Not that Jan was excellent, but you get the idea.
So why do I bring this up? Well, I wanted to try to express just how special it is that the Sox this year are fighting back from the impossible, a 3-0 series deficit to the hated Yankees. But as I write, it's only Tuesday, and by the time you read this the series will be over, and Sunday and Monday's improbable extra-inning marathons will be old news, with either history being made or repeating itself in the meantime. ESPN Classic will air the games before SI or The Telegraph goes to print. Regardless of the outcome, %*&@ the Yankees. But I digress. A lot. I had a point when I started this oh, yeah. As the preeminent arts & entertainment reporter in the Four Corners, each week, it falls to me to keep the material current, dare I say relevant, a week or more after I've written it. Of course, I usually fail miserably and often piss someone off in the effort. But to stop trying is to admit defeat, and so I press on.
Sometimes I get lucky. Like last week, I missed the first weekend of the 3rd Avenue Dance Co.'s latest performance, "Crazy." But it's almost as if they planned for my ineptitude when they came out with their schedule, because I (and you) get a second chance to see "Crazy" this weekend. If I didn't know any better, I would say that the 3ADC exists only to remind me that there's more to the fine arts than just Richard Pryor and "The Far Side." But these ladies (and a few fortuitously positioned men) bring a facet of grace and creativity to Durango that, quite frankly, fills a void. In a town where the bulk of the population is more likely to possess the ability to gut a 600-pound elk than even pronounce "Baryshnikov," we need this. I will spare you my attempt at reviewing a show I've neither seen nor fully understand. It's a performance of jazz and contemporary dance, and all I can add to that is that "The Robot" is no longer a contemporary dance. But I can say that having seen past performances by the 3rd Ave. folks, these things are really cool, especially if you find sobriety kind of dull, if you get my meaning. (The lights, man, the lights!) The wonderful Suzy DiSanto is the lead choreographer, a very talented lady, mind you, and there are some other numbers put together by guest choreographers as well. "Crazy" will be performed on Friday and Saturday nights at the Smiley Auditorium, with show time somewhere around 7:30 p.m.
Also on Friday night, the Fort Lewis College Community Concert Hall is at it again. They're really keeping me busy with this quality schedule thing. Sort-of bluesman Otis Taylor takes the stage Friday at 7 p.m. I've had the opportunity to hear a lot of Otis' music lately as I do a blues/soul kind of radio show on Friday nights. Not that I'm getting a free plug or anything, but you can hear it on KSUT from 8 to 10 p.m. every Friday. How exciting! Anyway, back to Otis. Not blues in the modern, B.B. King sense or the blues/rock amalgam that's become so popular i.e. Stevie Ray Vaughan. Otis' sound is more in line with the Leadbelly/Robert Johnson sound but with better technology so it doesn't hurt your ears and sound like it was recorded into a soup can. Just a man singing the blues honestly and playing the guitar and making it sound good. Bitching with style, if you will.
Then, if you can believe your eyes and ears, there's more dancing on the way next week. The Aspen Santa Fe Ballet comes to town a bit earlier this year, Wednesday, Oct. 27, to be exact. Usually, they're the ones that do the Nutcracker at the Concert Hall every year, but who knows, maybe they've all converted to Judaism or something. If you thought my ignorance was on display trying to stumble through a description of modern dance, wait'll you get a load of my grasp of the intricacies of ballet. On second thought, I'll quit while I'm ahead. To paraphrase the old adage, "Better to shut the hell up and be thought a fool than to try to speak intelligently about ballet and remove all doubt." But I'm sure you'll love it.
Speak and I shall misinterpret. ted@ksut.org. Next week: Keeping those pesky trick-or-treaters away, for good.