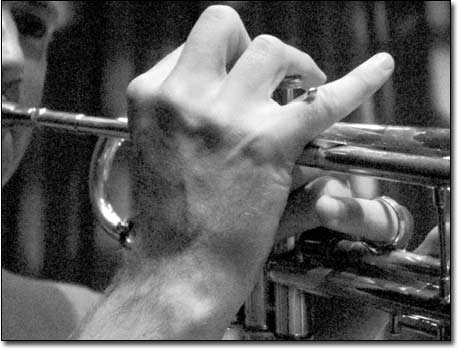 Michael Freeman, trumpet player for Furniture, blows his horn during last Saturday's "Jazz Today" at the Abbey Theatre. The band plans to host monthly jazz gigs at the Abbey in the hopes of promoting local jazz bands and attracting national acts as well./Photo by Todd Thompson

If jazz is a hallmark of cultural sophistication, then Durango in the early '90s could have been considered a worldly town. Several clubs, an annual jazz festival, regularly touring bands and local groups all contributed to a lively jazz scene. However, despite the persistent popularity of live jazz in cities around the country, the scene in Durango slowly diminished with the loss of venues.
But local "jazz freaks" Paul Karmazyn and Michael Lofton are hoping to check that trend and revitalize the scene in Durango with the formation of Jazz Freqs, a music promotion company. Their first project is "Jazz Today," an ongoing monthly series of Saturday afternoon shows at the Abbey Theater, which premiered Oct. 16, with their quartet, Furniture.
Karmazyn has been playing violin since he was 6. He has a degree in music and has played in a symphony, a string quartet, a blues band, a rock and roll band and several jazz combos in addition to teaching music in Durango for five years. The real estate agent who plays fiddle for Furniture, Karmazyn said the goal of Jazz Today is to change common misconceptions of jazz.
"We really want to cultivate a scene in the local community," he says. "Our biggest obstacle is that most people in their 20s and 30s think it's going to be sleepy elevator music, or easy-listening radio, or Kenny G. We have to educate and change the idea of what jazz is. You can pack a lot of sound in."
He said the beauty of jazz is in its improvisational nature.
"When it's played live, jazz gives you the freedom to really go outside of the structure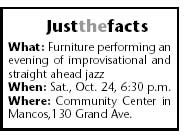 of the music and explore," he said.
Lofton, a marketing consultant and Furniture's drummer, said the goal of the monthly gatherings is to provide the ambience of a "Manhattan type" jazz club venue while appealing to a broad audience.
"It will be a great place for the whole family to go on a Saturday afternoon and hear pure jazz content," he said.
Saturday afternoon may seem like a strange time to have a concert, but in jazz there is a longstanding tradition of Saturday matinees, from conservatory recitals to concerts in the park. It's when jazz emerges from the smoky, late-night underworld to be presentable to kids and families and normal people.
Indeed, walking into the Abbey Theatre for the inaugural Jazz Today was like entering a portal to a big city. The sound was big, the lights were big, the sofas were big. People lounged and listened, chatting and cuddling. Cocktails were served. Some kids played; some paid attention to the music.
Furniture played two long sets, a mix of jazz standards, original compositions, and bizarre covers. When the quartet started into its interpretation of Led Zeppelin's "Kashmir," there was audible laughter. But as the song progressed, the audience was riveted by a masterful series of improvisations on the familiar theme.
Karmazyn explains: "We're like a jazz jam band. We like taking some pop tunes and just twisting them up and modifying the chord progressions into a richer sound `85 people may not even realize it's the same tune until we bring it back again."
Furniture's trumpet player, Michael Freeman, a professor of art history at Fort Lewis College, said original works also play a part in this improvisational spirit. "When we come up with an original piece, we try to set the parameters in a freeing way," he said. "We all take our own roles in defining the direction of these pieces. Basically we're a band that enjoys improvising and playing originals but we use the standards as bookends to hold it all together."
Freeman integrates the latest digital technology into his sound by sending his trumpet feed through a laptop. "You can do everything with a computer that you used to do through a stack of effects boxes," he says. "Playing with the technology makes it really fun."
The newest member of Furniture is keyboard player, Brant Leeper. Born and raised in Farmington, Leeper "left town as soon as I possibly could" and moved to Austin, Texas. He then hit the road at 21, spending 10 years touring the circuit, playing with such jazz and blues greats as W.C. Clark, Bo Diddley and James Cotton. "After traveling to every state in the country, I began to realize how great this area is," he says. "I was thinking about a change and looking for something to get me back to the Four Corners." He quit the road and moved to Durango five months ago to take over the management of The Hydration Station. "I miss focusing on music 100 percent of the time, but it's great playing with these guys. They're all really talented."
For Leeper, the allure of jazz is also in the improvisation. "Improvising on an instrument is like any type of art form where you're communicating something to the audience, an emotion, an experience, a feeling," he says. "Sometimes it's almost like acting, like putting on an air."
When Leeper takes a solo in "Freddy the Freeloader," it's hard to believe he is self-taught. His arpeggios glisten and sparkle, then devolve into a series of intentional wrong turns that finally resolve themselves into making sense within the peculiar logic of jazz.
Leeper remembers some of his first experiences with jazz music. "Growing up in Farmington, we would visit Durango and it was like going to the city, going metro," he says. "I remember seeing Maynard Ferguson in '94. I remember during the old Trimble Jazz Festival when there were jazz bands in every bar in town."
In comparing Durango to his experience on tour, he points to the Cyprus Caf`E9 patio as an example of what has become popular nationally. "Sit-down patio dining is a hot scene in jazz, even if it's low profile," he says. "And of course the Abbey Theatre is first class, a beautiful place. It's historic but with top-of-the-line sound and lighting equipment. It's what we would call an 'A-Room' on the road."
Jazz Freqs hopes to attract national jazz acts to the Abbey Theatre and promote more local jazz, but more importantly, the pair hopes to attract a local audience to support jazz music.
Furniture will perform again at the next "Jazz Today" on Nov. 20, a Saturday afternoon, of course